Francois Pienaar and Jean de Villiers share Nelson Mandela memories
South Africa rugby captains past and present have spoken of their memories of Nelson Mandela during a memorial service.
Last Updated: 10/12/13 7:03pm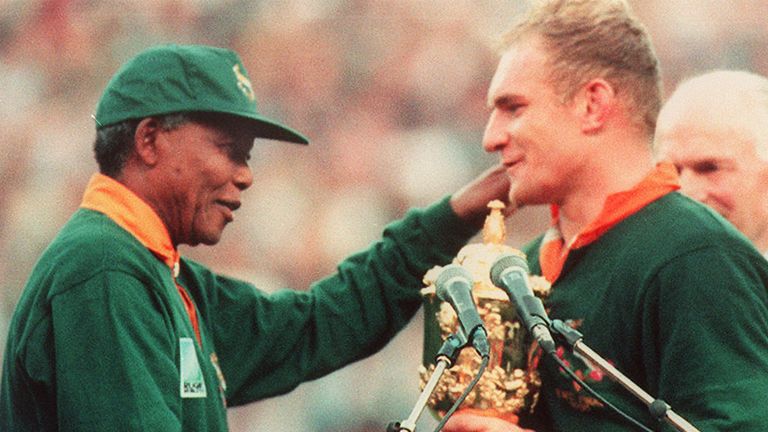 Francois Pienaar, who led the Springboks to the World Cup on home soil in 1995, and current skipper Jean de Villiers recounted their memories of the day South Africa made their mark on their return to sport following their exclusion during the Apartheid era.
Pienaar was handed the Webb Ellis Cup by a clearly delighted Mandela and he was keen to share his thoughts on the subject.
"There was a knock on the (dressing room) door and in walked Mr Mandela. We didn't know he was going to be there," Pienaar told Sky News.
"I cannot explain to you how I felt. I wanted to cry because I was so, so proud. My number was on his back. I couldn't sing the anthem because I was just too emotional.
"You would run until you could run no more. Afterwards the guys said we had an unfair advantage - of course we did."
De Villiers was a teenager at the time but he too has special memories of 24 June 1995 when the Springboks defeated New Zealand 15-12 after extra-time in Johannesburg.
"I was only 14-years-old when we won the World Cup and I would never forget the image of Madiba (an respectful name for Mandela) walking out at Ellis Park with his Springbok jersey on with the No 6 on the back," he said.
"And then the image of Francois actually holding the World Cup at the end, with Madiba standing in the background waving his cap and dancing. He was such a joyful person.
"He watched six live rugby games of which we won five. It always felt as if when he was there, the opposition didn't stand a chance."
Pienaar also explained how Mandela insisted on keeping the traditional Springboks symbol, despite his political party being against the idea.
"If it wasn't for Mr Mandela, this (the Springbok) would never be on our chests," added Pienaar.
"The ANC wanted the Springbok to be taken away, for very good reasons, but Mr Mandela had a vision.
"He said, 'no, these are our boys, they are playing for us. Let's embrace them'.
"If it wasn't for that there is no doubt in mind we would have not been able to wear our Springbok blazers to come and say goodbye and to say thank you to such a wonderful man."