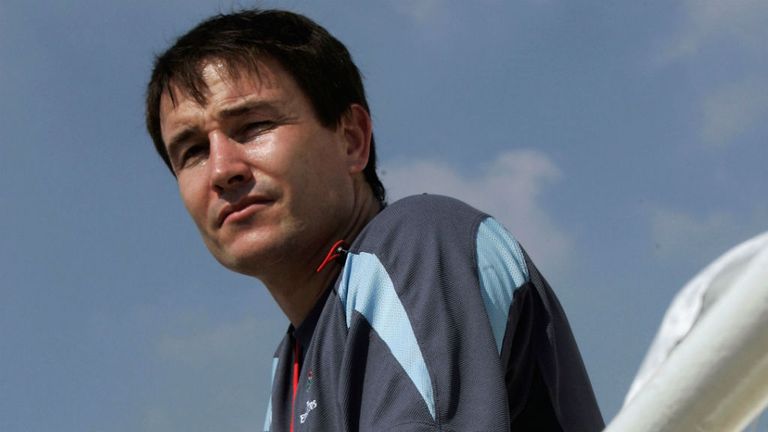 The former England player and coach, now coaching USA, talks to Sky Sports about his teams chances of qualifying for Rio in 2016, as well as the ongoing issues currently facing Kenya's 7s team.
This weekend the World Seven Series kicks off in Australia with the iconic Gold Coast 7s. Swapping the microphone for the sideline this season is the newly appointed coach of the USA team, Mike Friday, who is the man tasked with ensuring the Olympic giants have their rugby team with them in Rio to add to the medal count.
Friday spoke to Sky Sports about his new team, the work needed to get to Rio, and some of the other contenders for the Sevens World Series.
1. How did you end up coaching USA 7s and what are the main challenges you face? How have you balanced being Director of Rugby with London Scottish and your new role with USA Rugby
I was approached by Nigel Melville who was my Director of Rugby at Wasps all those years ago. He needed to change the direction of the USA 7s programme to try and turn it around. The country was sliding quickly down the 7s rankings, finishing 13th in the World Series last year, and only really participating at that. USA has the goal of reaching the Olympics 2016 in Rio, and I always like a challenge and thought I could maybe make a difference, so I agreed to try and help Nigel in his vision.
The main challenges are the player pool and the rugby age of the athletes. Rugby is still an embryonic game in such a vast nation and is only really played in pockets across the country. Whilst the potential crossover of athletes is huge after and during college, this often means that players are coming to the game in their early 20s. The challenge is to get rugby into high schools so that players experience the game earlier, even if they still decide to play college football and chase the NFL dream or track and field. If this can be established this means players will understand the game from an earlier age and will be further along when they decide to pick it up.
The character and attitude of the side will not be in question. There will be a burning desire to play for each other and the Eagle on their chest.
Mike Friday
The balance of being involved in both setups is going well. My philosophy towards 7s preparation is performance-spike mini cycles which means the two roles complement rather than conflict. I am fortunate that I have assembled strong coaching team at London Scottish in James Buckland, Pete Richards and Tim Harper. In the US I work with Alex Magleby, who drives the talent identification and operational interaction with the stakeholders, leaving me to focus on rugby.
On the coaching side I work with Chris Brown and more recently I have been involving Phil Greening. I am an advocate of ensuring that the chemistry within a coaching environment is challenging and inclusive, with clear roles and areas of expertise, and that all individuals possess a selfless desire to achieve the same goal.

2. Rio2016 has been on everyone's lips ahead the new Sevens World Series. How much is the inclusion of Rugby 7s in the Olympics boosting the sport in the USA?

It's a massive driver in American sports that any sport included in the Olympics boosts importance in the USA. After the NBA, NFL or baseball, the next attraction for an American sportsperson is to be an Olympian. As a result the rugby programme is getting assistance from USOC and the more likely we are to push for a medal the more support we will receive. It's therefore key for USA to obtain qualification to Rio in order to reposition the programme with increased funding and profile.

3. How much more competitive and exciting do you expect the Sevens World Series to be across the board with Olympic places up for grabs? Who will be the big movers this season?
I think this season will be a very interesting one and I am expecting a big improvement from Samoa with the return of Tafau, who is renowned father figure and disciplinarian that the players will run through brick walls for. Australia under Michael O'Connor were close to breaking through and with the added support that Geraint John is to receive from the ARU they will be right up there.

Who knows with France! Will it be the consistent performers of 2012/13 or the erratic performers of 2013/14? Even though it was the same players! If we start to see some players from the 15-man game such as Armitage appearing for a number of legs then that will certainly spice things up.

I am hoping that USA will be one of the big movers and we position ourselves so that we are no longer just participants on the circuit but competitors. I want them to become a team that other sides fear - or at least don't fancy playing. From there we can look to build on that foundation and see where it takes us.

4. What are your personal goals with USA this season? Is Top 4 in the 2014/15 Sevens World Series and Olympic qualification realistic?
We need to be realistic in that we are currently ranked 13th in the world and the rugby nations in the Top 4 are some way ahead of us. We have had to change a lot on and off the pitch to reposition the environment, culture and expectations if as a team we want to be successful. We want to be competitors and then contenders; the question is just how far we get along that journey this season.
Realistically we will be looking to improve as a squad tournament on tournament, recognising that regional qualifier serves as our best opportunity. With that said we will be going all out to make sure that come the second day of each tournament we are in the Cup, which will be a big challenge.

5. What can we expect from USA 7s this season? We've all heard of Carlin Isles. How much more potential for growth does he have?
I am hopeful we will see a USA team who can compete physically with the best of the world. We have some very exciting and talented athletes who need to continue learning and studying the game, all the while ensuring their core skills are technically proficient, which is very much work in progress at the moment. The character and attitude of the side will not be in question. There will be a burning desire to play for each other and the Eagle on their chest and the boys are fast learning that they are able to go to the dark places required to be successful in the game of 7s. As that confidence comes hopefully the power and pace within the side will start to flourish. We will be a physical team who in attack can play with width using our pace, or through the middle with our power. Defensively we are working towards becoming a selfless, connected unit who will be difficult to run through as well as run round.
Carlin is still very young in terms of the game of rugby. He is quick and brave in defence but we have worked with him on being more effective on and off the ball for himself and for his teammates.He continues to work on his basics and we ensure he has the guidance to practice the perfect technique and ensure that it becomes habit. The biggest education is to control Carlin's work ethic as we don't want him to be too busy. Getting him to understand when to go looking for the ball and when to wait for the ball to find him is creating a lot of video homework and study for Carlin. He is embracing this education; he's humble and loves learning so we are hoping that he will kick on this season.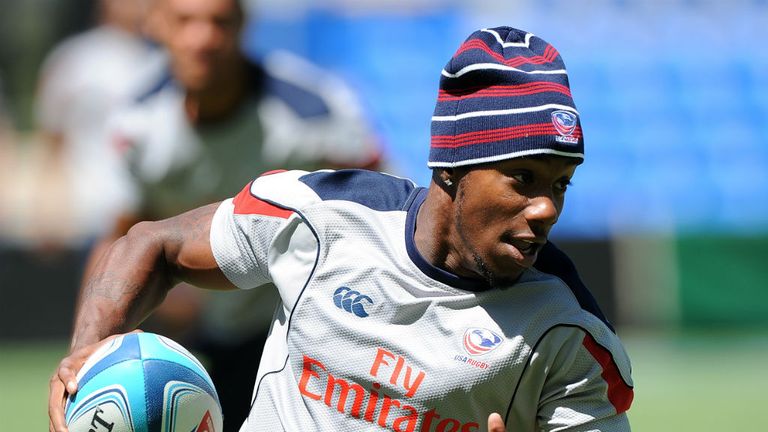 6. You face your former student Simon Amor and his England 7s team in Pool D on the Gold Coast this weekend. What do you make of England's squad? Do they have the Power/Pace balance right?

This will be odd one for me as Simon and I have only ever been on the same side. I mentored him as a player and he took over from me at scrum half in the England 7s team and as captain. Then he was my captain when I coached England and after that I mentored him when he moved into coaching. I know he has been trained well, and I just hope I haven't taught him all I know! All jokes aside, Simon is a pocket computer and knows the game inside out. I thought he did a fantastic job last year at turning the England 7s team around into a consistent team who had discipline and a desire to win.
That sort of mentality is driven from his leadership and will stand them in good stead as they now have to do without Tom Mitchell, the jewel in Simon's squad. Losing Mitchell is a big blow but we are seeing some new faces and it will be interesting how they blend with the others. Simon has bags of pace and some powerful forwards in Rodwell and Burgess but will have to find an alternative carrying option in the side. They are a Top 4 team and will be expected to be there at the end of the season to qualify for the Olympics
7. What do you make of Scotland and Wales 7s programmes right now? Is it a strange season for them with England nominated to qualify on behalf of Team GB?
It is a strange season with England named as the nomination team and personally I think it throws credibility issues on the series as a whole because both Wales and Scotland could influence results to affect that qualification process. Personally I think GB should be playing in the series this year or Team GB should only be able to qualify through the qualifiers.

Scotland and Wales to me need to decide what their direction is for 7s as it appears that they are not committing to the programme. Scotland have shown that when they work with their regions there is mutual benefits and Wales have the best track record in recent years of producing pathway players to the 15-man game. With that in mind I struggle to see why Gareth Williams is not getting more support from Josh Lewsey, as he knows better than anyone what 7s can do for a young player's international aspirations in rugby's expanded format.

8. Are New Zealand, South Africa and Fiji the teams to beat yet again? Who is in the best shape to challenge the Big 3? Is it more like the Big 6 now?

South Africa have huge resources and depth in their programme and New Zealand is a country full of talented rugby players and heritage. Let's not forget Fiji, who arguably have the biggest 7s talent pool with it being their national sport. We should then expect to see England and Australia, who both have established programmes and large resources to draw upon. Samoa are the enigma of 7s but I think they will be part of that Big 6.

9. Contractual disputes mean your old side the hugely popular Kenya travel with a weakened squad to Australia. Two years ago you got them to 5th in the world. How have they fallen so fast? How big a challenge is it for Paul Treu to get them back in Cup contention?
They have lost their way in the last 12 months - that is a fair statement. It was a really tough decision for me to step away as the love I have for the Kenyan players and fans will remain with me forever. They are such great supporters and humble, hard-working players who welcomed me into their culture and even gave me the nickname Otoyo (the hyena). They gave me everything on the pitch - all the time and every time - once I had earned their respect and trust. They knew I would stand strong with them and for them on and off the pitch as we looked to turn heads on the World Sevens Series.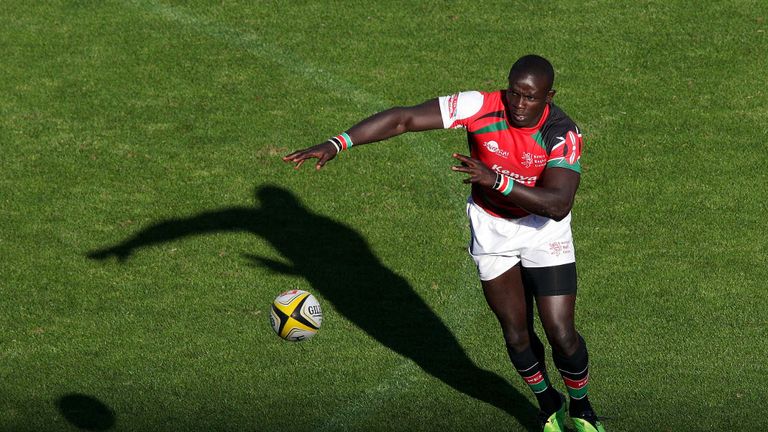 They went away from their attacking strengths of using their power and pace in the wide channels in favour of a narrow, more confrontational game which didn't necessarily suit them. Defensively they sacrificed connection and alignment for line speed. Paul needs his best players first and foremost and he needs to get them to the world class conditioning fitness. Then he needs to tailor his strategy to the strengths of those players. They certainly have the ability and potential to get back up to a Top 5 side that they were in 2012/13.

All that respect and trust seems to have gone between the players and the management/board. The hard facts are that about 12 senior players all signed two-year contracts and feel it is unjust, and not legally possible, to terminate those contracts. That's exactly what has happened as those contracts have been replaced with heavily-weighted performance contracts that offer the players no security for themselves and their families. The players are intelligent and strong in character and as such are making their point to ensure maybe others later down the track don't suffer the same fate. I don't know when it will end but I hope a resolution is reached and common sense prevails so that Kenya can have their best players available for selection.
10. How much of a buzz will it be for you personally to back on the sideline (in a tank top) at the coal face of Sevens rugby?
I am looking forward to the challenge of getting back out there and have a mixture of excitement and nerves as we approach the first leg at the Gold Coast. I love to compete and want the USA to move to that part of the journey as quickly as possible. We have worked tirelessly to try and achieve that but I have no real gauge of where we are. That gauge will hit me head-on next weekend in Australia and I am hoping it's at least a reasonable ride but realise it could well be a bloody nose!
Whilst I love the Sky Sports chair, chewing the cud with Rupert Cox and sharing chocolate with Ollie 'Augustus' Philips, that unknown feeling in the gut at the coalface is the buzz and the competitive feeling that might bring the tank top out! Although I am in real need of some gun work this coming week if it does come back!