Ending on a high
Miles Harrison is expecting Leicester and Gloucester to produce a fitting end to a cracking year of rugby.
Last Updated: 28/12/12 1:06pm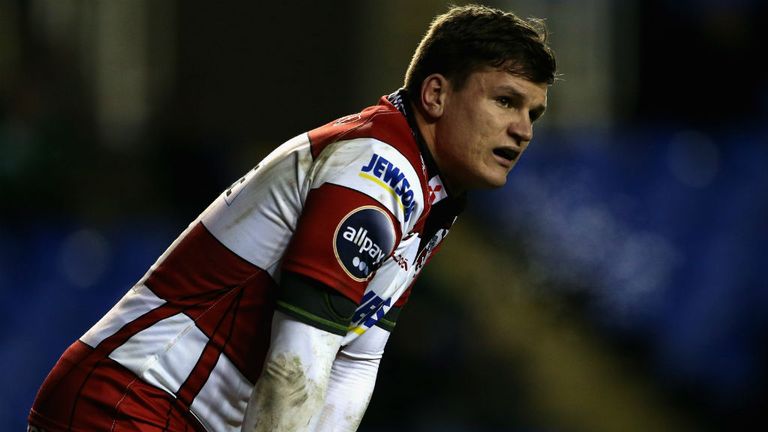 2012 will end with a stern test of Gloucester's ambitions as they head to Welford Rd to take on Leicester, live on Sky Sports 1 HD.
The Cherry-and-Whites will be delighted to be sitting fourth on the Premiership table - one spot below Leicester - however a win against their fierce rivals would certainly be a great platform to propel them to greater heights in 2013.
Leicester are a tough team to beat, and despite looking a little off colour lately have still managed to grind out some important wins. Miles Harrison will be at Welford Rd to bring you all the action and is expecting these two fierce rivals to produce a fitting end to a cracking year of rugby.
Gloucester have edged into the top four after last week, what is the key to their current form and what do you think their chances are of reaching the play-offs come the end of the season?
MILES REPLIES: It appears there is something different about Gloucester this season - a harder edge if you like, as their gritty result against Exeter on the weekend before Christmas proved again. They have lost three Premiership games this season, just like their opponents this weekend, Leicester, but, in all three defeats, they have walked away with a losing bonus point. Conclusion: they are a hard team to put away. The pack is stronger, the game management is high class and they are always a threat with the ball. On that, a concern will be their lack of try-scoring bonus points again this season but I don't think anybody watches Gloucester and thinks, 'there is a team that looks as if it struggles to score tries'. Their total of nineteen in the Premiership this season could be better but they are nine better off than their top-four rivals Saracens and are only two shy of Northampton and three shy of Leicester. All in all, I think Gloucester have a lot going for them. They were in my top four predictions at the start of the season and I see no reason to change that view. What they haven't done, apart from that cracking win at home against Leicester, is beat the teams that are currently all around them. But, they are getting close and this Saturday could be a landmark day for them if they get it right.
Freddie Burns has been in sparkling form for Gloucester this season. How highly do you rate him - has he got the all-round game that perhaps previous pretenders, possibly Danny Cipriani, have failed to develop - and how close do you think he is to usurping Toby Flood and Owen Farrell with England?
MILES REPLIES: Readers of this column will know exactly how highly I rate Freddie Burns. He should have been in the England squad at the start of the autumn campaign and I was delighted when he got his chance right at the end of it against the All Blacks. He does have the all-round game that you talk about and that extra something special too. We now know he is close to that starting chance for England but these are exciting times for Stuart Lancaster because he has players who can offer different things to the team in that jersey. For example, you can't take Owen Farrell's performance against the All Blacks away from him - it was as gutsy as it gets. So, yes, I will continue to back Burns but I don't see why this should be at the exclusion of others - on the contrary, the situation has many more positives than negatives. But, I do anticipate Burns continuing to show such form that his starting chances will inevitably come and he is showing such consistency in his game now that he seems destined to grab those moments.
Leicester seem to be picking up victories despite some unconvincing performances against struggling opposition recently. Is that more of a cause for concern or a source of satisfaction for Director of Rugby Richard Cockerill? Have you seen enough to suggest they have sufficient quality to challenge Saracens and Harlequins for the title this season?
MILES REPLIES: I know what you mean about Leicester's displays and they know that they have to improve from here on in if they are to win trophies this season. In that sense, perhaps it is a concern but Richard Cockerill believes there is much more to come from this team even though they don't look like a champion side at the moment. But, Leicester fans can take heart from this month as well because, as you say, their team has been winning and that is, after all, what it is all about. They have won with bonus points at home to Treviso and away to London Irish, admittedly not the most illustrious of opponents at the moment, but they did get five match points. They also won that right royal scrap against Bath and found a way to win in Treviso in what was always going to be a difficult game. Those who still think that away in Treviso is 'a given' are wrong. However, as I said, they know better than anybody the standards that need to be reached as the season goes on and how they have to make those steps forward again. This weekend's game against Gloucester, which to me is the stand out Premiership fixture of this round 12, plus the trip to the Ospreys and the home game against Toulouse in January, will show just how close Leicester are. And, in the case of Europe, they will determine whether the Tigers will be able to push for honours on two big fronts this season or just the one. As I said, Leicester don't look like competition winners as it stands but we haven't finished 2012 and the Tigers' challenge and presence has to be respected - as it always is. A Happy New Year to you all and I look forward to speaking to you from Welford Road this Saturday.