George North on the challenges of playing in the Premiership
Northampton's new signing George North can't wait to bring a bit of Welsh flair to the Premiership.
Last Updated: 29/08/13 12:26pm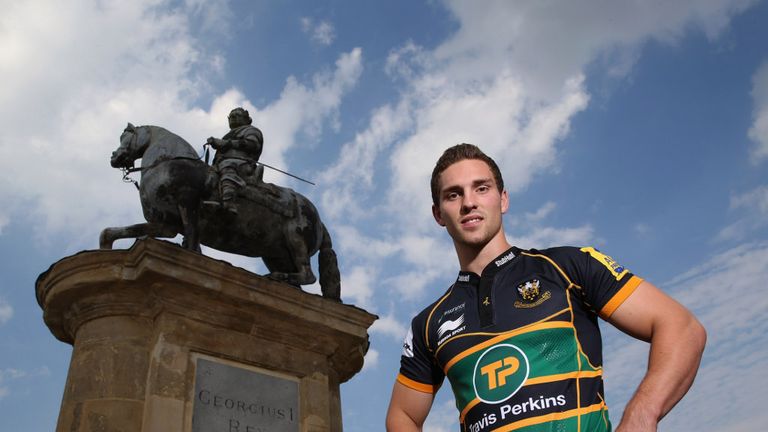 The Wales winger was released a year early from his Scarlets contract, allowing him to join up with Northampton on a three-year deal.
North's arrival at Franklin's Gardens was not all plain sailing, though, as the Welsh Rugby Union and the Welsh regions bickered publicly over who was to blame for yet another high profile Wales player leaving to play in another league.
However the 21-year-old star is putting that all behind him and concentrating on being the best he can be.
"I am very excited - this is a new challenge and a new start," enthused North to skysports.com.
"I will miss the Welsh game but hopefully I can bring a bit of Welsh flair to the Premiership. It is a different structure to the Rabo and speaking to the lads it is a lot more intense and every week is a big game. I am looking forward to getting stuck in and seeing what the Premiership has to offer."
Pressure
As one of the key men in the British and Irish Lions' series win in Australia, the pressure is on North to keep on delivering. However, North is certainly not feeling concerned and says the only pressure he feels is the high expectations he puts on himself.
"People ask me post-Lions how I will deal with pressure. But I am just looking forward to playing; that is what I do best," he said.
"After the Lions I was happy with my performance and coming back to a new club and a new environment is a good challenge for me; it keeps me on my toes and keeps me pushing forward to be better than I am.
"People may be expecting more from me now but I'm just going to keep on going out every day and be the best I can be. I want to keep on progressing on my all round game and keep on scoring tries. I want to get fitter and quicker around the park so I can be more effective."
North has certainly been effective with ball in hand. He has scored 12 tries in 31 Tests for Wales and crossed three times for the Lions in Australia.
However, despite those tries Down Under it was his run carrying Australia's Israel Folau in the second Test that became one of the moments of the 2013 Lions tour.
"I was thinking beep, beep, beep, he's heavy!" laughed North when asked about his memories from that iconic moment.
"Actually, I can't remember what I was thinking at the time. I remember Drico [Brian O'Driscoll] put that ball between his legs Carlos Spencer style. I thought 'oh great it's a floaty one'. Then I was grappling with Folau; I got my head down, pumped my legs and before I knew it I had him in a fireman's lift! It is one of those things to tell the grandchildren, I guess."
Effective
North is keen to make his mark with Northampton. He is well aware of the difference between the RaboDirect PRO12 and the Premiership and says he is not going to be sitting on the wing waiting for the ball to come to him.
"A big part of my game in Wales was being able to beat people," he explained.
"If I am always there with the ball, doing more runs, then I am going to cause teams problems.
"I don't want to stereotype them but the English game is a bit different to the Welsh one - they like to chuck it up but not necessarily throw it wide.
"That means I will bring my game infield a bit more, working in that 9 and 10 channel, maybe even taking the ball at 10 just to get the ball in hand.
"It's about widening my game and really concentrating on work rate and making sure I get my hands on the ball whenever I can so I can be as effective as possible."
George North was speaking on behalf of Maximuscle, the sports nutrition product of choice for elite and amateur rugby players. Maximuscle have launched a Reward Scheme to help amateur rugby clubs raise their game, for more information visit www.maximuscle.com/grassroots