Concussion most common match injury for rugby players for third straight year, report finds
Last Updated: 12/02/15 1:00am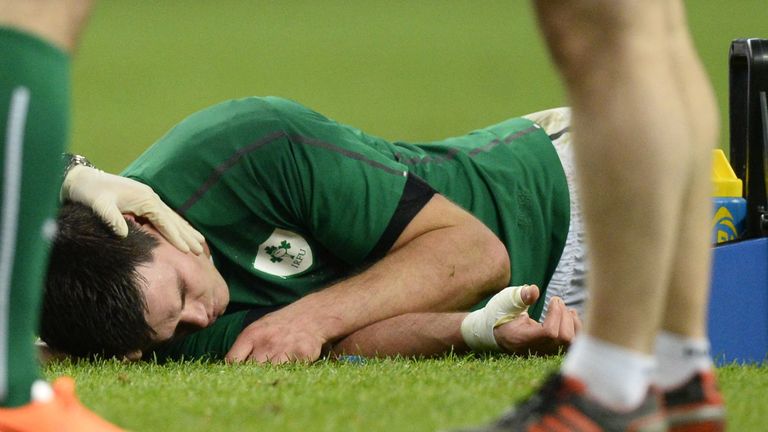 Concussion has been identified as the most common match injury for a third successive year, the Rugby Football Union has revealed in its annual injury audit for 2013-14.
Head injuries now constitute 12.5 per cent of all match injuries and have increased 59 per cent on the figures published for the 2012-13 season, rising from 54 instances incurred to 86 - though that worrying rise is being put down in part to improved diagnosis and reporting of concussions.
There were seven retirements from the sport last season due to head and neck issues, which are bracketed together and include concussion, with upper limb problems second on the list at three retirements.
While the audit finds that the severity of all injuries has spiked, the overall risk of match and training injury remains stable within the expected range and there is a decrease in the rate of recurrent injuries.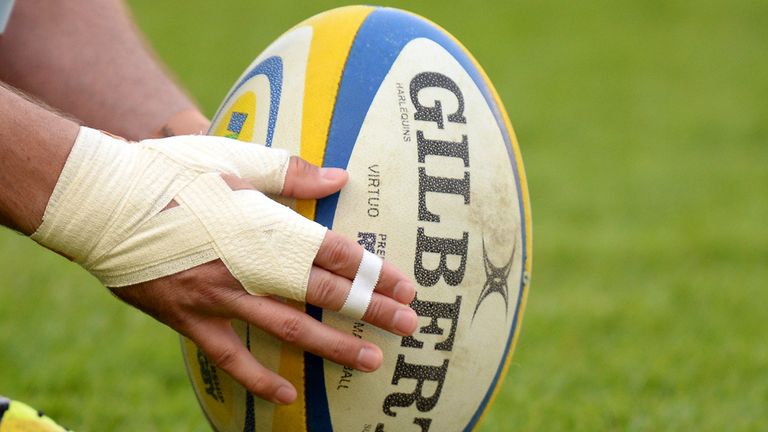 You can scan other injuries, but at the moment there is no gold standard diagnosis for concussion. It relies on checking symptoms and cognition, so it's a challenge.
RFU chief medical officer Dr Simon Kemp
The RFU's report has been released in a week that has seen concussion dominate the rugby union headlines after George North continued playing in Wales' Six Nations defeat by England on Friday despite appearing to have been knocked unconscious by the second of two accidental blows to the head.
On Tuesday former England and Gloucester flanker Andy Hazell declared he would object to his daughters taking up the game due to the long-terms risks associated with being concussed.
At a presentation on the audit, the RFU's chief medical officer Dr Simon Kemp stated that the reported incidents of concussion in rugby are 10.5 per 1000 hours, compared to 17 per 1000 hours for professional boxing and 25 per thousand hours for horse racing over jumps.
Kemp acknowledges that concussion is a pressing concern that has been "placed at the forefront of our approach to player welfare", but insists the predicted ongoing increase in instances is linked to the growing understanding of the problem.
"We think reported concussion will continue to rise with greater awareness and focus," Kemp said.
"To give the figures some context, 87 per cent of players didn't report a concussion last season.
"Our figures are reported figures when historically there has been an under-reporting of concussion across all sports.
"Concussion is one of the most difficult injuries to diagnose.
"You can scan other injuries, but at the moment there is no gold standard diagnosis for concussion. It relies on checking symptoms and cognition, so it's a challenge.
"Everyone believes it is unreported and where the graph point finishes, nobody will be able to predict."
Kemp insists the improving standards seen at medical departments at Aviva Premiership clubs may explain the growth in severity of injury and the reduction in the number of recurrent injuries.
"That increase could either be because the injuries are more severe or because the medical staff are managing players more comprehensively and are taking longer to return them to play," Kemp said.
"We have good evidence that injury care is becoming more comprehensive and conservative based on the fall in injury recurrence."
In the hope of creating a picture of the long-term damage inflicted by playing rugby at the highest level, the RFU is to commission a study using members of the England Retired Internationals Club.
The results, based on the health of around 40 per cent of the 800 ERIC members, are expected to be published early next year after appearing in a peer reviews journal.