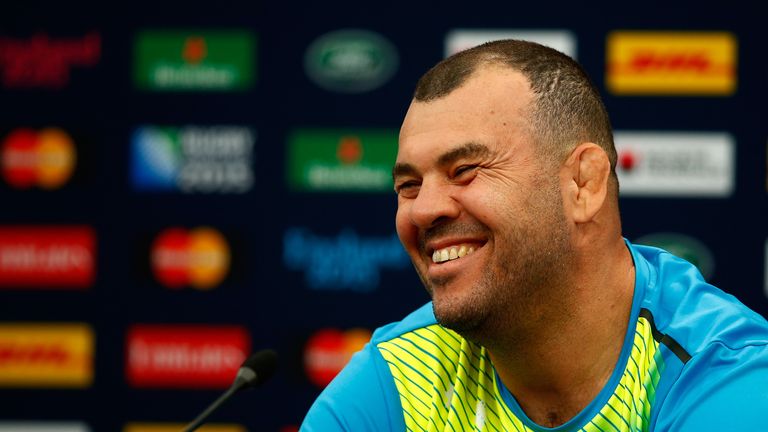 Australia coach Michael Cheika has laughed off Sir Clive Woodward's claim that the Wallabies are "not the brightest team".
England meet Australia on Saturday in a pivotal Pool A clash at Twickenham when a loss for the home side would see them become the first Rugby World Cup hosts to ever fail to reach the quarter-finals.
Last Saturday's loss to Wales has ramped up the pressure on Stuart Lancaster and his side heading into this weekend but Woodward is confident England can defeat a team he believes are mentally weak.
"Contrary to popular belief, they are not the brightest team, they give away penalties and pick up yellow cards when they are stretched," Woodward told the Daily Mail.
Cheika was asked about Woodward's claim in his press conference to preview the game and gave a measured response which made it clear he has every faith in his players' mental capacity to make good decisions in the heat of battle.
"Mr Woodward is right," Cheika said. "I only got 300 out of 500 in my high school certificate. My mother wasn't happy with the result I can assure you. She begged me to study harder but somehow I got through.
"Sometimes it is not intelligence but emotional intelligence that helps in this game. It is not the IQ; it is the EQ. Hopefully we have got a bit of EQ amongst us.
"We are loving our time together and we are doing our best for our country. I understand it is all fun and games with a bit of a snipe here and a bit of a snipe there. I am pretty comfortable with all that stuff."
When the two sides last met at Twickenham in November, the scrum was a major advantage for England and Sky Sports pundit Stuart Barnes believes it will again hold the key to victory for the hosts.
Former Australia coach Bob Dwyer has claimed that England prop Joe Marler scrummaged at illegal angles, in what was widely seen as an early attempt to get Saturday's referee Romain Poite to keep an eye on the hosts' technique.
However, Cheika wants his forwards - whose scrummaging has improved in recent months under the tutelage of legendary Argentina scrummager Mario Ledesma - to concentrate on earning what they get on Saturday.
"To me it is a moot point," Cheika said. "We are coming from a fair way back in the scrum.
"We got beaten well in a few scrums here last year. I wouldn't say every scrum but a few important scrums and the important scrums are the ones that count.
"We knew from the spring tour that we had to make adjustments to our own scrum and not rely on anyone's interpretation of scrums.
"We have to earn the competitive nature in the scrums ourselves by working hard on it, not by developing some new tactic or a new miracle that is going to help us. Have a philosophy, work really hard and train really hard.
"That's all you can do in this game and let the cards fall where they may. Just because we have worked very hard in that area does not mean we are going to have success in any game because the scrum is one of the most humbling parts of rugby. You can do very well in one and get ripped apart in the next one.
"It will be something we are looking to perform well in consistently and just do our thing, be very square and do our best.
"Whatever interpretations come from that is totally up to the referee. He is a very experienced referee. He has been in this type of atmosphere many times and he is a very good referee."