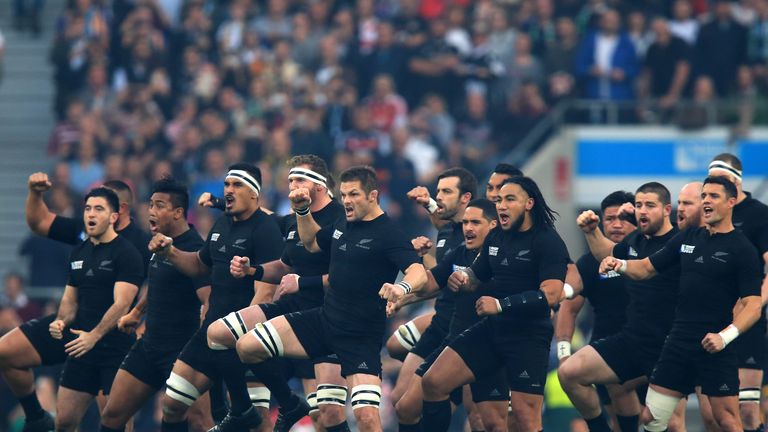 The superlatives have been coming in thick and fast to describe New Zealand after they won the 2015 Rugby World Cup.
They have been described as the best team in the world, the greatest side ever and the untouchables as they made history by becoming the first team to win back-to-back rugby World Cup titles.
It's hard to argue, they have lost just three games since winning the tournament in 2011 and will be already plotting and planning how to make it a hat-trick of titles in Japan 2019. And it's hard to bet against them.
At the start of the tournament, one Kiwi pundit claimed that the only team who could beat the All Blacks, was the All Blacks, but we have selected a World XV who we think could give the 2015 Rugby World Champions a run for their money.
15. Ayumu Goromaru (Japan)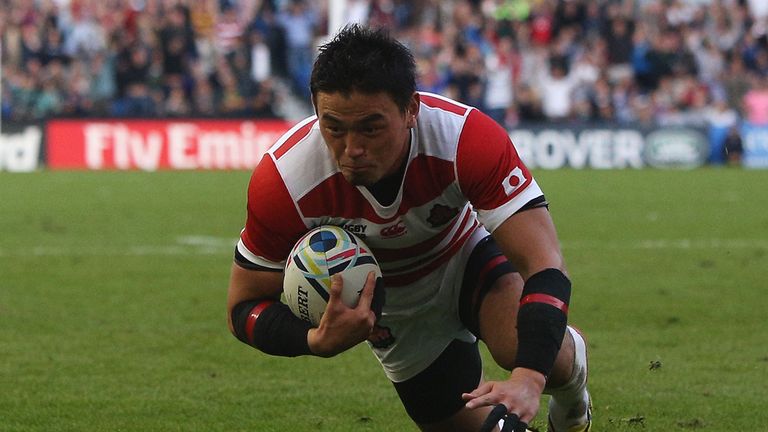 Has Ben Smith got a baby giraffe named after him? We don't think so but Japan's Goromaru has lent his name to a male baby giraffe born at a zoo in Hamamatsu, Japan. He led the charge in Japan's shock defeat of South Africa by adding a try and seven out of nine kicks, and tackled the big Boks to a standstill. The Reds are apparently after him to replace James O'Connor so we could well be seeing him in Super Rugby next season. Whatever happens, we want to see more of him!
14. Santiago Cordero (Argentina)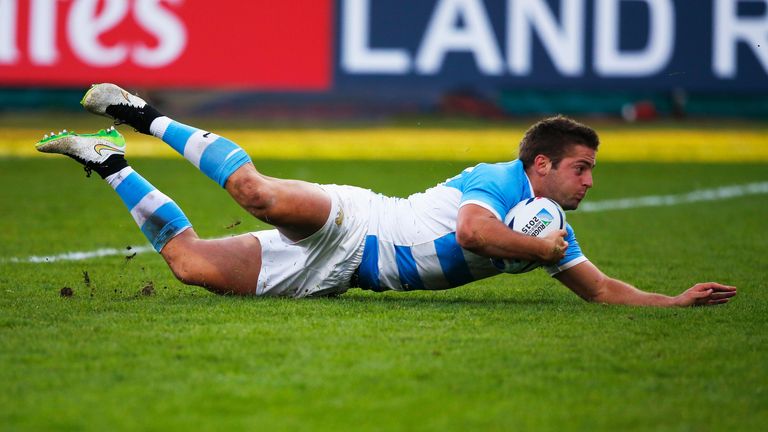 The Pumas winger was outstanding at the World Cup. With 31 defenders beaten - that's five more than Mr Milner-Skudder - Cordero is a superb runner and loves nothing better than to counter-attack.
13. Marcelo Bosch (Argentina)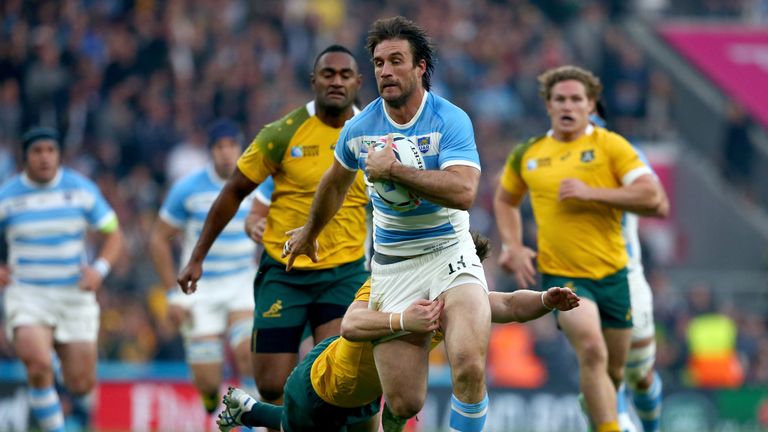 A key member of Argentina's backline who love to attack. However Bosch is also crucial in defence - his reading of the game is exceptional and he can cut open the opposition with some wonderful running lines.
12. Matt Giteau (Australia)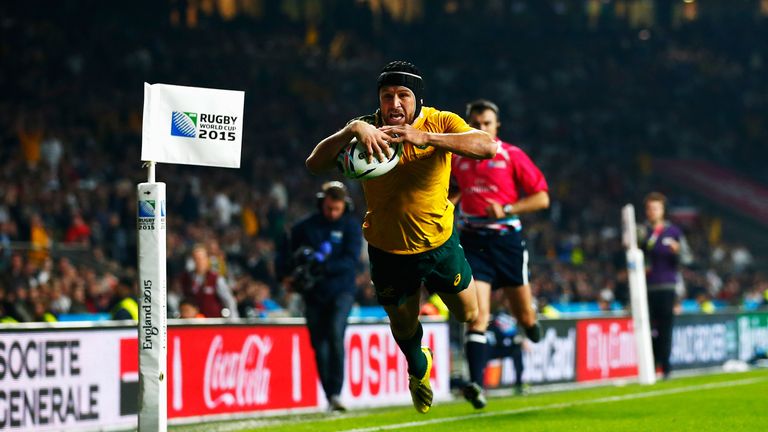 Pure class in motion and makes everything work around him. Australia were always up against it in the final but losing Giteau after just 25 minutes made their task even harder. Giteau always seems to have time on the ball and his skill-set is exemplary. He can pass accurately off both hands, his tactical kicking is superb and he has the pace to take the gap. Plus he loves to set-up those around him, be it the clever inside pass or the long swooping cut-out pass to get his wings away.
11. DTH van der Merwe (Canada)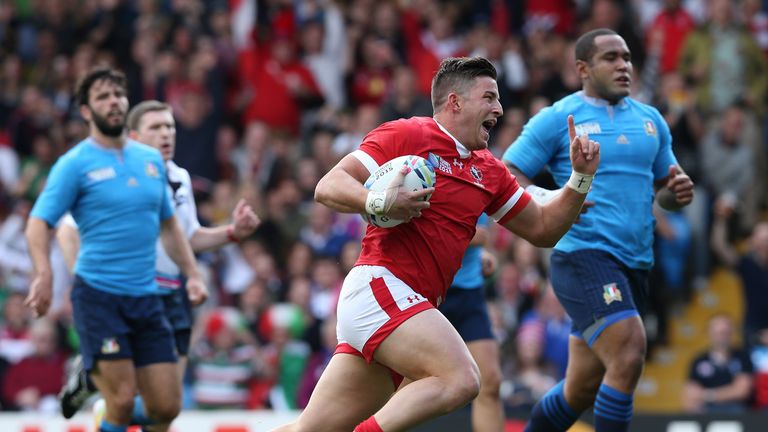 Canada may have lost all their pool games, but their winger was on fire. He became only the second player in Rugby World Cup history to score a try in every pool match, joining Shane Williams in this exclusive club. Not only did Van der Merwe score one of the tries of the tournament against Italy, but he was also always on hand to support and got stuck in all over the pitch.
10. Nicholas Sanchez (Argentina)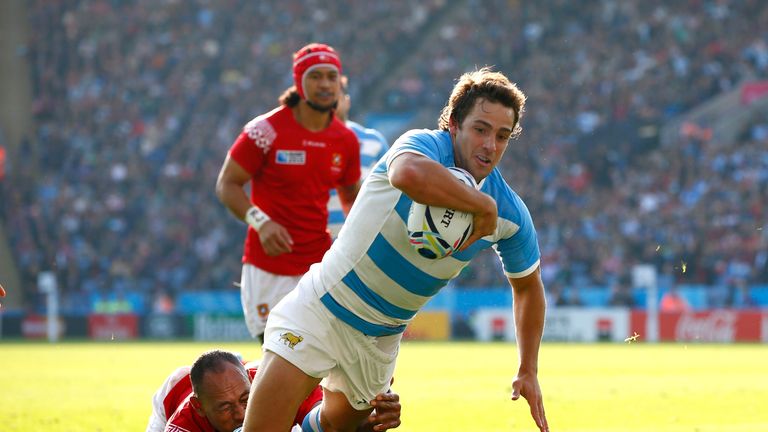 Australia's Bernard Foley was unlucky to miss out but Sanchez gets the nod to try and outdo Dan Carter. His kicking is impeccable plus he does everything else too - he tackles, he carries and he attacks. With 97 points to his name, Sanchez topped the rankings for most points scored in RWC 2015.
9. Fourie du Preez (South Africa)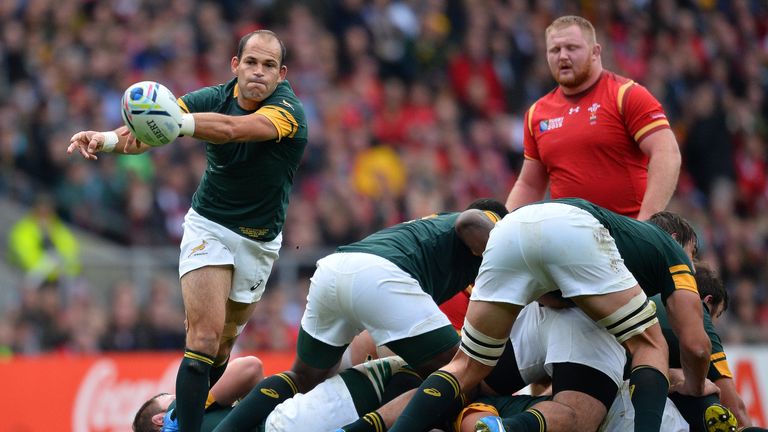 The veteran South African just pips Scotland's Greig Laidlaw in the starting XV. After the disastrous loss to Japan, Du Preez was the man who helped get South Africa back on track and helped them reach the semi-finals. His tactical kicking was superb and his try against Wales was very well taken indeed. He has all the experience and tactical nous to cause all sorts of problems for the All Blacks.
1. Marcos Ayerza (Argentina)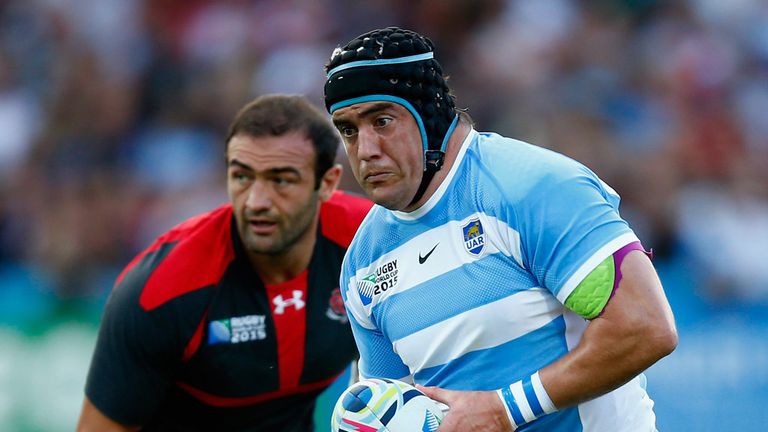 Is there anyone else there who loves to scrum as much as Ayerza? He relished all the challenges that came his way and is the foundation of one of the most powerful scrums out there. He was sorely missed in their bronze medal play-off against South Africa - not only for his scrummaging but for his ball carrying efforts as well.
2. Agustin Creevy (Argentina)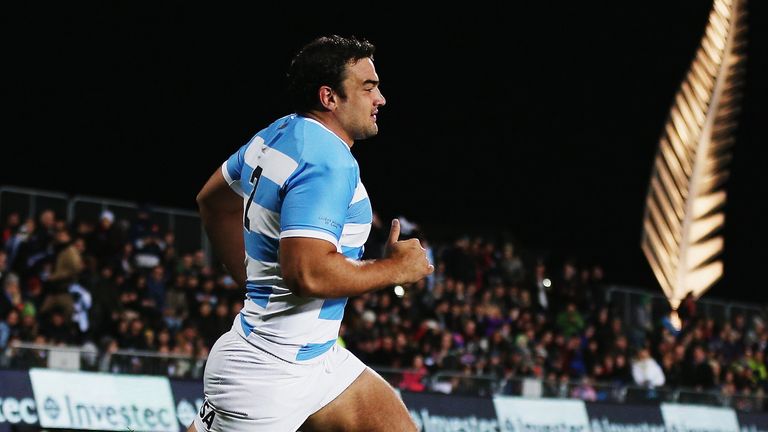 Argentina's fans and players have shown just how much passion and fire they have for this game. Creevy epitomizes all that and more. Like Ayerza, he loves to scrum and is a master of his trade - can scrummage and hits his men at the lineout. However he also adds that little bit extra with solid ball carrying and is like another flanker at the breakdown.
3. Ramiro Herrera (Argentina)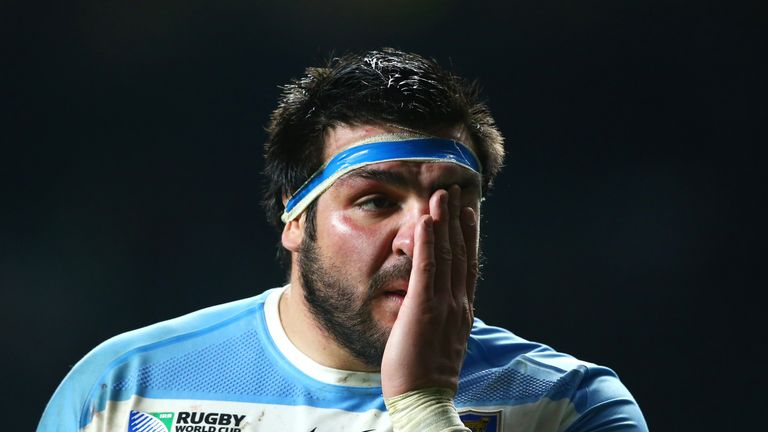 We were very tempted to opt for Scotland's WP Nel but decided to stick to an all-Argentina front-row to help get one over the All Blacks. Standing at 191cm tall and weighing 130kg, Herrera is a prime slab of Argentina beef and knows how to use his mass. His scrummaging is second to none while he also likes to get stuck in - a little too enthusiastically at times - and he would have to work hard on his discipline.
4. Lood De Jager (South Africa)
De Jager has been that good that we are sticking him in the No 4 jersey opposed to his usual No 5 jersey. He has recently come back from injury but shows that the future is bright for South Africa in the second row. Not only did he add some much needed grunt upfront, but was one of their biggest ball carriers - and looked to offload as well as opposed to going to ground all the time. He was just as ferocious without the ball - his defence was superb and he was joint top of the tackle count for the tournament with team-mate Francois Louw on 77. Actually the top four positions were taken up by South Africans with Schalk Burger and Eben Etsebeth on 75.
5. Alun Wyn Jones (Wales)
The Welshman consistently delivers at the highest level and is a natural leader. A great scholar of the lineout, he loves to disrupt the opposition throw and put pressure on them. Jones is also great around the field in defence and also works very hard at the restarts. With New Zealand really focusing on the winning possession back at the 'third set-piece', Jones' expertise in this area will be essential.
6. Mamuka Gorgodze (Georgia)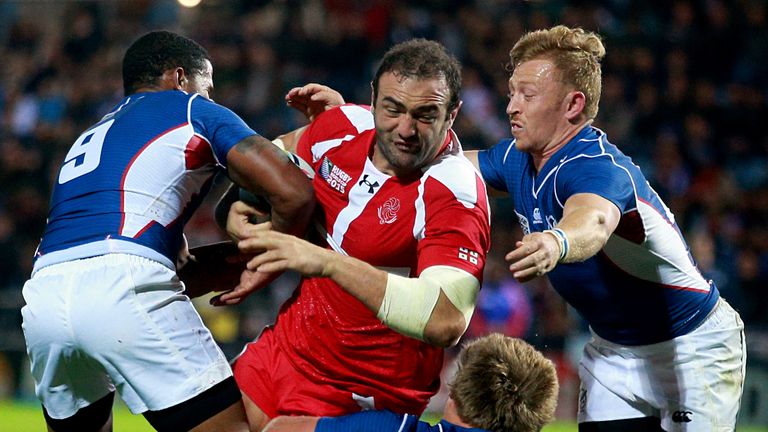 We want our blindside to be physically imposing and to love confrontation - step up Mr Gorgodze. He ensured the Georgia's automatic qualification for the 2019 World Cup in Japan by captaining his team to victories against Tonga and Namibia. He also topped most of the Georgia team's stats - most carries, most tackles, most offloads and most turnovers. He may have earned a yellow card against Argentina which ruled out any sort of upset, but his man of the match performance against New Zealand was majestic.
7. Francois Louw (South Africa)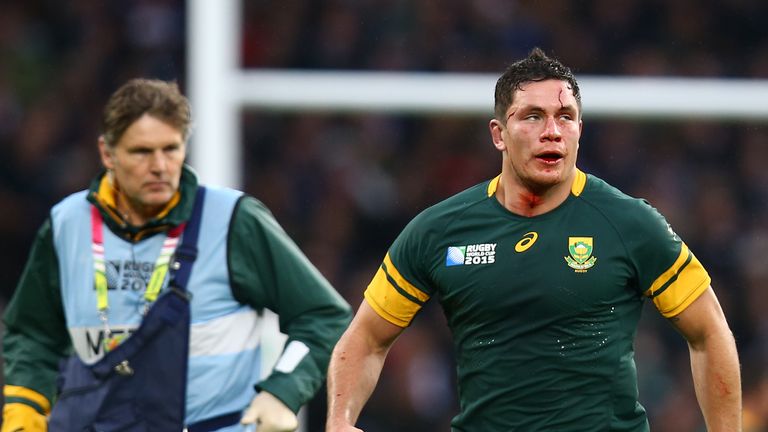 The battle for the openside jersey was fierce with plenty of players desperate to take on the mighty Richie McCaw. At the end we went for Louw who has been excellent this campaign. Not only has he topped the tackle count with De Jaeger, but also won the second most turnovers - just four behind David Pocock. (Louw wears the No 6 jersey but in South Africa, the blindside flanker wears 7 and openside flanker wears 6.)
8. David Pocock (Australia)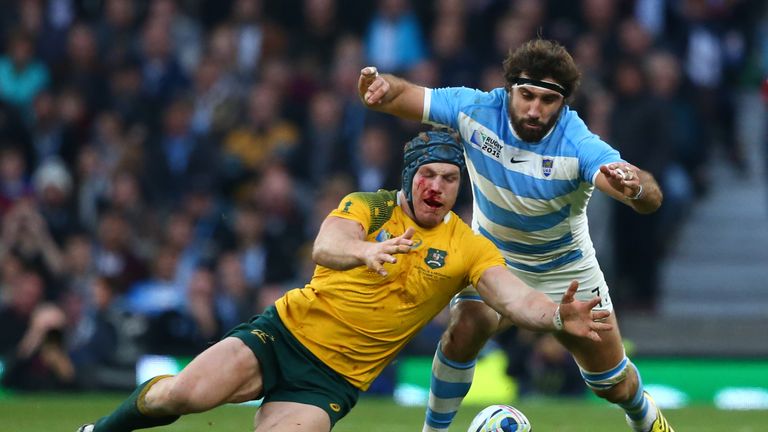 Pocock was unlucky to miss out to Dan Carter for player of the year as he had a storming 12 months and was one of the most influential players in the 2015 World Cup. His breakdown skills are the best in the world and he is one heck of a ball carrier as well. The breakdown has been a key area in this World Cup and Pocock is the undisputed champion; he has changed the way the game is played in this area and teams will need to adapt quickly or be left behind.