Sarah Hunter in England Women team to face France in Six Nations
By Shona Duthie
Last Updated: 09/03/18 4:34pm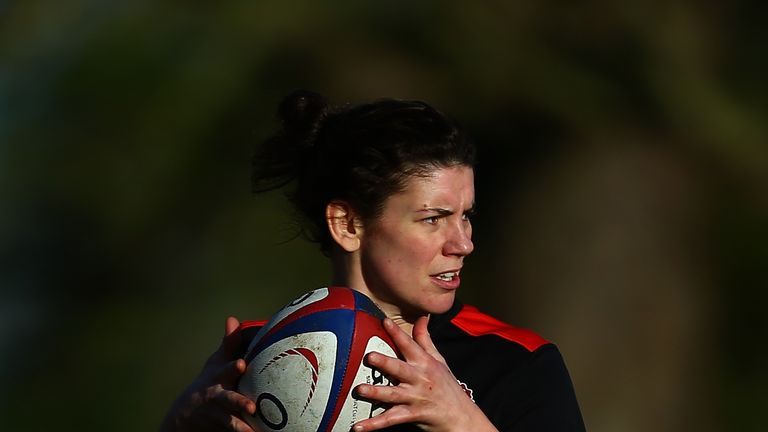 Sarah Hunter and Rachael Burford return to the England Women side for the Six Nations clash with France.
Captain Hunter and Burford, two of five changes to the side who defeated Scotland 43-8, will make their comebacks after being out injured to play at the Stade des Alpes on Saturday.
Amber Reed, Abigail Dow, who has seven tries in four internationals, and Marlie packer all make the starting line-up.
World Cup finalists Rochelle Clark, Justine Lucas and Izzy Noel-Smith are on the bench alongside Lark Davies, Caity Mattinson and Rowena Burnfield.
Head coach Simon Middleton said: "France are a dangerous side, they are physical and well organised in both attack and defence.
"The squad have worked hard this week, prepared really well and we are ready and excited to take on France, in what we know will be a really tough Test game at the Stade des Alps on Saturday night."
France and England have three bonus points with the Red Roses at the top of the table due to a superior points difference.
England: 15 Lark Davies, 14 Abigail Dow, 13 Rachael Burford, 12 Amber Reed, 11, Danielle Waterman, 10 Katy Delay-McLean, 9 Leanne Riley; 1 Vickii Cornborough, 2 Amy Cokayne, 3 Sarah Bern, 4 Abbie Scott, 5 Tamara Taylor, 6 Poppy Cleall, 7 Marlie Packer, 8 Sarah Hunter
Replacements: 16 Lark Davies, 17 Rochelle Clark, 18 Justine Lucas, 19 Rowena Burnfield, 20 Izzy Noel-Smith, 21 Caity Mattinson, 22 Lagi Tuima, 23 Charlotte Pearce.
England Women will face Ireland at the Ricoh Arena on Friday 16th March (kick-off 5.30pm), before England U20s take on their Irish counterparts at 8pm. To buy tickets, visit https://www.eticketing.co.uk/ricoharena/