England were given a warm welcome in Miyazaki as they begin their preparations for the World Cup in Japan.
England's first full day at their training camp in Miyazaki was partially taken up by a community visit to a local high school, where a brass band played 'We Will Rock You' by Queen as the players sat on stage.
Hundreds of children watched as fly-half George Ford exchanged passes with the captain of the school team, before gifts were exchanged and coach Steve Borthwick gave a short speech in Japanese.
"I said it's great to be here in Japan and we'll do our very best at the World Cup. I thanked them for their support," Borthwick said.
"The players are enjoying it. It's a great training camp here in Miyazaki. I know that from my previous experience coaching with Japan at the last World Cup.
"You couldn't have asked for better facilities and the players have enjoyed how we've started.
"The first period of time will be spent recovering from the journey because there's the jet-lag factor.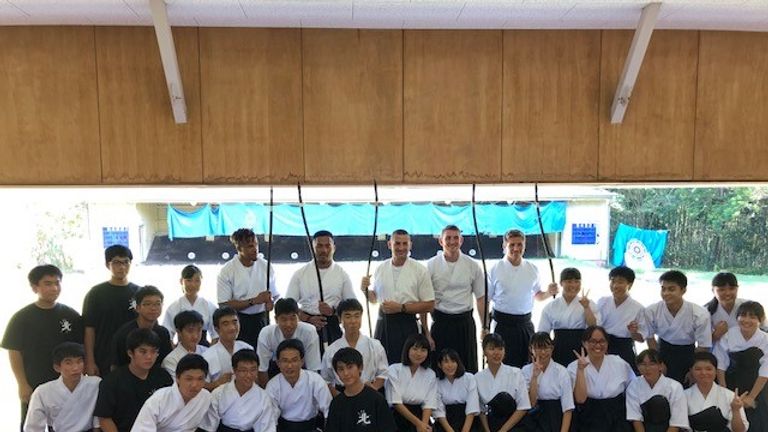 "Then we'll have another push in terms of our fitness. We'll focus on our conditioning for the next couple of games. We'll move into game prep at the appropriate time."
England's arrival into Tokyo on Monday was hit by a five-hour delay leaving the airport due to the fallout from Typhoon Faxai, which had battered the Japanese capital the previous night.
Sky Sports News reporter Gail Davis in Japan…
A huge cheer for the England players was followed by a brass band playing a medley of Queen - a piece of England to greet the squad almost 6,000 miles from home. This was how the 1,000 pupils of Miyazaki High School wanted to celebrate the upcoming World Cup.
There was some rugby thrown in, too, as Ford and the school's captain flung the ball from one side of the assembled hall to the other - you cannot imagine that being allowed on any other school day.
It is an older, more traditional sport that Miyazaki, England's base for the next week, is famous for - it is the birth place of Japanese martial arts and England were keen to get accustomed.
The pupils dressed the players into their hakama outfits, ready for kyudo, or Japanese archery. It is a discipline where mind-set is just as important as technique, although some of that does help - just ask Anthony Watson who had trouble keeping his bow in his hands, let alone fire it where he wanted it to go.
In kyudo attitude and the character it builds are as key as hitting a target you can never take your eyes off - less than a fortnight out from the start of the World Cup that is a pretty good lesson for the England players to take away.
The traditional tea-drinking ceremony was met with more success and the afternoon was rounded off by the school choir, but it is clear that this team is already embracing Japan and this first World Cup to be held in Asia.