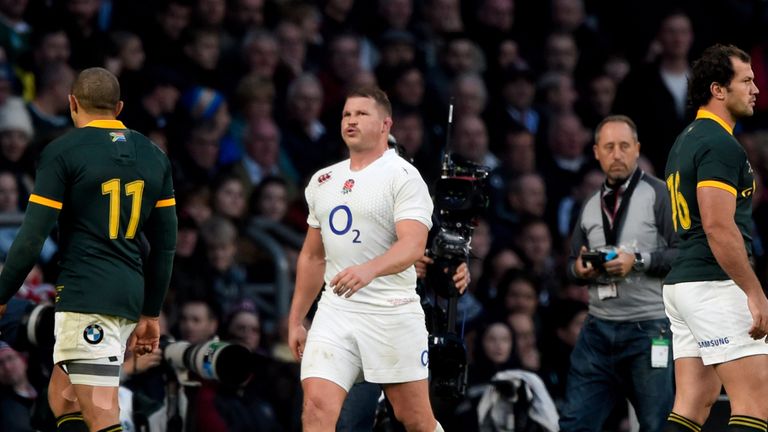 With confirmation that he has been axed from England's World Cup squad, we look at Dylan Hartley's disciplinary record.
With a four-week ban handed to him for a headbutt on Jamie George earlier in the month, Dylan Hartley has now accrued more than a calendar year on the sidelines due to discipline issues.
The latest in an array of bans has proven to be the final straw for Stuart Lancaster, who has axed the hooker from his World Cup training squad due to a lack of trust in Hartley's discipline.
His frequent visits to rugby's judicial hearings have now ruled him out of contention for two World Cups and a British and Irish Lions tour. We take a look at all the on-field issues which have kept Hartley out of the game.
April 2007 - 26 weeks
Hartley's first ban was also his longest, when he was handed a 26-week ban for making illegal contact with the eye of Wasps players James Haskell and Johnny O'Connor.
Just 21 at the time, Hartley had the ban reduced from 30 weeks to 26 for reasons of good character, youth and inexperience, but he still missed out on contention for the 2007 World Cup - the first of three high-profile tours missed by the Saints hooker thanks to bans.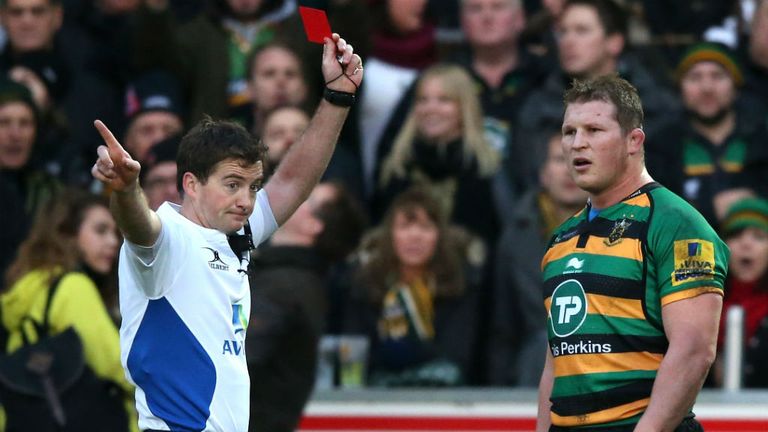 March 2012 - 8 weeks
It was in the England jersey that Hartley's next ban was brought down. During his side's Six Nations encounter with Ireland at Twickenham, Hartley bit the finger of loose forward Stephen Ferris. The incident was not spotted by Nigel Owens at the time but upon review, Hartley was handed his second ban, which ruled him out of the remainder of the domestic season.
Lancaster still picked Hartley for England's tour of South Africa in the summer.
December 2012 - 2 weeks
Hartley's temper let him down for a second time in the same year when he punched counterpart hooker Rory Best during the Heineken Cup. Hartley once again pleaded guilty to the offence and missed two weeks of action.
May 2013 - 11 weeks
In May 2013, Hartley was twice warned by referee Wayne Barnes for verbally abusing him during the Premiership final between Northampton and Leicester. As the first half drew to a close, Barnes awarded Leicester a penalty to which Hartley reacted by swearing and calling Barnes a 'cheat'. Barnes showed Hartley red and Saints went on to lose the game 37-17.
Hartley was given a ban of 11 weeks for the indiscretion, which ruled him out of the British and Irish Lions tour to Australia.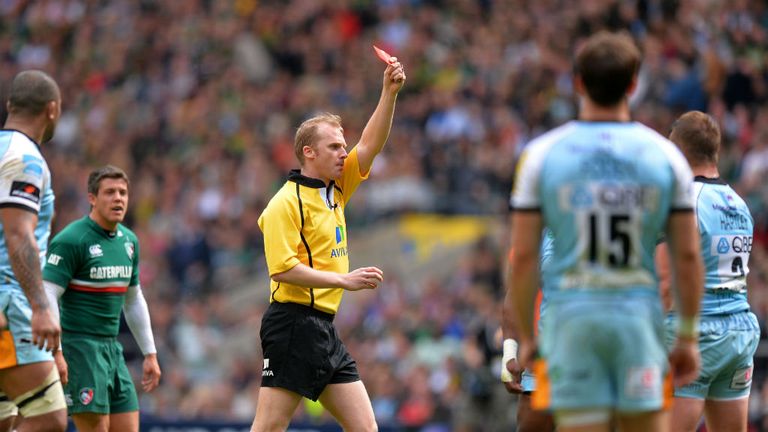 December 2014 - 3 weeks
It was another Saints derby against Leicester that brought out Hartley's hot-headed side. The New Zealand-born forward elbowed Tigers centre Matt Smith during a Premiership match between the two teams, though Jim Mallinder's side still managed to win despite playing with 14 men for 65 minutes.
Hartley still featured for Stuart Lancaster in the Six Nations two months later, but the hooker admitted that he was on his 'last warning' from the England coach.
May 2015 - 4 weeks
It was another opposition hooker that fell victim to Hartley, this time Saracens' Jamie George. George was headbutted by Hartley during the Premiership semi-final between Saracens and Northamption earlier in the month.
The ban meant Hartley would miss England's first game of the World Cup, though he would have been eligible for selection thereafter. However the latest ban was the final straw for Lancaster, who has drawn a line under Hartley's involvement in this year's World Cup.