Scotland captain John Barclay says England are "massive favourites" to win Saturday's Calcutta Cup clash at Murrayfield.
Recent history is certainly against Scotland as they prepare for the latest edition of rugby's oldest international fixture. Their last win over England was a 15-9 success in the 2008 Six Nations.
Eddie Jones launched his reign as England head coach with a 15-9 win away to Scotland two years ago, the start of a hugely impressive record of 24 wins in 25 Tests, and Barclay has been impressed by their progression under the Australian.
"They've obviously won their first two [Six Nations] games, two quite different games, won in different fashions," said Barclay.
"They are one of the best teams in the world, their record is fantastic. They come here as massive favourites.
"They are a quality side with the quality players throughout. It's a big challenge for us to stop them."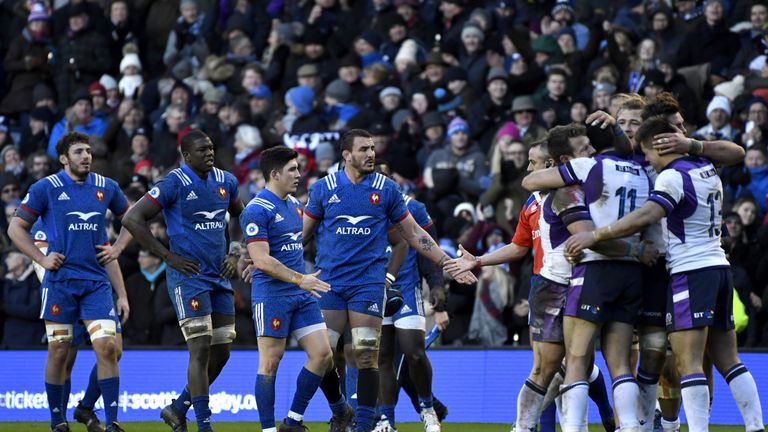 Barclay plays his club rugby for the Scarlets, who currently supply the bulk of the Wales team. They were beaten at Twickenham last month and Barclay has been picking their brains.
"I went into the club on the week off and just had a little chat with some of them but the footage is there for you to see their strategies," said Barclay.
"They [Wales] gave away two penalties in the whole game - I don't know if that's ever been done before, that disciplined.
"They had a very clear strategy, a few calls here or there and the game could have gone the other way."
Scotland came into this season's Six Nations with high hopes following an impressive November series under coach Gregor Townsend but were brought back down to earth on the opening weekend with a 34-7 loss away to Wales.
However, the Scots showed plenty of character to twice overcome 10-point deficits before seeing off France 32-26 at Murrayfield to revive their title hopes.
"The first game was disappointing but it was fantastic to beat France in the way we did," said Barclay.
"I said after the first weekend that one game does not make you a terrible team, just as one win doesn't make you the best team in the world. It was important for us to win against France just to get some points on the board and we did that.
"To win here again this weekend and get more points on the board would put us in a great position.
"But we're under no illusions about how good a team England are and the challenge that lies ahead."