Shed's heaven
Gloucester's fans have been named the most passionate fans in the Aviva Premiership.
Last Updated: 30/04/12 11:15am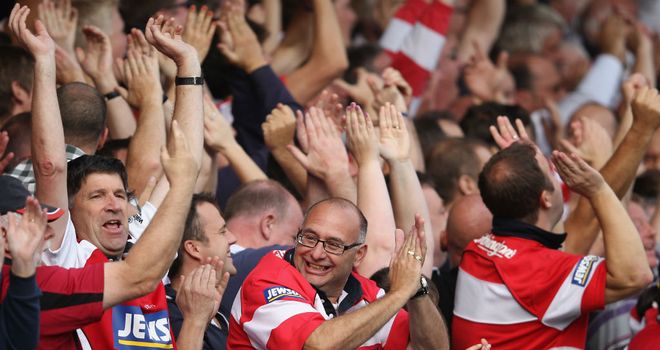 Gloucester's supporters have been named the most passionate fans in the Aviva Premiership following season-long tests.
The University of Bath were commissioned by Premiership Rugby's title sponsor Aviva to devise a series of tests that measure passion - with the scientists looking at the loyalty, match evaluation (before and after games), psychology (mood and anxiety levels) and physiology (hormone and heart rate changes) of a sample of fans from each club.
A typical sample saw 15 fans (12 male and three female) take part - with the ages ranging from 18 to 68.
And, following an evaluation of all the results, Gloucester top the passion rankings with a score of 177 points, handing the Kingsholm club - and their loyal following in the Shed - the top honour.
London Irish (158) and Northampton (156) had to settle for second and third places respectively.
Emotional
Saracens may be the defending champions, however they finished bottom of the pile with just 104 points, while Newcastle were bottom of the pile when it came to club loyalty.
The survey also showed the Gloucester v Bath derby at Kingsholm was the noisiest match - peaking at 143 decibels - while Leicester's 30-25 victory over Northampton Saints in December was independently scored as the most exciting by a former England rugby international.
Director of research for psychology at the University of Bath Dr Mark Brosnan said: "All the tests were formulated and set up to give the best indication of the stresses and emotions fans go through when watching a game of rugby.
"There's no doubt that the more passionate you are about a team, the more involved you will be on an emotional level - and this is exactly what this experiment found.
"We were surprised by just how passionate some of the fans were. Some of the surges in heart rate and testosterone are the biggest we have seen.
"Previous research has examined these factors in players - and it's fascinating to see that fans go through similar psychological and physiological processes as the players on the pitch."