Gareth Thomas says Israel Folau's anti-gay comments could damage Australia in long term
"The one to blame for all the difficulty is Israel Folau," says Gareth Thomas, as controversy over Wallabies star's publicly-stated beliefs continues; Wales great says "the whole game gets tarred" when homophobic incidents occur
Last Updated: 19/05/18 4:40pm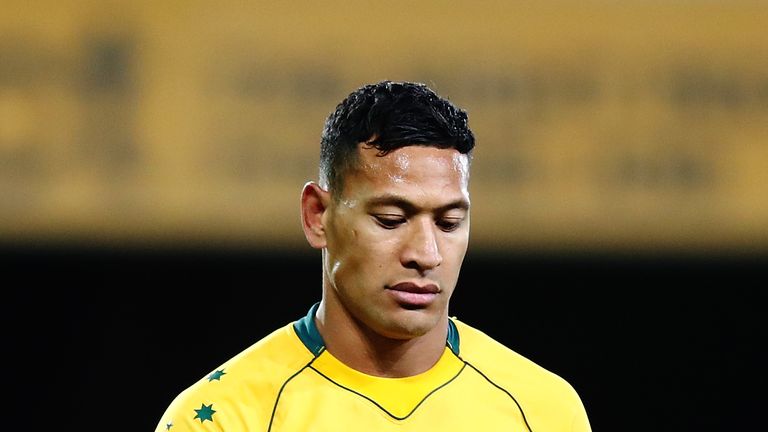 Israel Folau has risked damaging Australia's team spirit with his anti-gay comments, says Wales legend Gareth Thomas.
Wallabies coach Michael Cheika tried to play down the row surrounding his star player on Wednesday, telling reporters that those who disagree with Folau's published views on homosexuality should "detach" from them, adding: "That way it'll be, 'he's no longer my idol', if that's the case."
The ongoing controversy stems from a comment posted and later deleted by Folau on Instagram last month. Asked what God's plan for gay people was, the 29-year-old back replied: "HELL... Unless they repent of their sins and turn to God."
Folau later wrote an opinion column denying he was either homophobic or bigoted, while also adhering staunchly to his religious beliefs. On May 7, he posted a video on Twitter of a sermon which contained anti-gay rhetoric, but denied being "judgmental" when criticised by another user.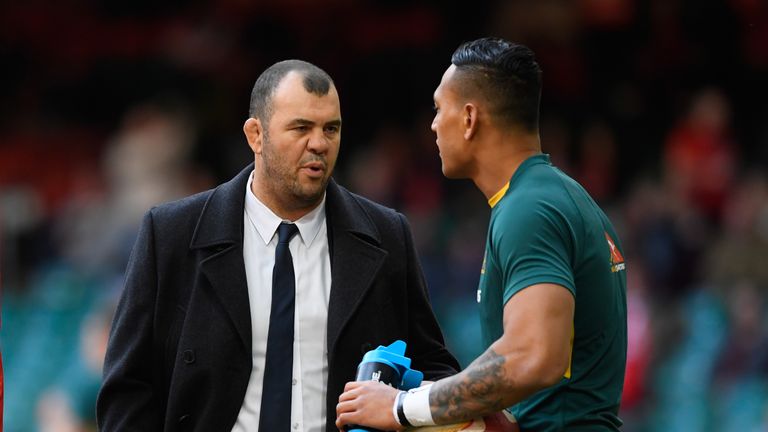 Thomas, who won 100 international caps for Wales and came out publicly as gay in 2009, says the controversy surrounding Folau's views could continue to cause problems for Cheika, governing body Rugby Australia and the national team itself in the future.
"We're in a really difficult position here, and the one to blame for all the difficulty is Israel Folau, for actually sending the message out," said Thomas, speaking to Sky Sports at the Just A Ball Game? event on LGBT inclusion in sport in Cardiff on Thursday.
"He's put a lot of people in awkward situations. What's happening now is that Cheika is having to almost distance himself from a player. You've had businesses and companies wanting to disassociate with the team.
"I think what Cheika's probably trying to do is redress the balance and bring it back to an equal, by being negative towards him. He [Folau] was negative towards a whole community of millions and millions of people."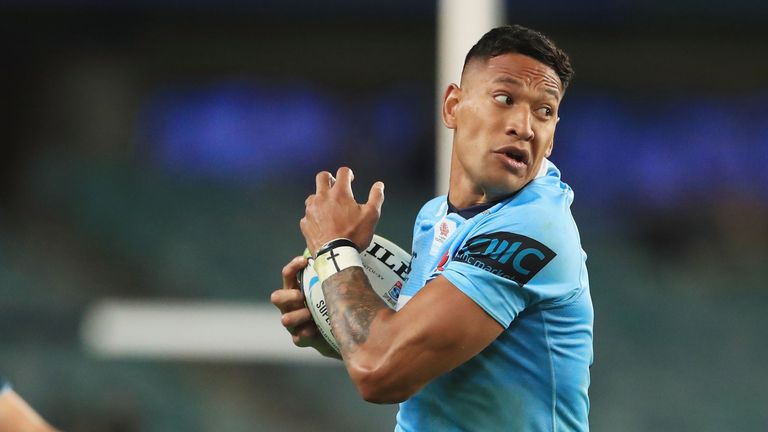 Next month, Cheika's Wallabies will play three Tests on home soil against Ireland. Folau's selection is a near certainty, even more so following his impressive form since returning from injury with the Waratahs; he scored two tries in their 41-12 Super Rugby win over the Highlanders in Sydney on Saturday.
However, Thomas says the morale within the Australia squad could be tested, especially if David Pocock - fit again for Brumbies action this weekend - is also called up.
"You have so many supporters of LGBT within rugby," added Thomas. "David Pocock is so openly supportive of gay marriage and of LGBT rights that you wonder, how is the environment with Israel Folau in it still going to be exactly the same as it was prior to his comment?"
Rugby Australia chief executive Raelene Castle said last week that the situation was still "very delicate" for the governing body, for whom Folau is their highest-paid employee. RA chose not to sanction the player despite his comments being widely seen as contravening their own inclusion policy, which states 'there is no place for homophobia or any form of discrimination in our game, and our actions and words both on and off the field must reflect this'
Thomas concedes the Folau saga has put the authorities in a deeply unenviable position, and at a critical juncture too. In August, Australia will once again attempt to conquer dominant New Zealand in the Rugby Championship, while bookmakers already favour the All Blacks, England and Ireland above the Wallabies for the 2019 World Cup in Japan.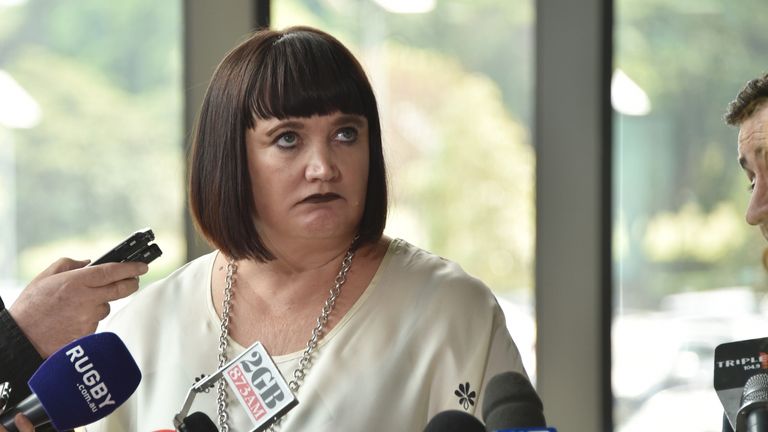 While acknowledging Folau's value as one of rugby's biggest talents, Thomas says the strength of the Australian's views means he would personally find being his team-mate or colleague problematic.
"I would allow Folau to have his opinion, but I would not stand by and support somebody whose opinion is seen as homophobic," said Thomas.
"The reality is so many people are fighting for equality, and for one man to say something so silly... to me, one man never makes a team. One man never is the reason that a team will win the World Cup, or a team will win a championship. One man can sometimes be a weak link. I would be seriously looking at it in that way."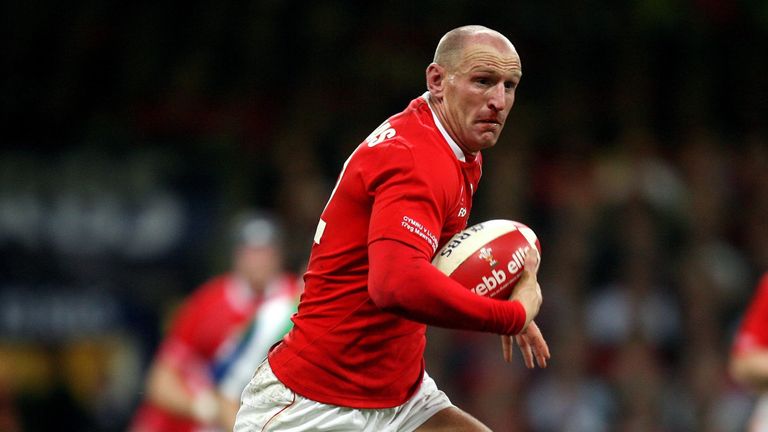 Homophobia should be something that is stamped on as very serious... the whole game gets tarred with it.
Gareth Thomas
While rugby is often seen as being a good example of an LGBT-inclusive sport, particularly in light of the respect shown to Thomas when he first shared his personal story nine years ago, he feels incidents such as those involving Mathieu Bastareaud and Denny Solomona at club level last season demonstrate there is still work to be done.
Toulon's France centre Bastareaud was handed a three-week ban for using a homophobic slur in a Champions Cup match, while Sale winger Solomona was suspended for four weeks after an RFU disciplinary charge of anti-gay language used in a Premiership clash against Worcester was found to be proven "on the balance of probabilities".
"Bastareaud, what he did... it [the punishment] should have been so much worse than it was," said Thomas, "while the Solomona incident was always difficult.
"But the fact that those things arise, for me, homophobia should be something that is stamped on as very serious. Otherwise, you don't just have that player as potentially a negative player - the whole game gets tarred with it.
"The whole game, and the continuation of growing it, is way more important than banning someone for a short while.
"Governing bodies and people that run all sports should have a much wider view of the outcome, and the positivity of showing that you'll stand up to it, with authority."