Michael Cheika defends position as Australia head coach
Wallabies' second Test against New Zealand on Saturday, live on Sky Sports Action
Last Updated: 22/08/18 7:03am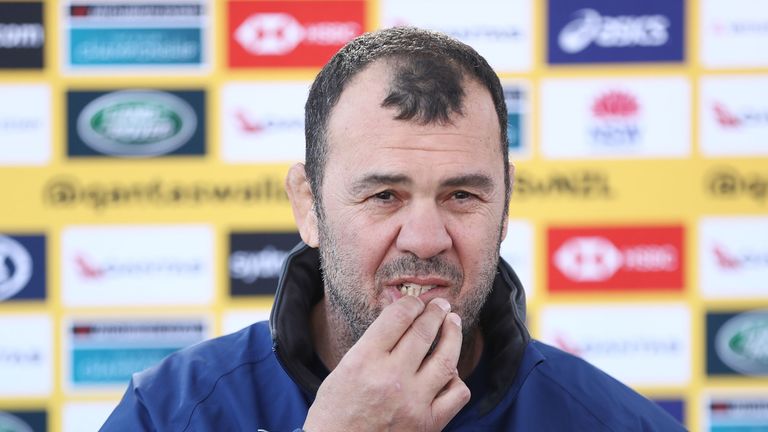 Australia head coach Michael Cheika insists he is still the right man to lead the Wallabies despite calls for him to be sacked.
A second-half capitulation saw Australia lose 38-13 to New Zealand in the opening Bledisloe Cup game last weekend.
Cheika's side had led 6-0 up until the final minute of the first half.
Another defeat for Australia in the second Test against the All Blacks on Saturday would hand their rivals the Bledisloe Cup for a 16th consecutive time.
"I'll tell you now, there's no one hurting more than me than when I walk down the tunnel and I see my two kids there crying," he told Australian media in remarks published Wednesday.
"I'm certainly not thinking we don't merit a negative response - of course we do."
Cheika said his team "had to take a lot of bullets" from critics as they build depth for the 2019 Rugby World Cup but believes they were working towards more consistent performances.
The coach, who guided the Wallabies to the 2015 World Cup final soon after his appointment, was confident his long-term plan for the team remained on track.
"I've always had a plan about what I want to do. Sometimes you get bumps that take you a different course, you lose players, different things happen along the way and you've got to be able to adjust to that," he said.
"But when you know exactly where you're headed, it makes it a little easier to deal with those things because you can stay on track."
Cheika also refused to write-off the Bledisloe for another year, saying Australia were capable of snatching their first win at Eden Park in Auckland since 1986 to level the three-match series on Saturday.
"There's those who can hold their nerve and those who can't," he said.
"I'd like to think I'm someone who can hold my nerve in these situations, keep the team confident and believe we can go out there this weekend and win.
"I know that you guys (media) dont think that, but I think we can."