Israel Folau files lawsuit against Rugby Australia and Waratahs
By
Last Updated: 06/06/19 9:37am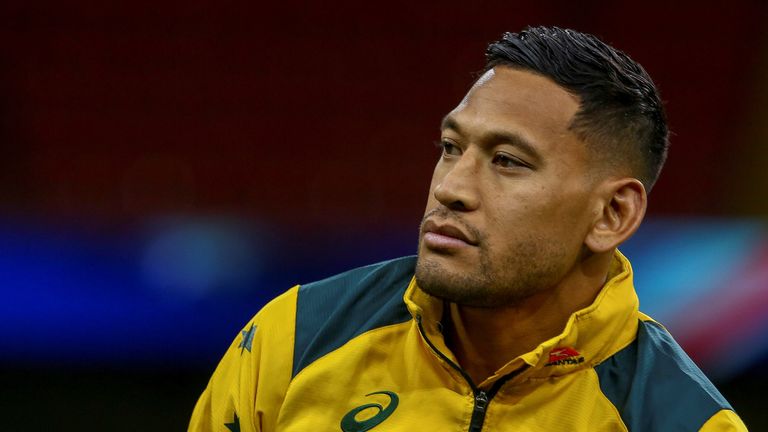 Israel Folau is taking legal action against Rugby Australia and club side the Waratahs after his playing contract was terminated over anti-LGBT social media posts.
Folau's four-year deal was cut short after an independent panel backed RA's position that the comments he made on April 10 warranted his sacking rather than a fine or suspension.
The 30-year-old devout Christian said on his Instagram account that "hell awaits" for "drunks, homosexuals, adulterers, liars, fornicators, thieves, atheists, idolaters".
Legal representatives for Folau have confirmed they have filed an application to the Australian Fair Work Commission and are seeking a declaration his employment was unlawfully terminated because of his religion.
Folau, who also played rugby league for the Melbourne Storm and Brisbane Broncos before switching codes, said: "I will forever be grateful and proud to have played the sport I love for our nation.
"Ours is an amazing country built on important principles, including freedom of religion. A nation made up of so many different faiths and cultural backgrounds will never be truly rich unless this freedom applies to all of us.
"The messages of support we have received over these difficult few weeks have made me realise there are many Australians who feel their fundamental rights are being steadily eroded.
"No Australian of any faith should be fired for practising their religion."
Rugby Australia and New South Wales Rugby released a joint statement defending their decision.
"Rugby Australia and the NSW Rugby Union made the decision to pursue the termination of Israel Folau's contract because of a serious breach of the Professional Players Code of Conduct," it read.
"This is an issue of an employee and his obligations to his employers within the contract that he signed. He was bound by a Code of Conduct for all professional players in Australia that spells out clear guidelines and obligations regarding player behaviour, including respectful use of social media.
"An independent panel, having sat for 22 hours and heard testimony from several witnesses and reviewed over 1000 pages of evidence, determined that Israel's conduct constituted a high-level breach of the Code of Conduct and
ordered termination of his playing contract.
"It is important to make clear that Rugby Australia and NSW Rugby did not choose to be in a position where they are forced to divert significant resources to defend the ongoing legal action taken by Israel, but his action leaves the game with no choice.
"As a sport that is proud of the values of inclusion, passion, integrity, discipline, respect and teamwork that underpin our game globally and our Code of Conduct, we will defend those values and the right for all people to feel safe and welcome in our game regardless of their gender, race, background, religion or sexuality.
"We are grateful for the support from so many people from within our rugby community, including the volunteers who are the guardians of the game's values, from other sports and from the wider community here and around the world, who
have supported our stance.
"We will remain focused on getting on with the job of building our game, supporting our teams, encouraging more people to play rugby and upholding the values that generations of Wallabies and Waratahs have represented with pride."