South Africa beat Fiji to win Las Vegas Sevens and extend overall advantage
By Andy Charles
Last Updated: 06/03/17 10:02am
South Africa made it four wins from five rounds in the HSBC Sevens World Series with a 19-12 win over Fiji in Las Vegas.
The Blitzboks, whose only disappointment of the series so far came on home turf in Cape Town against England, rallied from an early deficit to claim victory over the Pacific Islanders.
Both sides had come from behind to reach the final, Fiji scoring 19 unanswered points against New Zealand in a 19-14 win while South Africa trailed the United States 12-0 and 17-15 before progressing thanks to a late try by Dylan Sage.
The United States went on to beat New Zealand to claim third place while England defeated Australia 10-7 in the fifth-place play-off after having lost to the All Blacks 19-0 at the quarter-final stage.
In the final, played in almost gale-force winds, Fiji took a 5-0 lead thanks to a Masivesi Dakuwaqa try.
But the wind would cost them soon after when a Rosko Specman pass, which blew metres forward, was deemed to have gone backwards from his hands and the resulting Cecil Afrika try was allowed to stand.
Specman was at the heart of their second score, his darting run breaching Fiji's defence and giving him the chance to set Chris Day up for a converted try.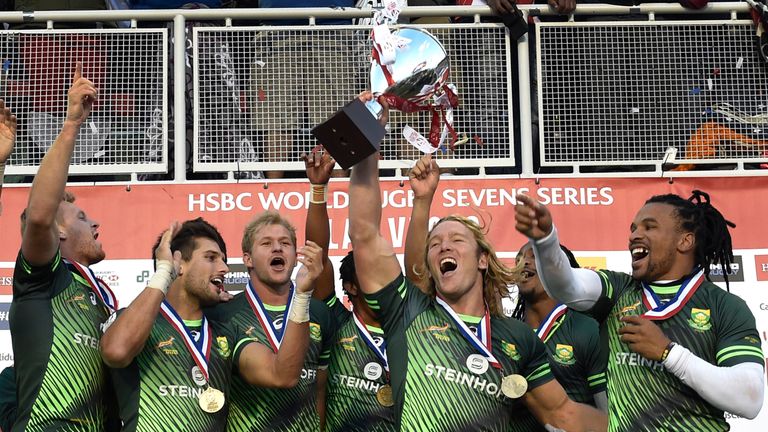 An intercept and 60-metre run from Specman gave South Africa a third try and, although Waisea Nacuqu replied for Fiji, they were unable to level things up and had Sevuloni Mocenacagi sent off for a dangerous tackle as they pushed forward.
South Africa now have a 24-point lead in the standings after five events, with 107 points to Fiji's 83, with England having dropped into third place on 81.