Hayden Triggs reveals retirement plans ahead of Leinster's PRO12 semi-final with Scarlets
By Michael Cantillon
Last Updated: 16/05/17 6:48pm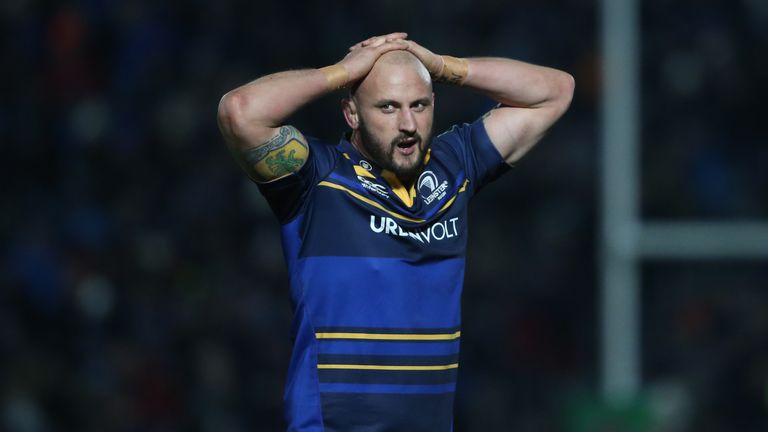 Leinster second-row Hayden Triggs has revealed he is retiring at the end of the season but insists all his focus is on Friday's Guinness PRO12 semi-final against the Scarlets after the hardest season of his life.
Triggs and his team-mates ended the season in second place and as such will host third-placed Scarlets at the RDS on Friday night, live on Sky Sports 1 HD from 7.30pm.
That fixture will now be 35-year-old Triggs' final appearance in the stadium after two years in Dublin, as the big Kiwi told Sky Sports of his plans for the future.
"I'm finishing. I'm done, I'm retiring," Triggs said. "I had a conversation with Leo [Cullen] at the start of this season and that was my plan from day one of this year.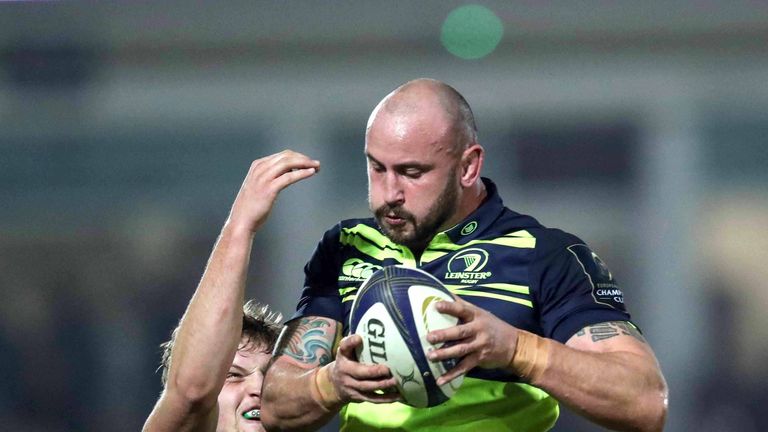 "It's given me focus and a clarity this year without having the stress and the worry of what's going to happen contractually for next year.
"It's quite a stressful time during November, December, January when people are finding out what's happening, so I didn't have to worry about this year.
"I always wanted to say I finished on my terms and I'm happy with that, and I'm just super privileged to be doing that with Leinster."
'Semi-final all that matters'
Having arrived in Ireland in October 2015, the Maori All Black international had his original nine-month contract extended for a further year last summer.
Under Cullen, Leinster reached the PRO12 final last season, only to be beaten by Pat Lam's free-flowing Connacht in Edinburgh.
Last month they were edged out of Europe at the semi-final stage by Clermont, and Triggs insists nobody at the province is under any illusions as to how tough their upcoming semi-final with Wayne Pivac's Scarlets will be.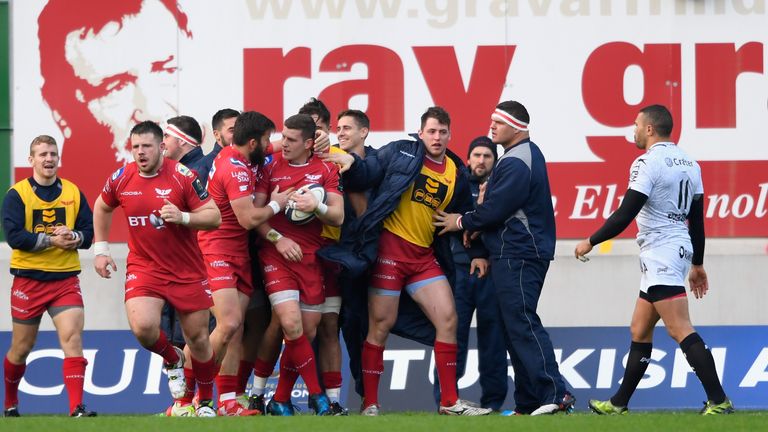 "A massively formidable challenge [awaits against the Scarlets]," Triggs added. "They've got a good hearty forward pack and some really dynamic backs, with some Lions sprinkled in there, and they recently have a great away record with some really big scalps on the road. So we're preparing for a massive challenge.
"Apart from worrying about ourselves we have a massive respect for the Scarlets and what they're doing this year."
Scarlets head to the Irish capital off the back of five straight victories, with their last defeat coincidentally coming against Leinster at the RDS, back in the beginning of March.
Leinster put 45 points on the West Walians that day and if they get past them this time the final will be in the Aviva Stadium, another patch the boys in Blue are far more accustomed to than the rest.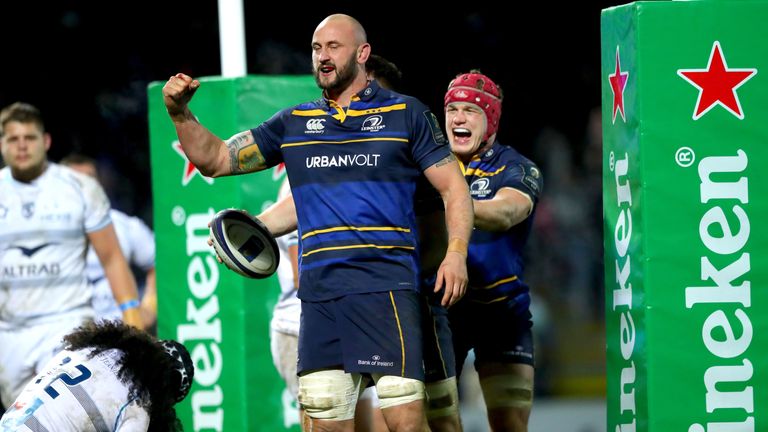 Triggs is adamant though that all thoughts must be concentrated on the semi-final and nothing else heading into the clash.
"I'd like to think so [their previous victory over the Scarlets gives them an advantage] but it's semi-final footy now," he said.
"All four teams have done the hard yards now. Luckily for us we've done enough during the year to get a home semi-final, so a lot of work has gone into that and a lot of pride.
"We really want to use the advantage, we love playing at the RDS as well so we want to make it as hard as possible for them to beat us.
"Honestly we're not thinking of the final just yet. Like I said, we respect the Scarlets and it would be foolish of us to even think of anything past that. So we're going to put all our effort into the semi-final."
'It's been a roller-coaster season'
While growing into the Leinster jersey and performing as one of their stand-out players this season, Triggs has had far more to contend with than the routine pressures that go with being a professional rugby player.
The lock suffered immense personal heartache at the end of September, with the devastating news that his three-week old baby daughter Stella passed away at Holles Street Hospital in Dublin. A tragic event which no one should have to experience.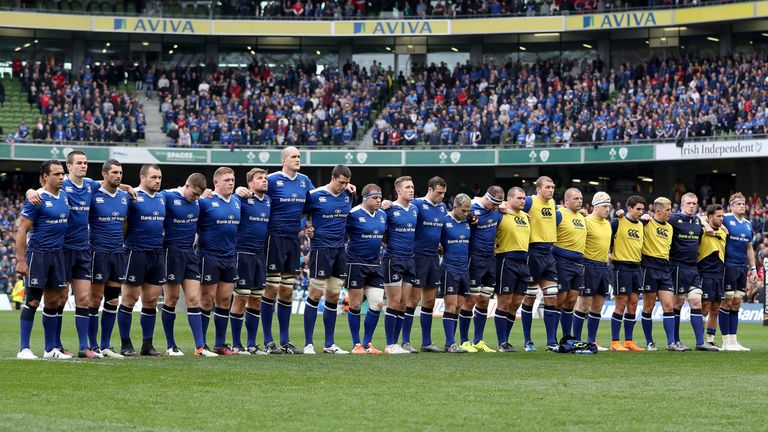 In the weeks and months that followed, Triggs had to deal with incredible lows but also huge highs as the people of Dublin supported him, his wife Mikala and their two other children August and Adelaide.
"Honestly it has been a roller-coaster," Triggs said. "The lows have been extremely low, more personally and for my family, and then there have been times where you are on a high and that also comes on a personal level with our kids that we still have and with my wife.
"I cannot speak highly enough of Leinster, I can't speak highly enough of the people of Dublin, especially the people around us and around the school. It will remain in our hearts forever and I guarantee we'll be back."
As his career comes to a close, I ask what's next for the man who travelled the rugby world and played in Japan, Ireland and with four of the five Kiwi Super Rugby franchises.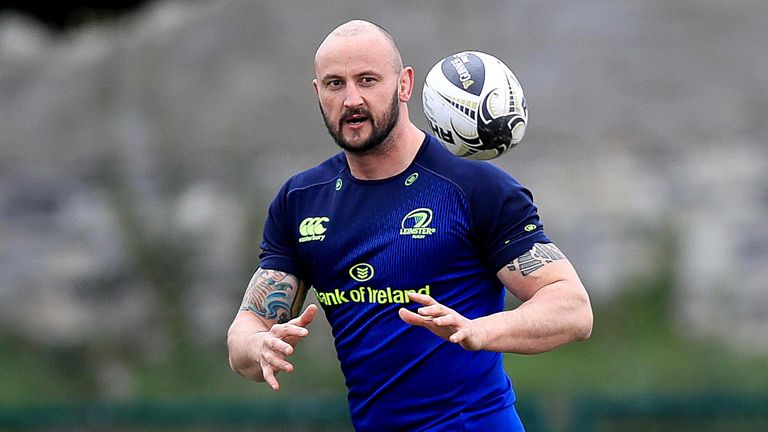 "Honestly, I'm looking to take six to 12 months away from the game.
"I've been doing this for quite some time now and I really want to take a bit of time out and see if the spark is still there, because I've got a lot of knowledge and experience to give back and I really want to do that, but at this point in time a good rest away from it will do me a good deal of finding if the passion is still there.
"Because coaching is not just a Tuesday, Thursday, and weekend stuff. If you want to do it properly, you have to commit a lot of time. The family goes on another ride, following you around where the jobs are, and I need to find if I want to do that."