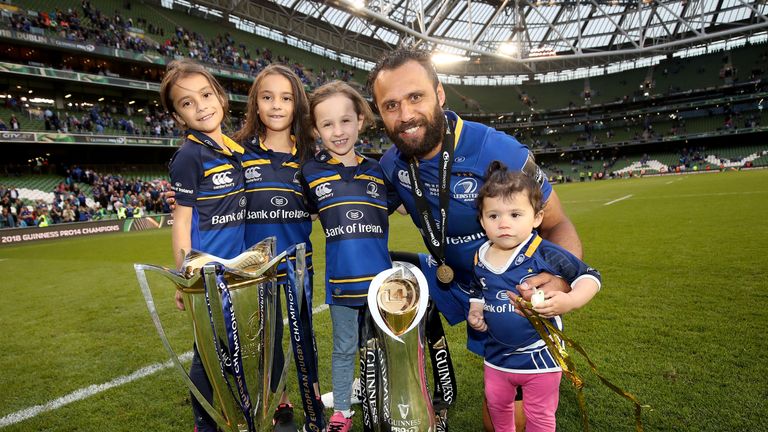 Retiring Leinster club captain Isa Nacewa believes that the "sky is the limit" for the group of players that will continue performing for the province.
Nacewa, who had his 185th and final performance for the province cut short due to injury, reflected on the future of the club after the full-time whistle at the Guinness PRO14 final.
The 35-year-old will hang up his boots for good now with four European Cup titles, one Challenge Cup title and two league titles to his name and hailed the prospects of the group of players that he'll be leaving behind.
"A lot of things go into making this club tick and making it work. A lot of hard work went in and to leave the club this time, in this place, is special because there are going to be massive things in the future," said Nacewa on the pitch at the Aviva Stadium.
"There's a whole generation here's that going to push on to bigger things. The sky is the limit for these guys. It's going to be a good future and I'll be watching."
Leinster's 40-32 victory over Scarlets saw them score five tries including one from winger James Lowe who paid tribute to Nacewa as the celebrations commenced.
"Words can't describe what this man means to the club. I've been here seven months and there's been no-one who has been more influential than this man," said Lowe
"You want to be like Isa, on and off, the pitch. He's a great family man, he's selfless in everything that he does and he's the man who is there before everyone and leaves after everyone. We're going to miss this guy very much."
After the elation of a fourth European Cup title in Bilbao, Leinster had the manage their emotions and find a way to see off Munster and then Scarlets to achieve history with the double.
The side's ability to do this was hailed as "exceptional" by their senior coach Stuart Lancaster who also highlighted the leadership of Leo Cullen.
"His transition from player to coach has been exceptional - there's not many players who can do that," noted Lancaster.
"He has very good managerial skills, great leadership, huge integrity, a great work ethic and is very good with the players. He's happy for me to lead in certain areas but equally happy for John Fogarty, for Girvan Dempsey to lead."
The 48-year-old, who has been with the province since September 2016, also paid tribute to the unit as a whole.
"Teams are never about one person or one thing, it's the collective and the collective at Leinster is very strong," he added.
"Leo is the leader and we follow his lead. It's his integrity I think that makes him standout and he's the guy who will be sat in the back of the changing room having a quiet beer and that's his moment."