Will Greenwood pays tribute to fellow World Cup winner Mike Tindall after his retirement
He was a complete warrior, says former centre partner
Last Updated: 25/08/14 12:26pm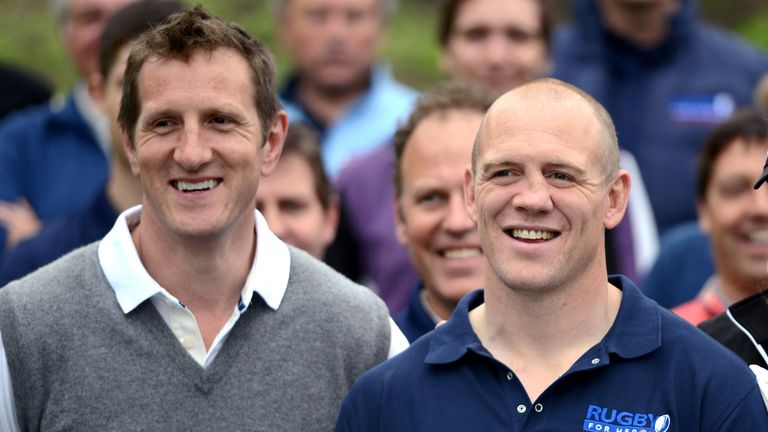 Will Greenwood says that rugby has lost an 'utter warrior' following Mike Tindall's retirement.
He arrived on the scene and just took Bath by storm.
Will Greenwood
Tindall's former England team-mate has paid tribute to the Gloucester stalwart who has decided to end his 17-year professional career.
The man who played alongside Tindall when England famously won the 2003 Rugby World Cup in Australia, was full of praise for his centre partner.
"He is a complete warrior of a man who I was privileged enough to stand alongside," Greenwood told Sky Sports News.
"I'm excited for the next chapter in Mike's career. Whatever it is he decides to do I know he will be absolutely fantastic at it."
Tindall signed for Bath as an 18-year-old in 1997 and, according to Greenwood, his impact was felt almost immediately.
He went on to play for Bath for eight more seasons before leaving for Gloucester in 2005 where he played out his career, ending it almost a decade later.
"He arrived on the scene and just took Bath by storm," said Greenwood.
"We didn't know who this young upstart was but he was outstanding. He's just one of those guys who is loyal to the end.
"He is a gentleman off the pitch, and will make an incredible father."
The Sky Sports pundit also made a point of praising Tindall's contribution to that World Cup win.
He might not have been one of the biggest names in the side that beat Australia, but his fellow centre believes the retiring international did as much as anyone to carry England to an historic success.
"In that World Cup in 2003 people talked about Jonny Wilkinson, Martin Johnson and Lawrence Dallaglio, but the impact that Mike had on that team and that team's success can never be underestimated," he added.
"If I had to pick someone to stand alongside in the game to end all games, Mike Tindall would be that man."