Warren Gatland has revealed that he will still consider Dylan Hartley as a potential British and Irish Lions captain, despite his latest red card.
Hartley, who led England to a 13-game unbeaten run in 2016, was sent off during Northampton's 37-10 loss to Leinster in the Champions Cup at Franklin's Gardens on Friday.
Hartley had been off the bench for just six minutes before referee Jerome Garces showed him red for a swinging arm to the back of Sean O'Brien's head.
The hooker, who recently won a poll on skysports.com to lead the Lions in 2017, has racked up 54 weeks of suspensions throughout his career for offences including biting, gouging and head-butting and can expect even more at his hearing on Wednesday.
However Gatland, who was the guest at an exclusive charity visit at the Velindre Cancer Centre in Cardiff, has said he will not rule out Hartley as a potential candidate to lead the Lions on their tour to New Zealand.
"Absolutely not, I don't think it's about ruling anyone out - it's so early to be thinking that far ahead," Gatland said.
"There are a number of people who will be in contention for a potential captain's role. But it is about picking the squad first.
"There is a lot of water to go under the bridge before those sort of things are finalised.
"To be fair to Dylan in the last 12 months he has had a great track record and you have to feel for him. Hopefully he will take his punishment and get back for the Six Nations and hope he goes well."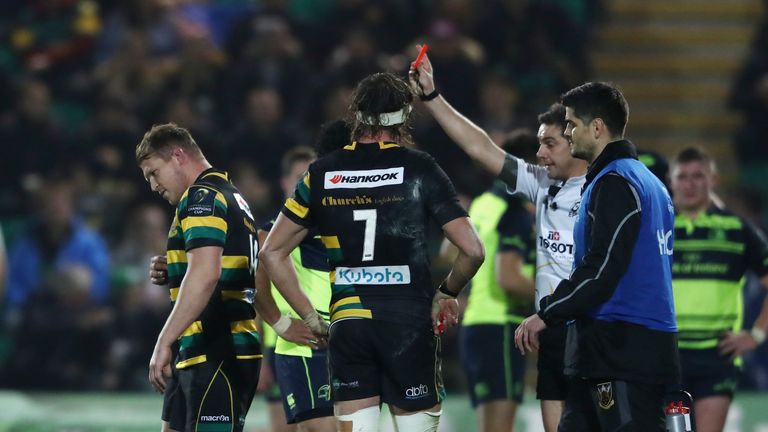 He added: "The media make a big deal about the captaincy, it's like a bigger story than anything else.
"I have stressed all along that the first priority is to pick the squad - once you get the squad right then you can think about the captain afterwards.
"You have to think of the ramifications of picking a captain - you choose one and the other one or two players in the same position immediately feel disenfranchised and think 'he's captain so he is going to be starting in all the big games and in the Test matches'.
"Ideally you pick a captain who you think is good enough to start in those Test matches but there are no guarantees  -form is paramount and whoever does get selected as captain on tour, their form has to be good enough for them to start.
"Hartley has played very well for England but a lot of people have spoken about other hookers - Rory Best and Jamie George who has been going great for Saracens. George is someone who has been putting pressure on Dylan as well."
Gatland was left humbled by his visit to the cancer centre as he was joined by former Wales legend and President of Velindre Jonathan Davies as they met with nurses and staff.
"It certainly puts life into perspective and was a humbling but very uplifting experience," Gatland said. "The Lions are supporting four charities in aid of the 'Leading The Lions' Dinner series and Velindre is the chosen charity in Cardiff so I was very grateful to have had the opportunity to see the fantastic work they do.
"It makes you stop and think about life in general and the spirit people have."
You can watch the 2017 British and Irish Lions tour to New Zealand exclusively on Sky Sports
For more information on the Leading The Lions Dinner Series and to book a place, visit  https://tours.lionsrugby.com/leading-the-lions/