All Blacks coach Steve Hansen warns British and Irish Lions on pressure
By Mark Ashenden
Last Updated: 20/04/17 10:09am
The British and Irish Lions squad is one of the strongest ever seen but the players should be wary of the added pressure in New Zealand, according to the All Blacks coach.
Warren Gatland named his 41-man squad for the 10-match tour on Wednesday, saying there was no clear stand-outs for starting players in a number of positions.
World Cup-winning coach Steve Hansen was impressed by the depth at Gatland's disposal for the tour, which includes three Tests against the All Blacks.
"I think this is the best British and Irish Lions that we've seen come here for a long, long time," Hansen said.
"There is depth all the way through, that's why people like Dylan Hartley and some of the Scottish boys have missed out because there's so much depth.
"It's going to be a very good side and they'll come with a lot of expectation, which I think is going to be interesting to see how they cope with that.
"A lot more expectation than they've been used to because people expect them to win."
Bookmakers, however, still expect the All Blacks to win the series, 12 years after they whitewashed a Clive Woodward-led Lions squad full of English World Cup winners.
With five matches against New Zealand's dominant Super Rugby teams, Gatland said the Lions faced the "toughest tour" but seized upon Ireland's shock 40-29 win over the All Blacks in Chicago in November as proof they were only human.
Hansen said there were no major surprises in Gatland's squad with its "big ball-carriers" in middle of the pack and "grunty forwards" but said Hartley, who was omitted, would have been an asset.
He rejected the idea that Gatland, who has stepped down as Wales coach to focus on the Lions tour, would unleash an expansive game in New Zealand.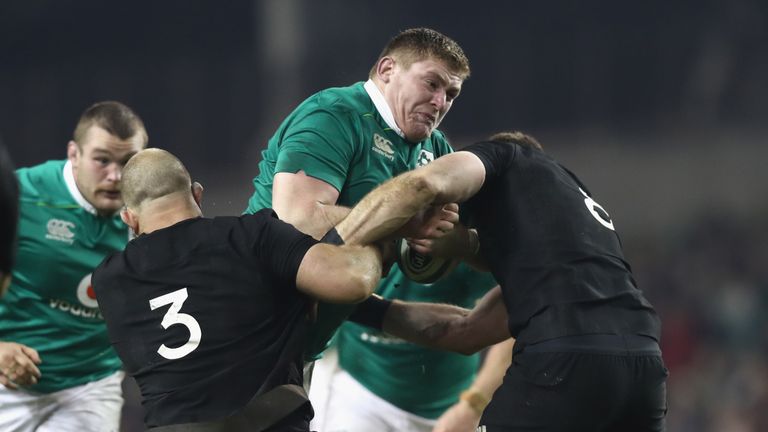 "I'd expect we'll get a similar game-style to whatever we've got when we've played a Warren Gatland team," Hansen added.
"I think they'll tell us they will (be expansive), but I think they will want to win up front first."
All 10 games of the British and Irish Lions tour to New Zealand will be shown live on Sky Sports, starting June 3.