British and Irish Lions captain Sam Warburton thrilled by Ross Moriarty's inclusion
By PA Sport
Last Updated: 20/04/17 5:21pm
Sam Warburton has described his British and Irish Lions colleague Ross Moriarty as Wales' "standout player" since the 2015 Rugby World Cup.
Moriarty is among 25 first-time Lions heading to New Zealand this summer in a squad that will be captained by Wales flanker Warburton.
And such recognition for the 23-year-old Gloucester back-row forward underlines how much progress he has made since being handed a Test debut against World Cup warm-up opponents Ireland 20 months ago.
"When I saw Ross' name [in the Lions squad] I was absolutely thrilled for him," said Warburton.
"It doesn't surprise me one bit because he was probably one of Wales' best players in New Zealand when we went there last summer.
"He is very quick, very explosive, very dynamic, a great ball-carrier, so aggressive in defence - he has been the standout player for Wales since the World Cup, really.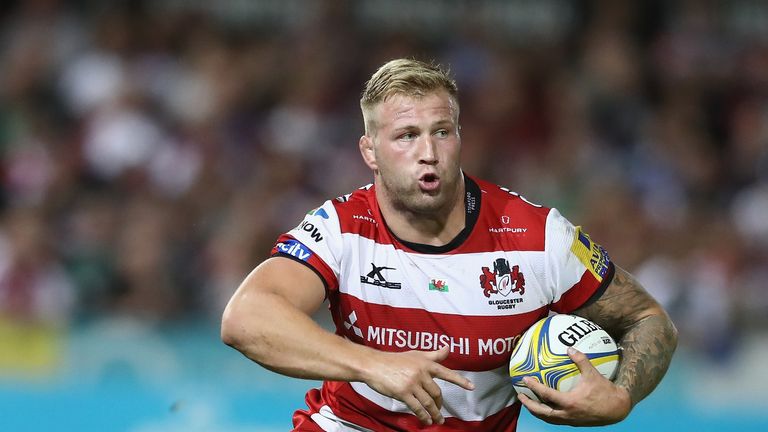 He is a tremendous athlete, he is athletically similar to a number 13 with his attributes. He will be a great addition to the squad.
Sam Warburton on Ross Moriarty
"Wales have had a quite stable squad, but he is the only person who has come in [to the squad] recently and made a massive impression.
"I know there are going to be some games in New Zealand where it is wet, as it is winter, but in general the tempo there is going to be out there will suit him down to the ground.
"He is a tremendous athlete, he is athletically similar to a number 13 with his attributes. He will be a great addition to the squad."
Moriarty has started 12 of Wales' last 13 Tests, including every game in this season's Six Nations Championship, and he is certain to relish the competition for Lions back-row places with players like Ireland trio CJ Stander, Peter O'Mahony and Sean O'Brien.
Now that the Lions' 41-man squad for New Zealand has been selected, various numbers of them will assemble during set periods next month before departure to Auckland on May 29.
Warburton admits the packed tour schedule will not offer a lot of squad bonding or social time, but he does not see it as a problem.
"Looking at the fixture schedule, I don't think there is going to be time for any team bonding exercises, it's just spending time together," he added.
"There will be an entertainments committee put together, they will put on fun things for the boys to do off the field, to get together and get to know each other away from the field.
"They are pretty trivial things that you do with all the squads you are involved in, but you have got to get the 'off the field' right.
"I always think with teams I've been involved in that a happy camp, more often than not, is going to be a successful camp.
"If you are happy when you turn up for training every Monday, if you keep morale up, you are more likely to get more out of the boys on the field.
"I just think the best things that bond players is going through games together - the pressure of a match day, the preparation and working hard for each other on the field in the warm-up games.
"If there is a back-row player I have never played with before, after I have played 80 minutes with him and I have absolutely finished my body and you're playing next to each other and you are battered and bruised, when you go through that together, you have a lot more respect for each other then once you can see the work you put in for each other.
"That is what bonds a team the most. You go through all those emotions together, and it brings you tighter."
All 10 games of the British and Irish Lions tour to New Zealand will be shown live on Sky Sports, starting June 3.