Championship: Leeds Carnegie add ex-England international Chris Jones to sqaud
Leeds Carnegie have announced the capture of former England forward Chris Jones on a two year contract.
Last Updated: 22/05/14 12:57pm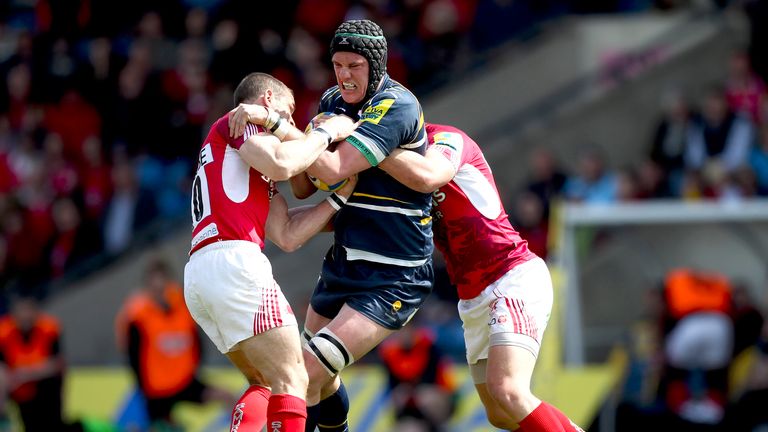 Jones earned 12 caps for England between 2004 and 2007 scoring on his debut against Italy and was a Sale regular in his 10-year stint at the club from 2001 before moving to Worcester 2011.
The forward was named Sale's player of the year twice in his time at the club and the 33-year-old is excited about the prospect of moving back to the north.
"I am looking forward to the challenge and getting involved at Leeds." He said.
"Obviously there is some disappointment in the camp at the moment after losing out in Sunday's semi-final at London Welsh, especially as they had a great chance to win. We are rebuilding now and the focus will be on next year after Friday's B&I Cup Final.
"I want to help Carnegie get promotion next season and hopefully I can add my experience to a fantastic group of players.
"Leeds have played with a lot of flair and ambition this year, and that is a style I enjoy playing.
"My first two years at Worcester were a great time but obviously this year has been difficult with results not being what we wanted as a team and personally it was frustrating not being able to contribute more.
"That is behind me now and after meeting James Lowes it was an easy decision to make that Leeds was right for me. He is down to earth and someone I could talk to and get along with, next season I am looking forward to enjoying my rugby and hopefully getting a few wins."
Coaching role
Jones will also take on a coaching role at the club.
"I am looking forward to coaching at the club as well and that was a big factor for me in deciding to come to Leeds," added Jones.
Jones is the fourth signing of the summer with Edinburgh fly half Harry Leonard and the Newcastle pair of Chris Pilgrim and James Fitzpatrick also moving to Leeds Carnegie next season.
Jones believes it is an exciting time to be joining the club.
"When we start next year it'll be as Yorkshire Carnegie which is a great development for the club," he added.
"Yorkshire is a massive catchment area, and this was something I remember they tried to do at Sale when we changed the name just to The Sharks.
"It would be good to see another Northern team in the Premiership, you only need to look at the England team in recent years to see the quality of players in the North and I think the brand of rugby that the team plays and a Yorkshire club will give people something they can identify with."
Director of Rugby Chris Gibson said he was very happy to have such an experienced player in the ranks.
"We are delighted to have secured a player of Chris' ability and experience. Having played his entire career in the Premiership, he has a proven track record and he will be a key addition to our group for next season." Gibson commented.