We continue to celebrate Sky Sports' 25th birthday this week, by looking back at some of the most memorable moments from the last quarter of a century.
One such highlight came in 1997, when the British and Irish Lions defied their underdogs billing to stun world champions South Africa.
The Lions were coached by Ian McGeechan and Jim Telfer and managed by Fran Cotton. England lock Martin Johnson was appointed captain.
McGeechan was concerned by the squad's professionalism and therefore took along six former rugby league players in order to fast-track the discipline.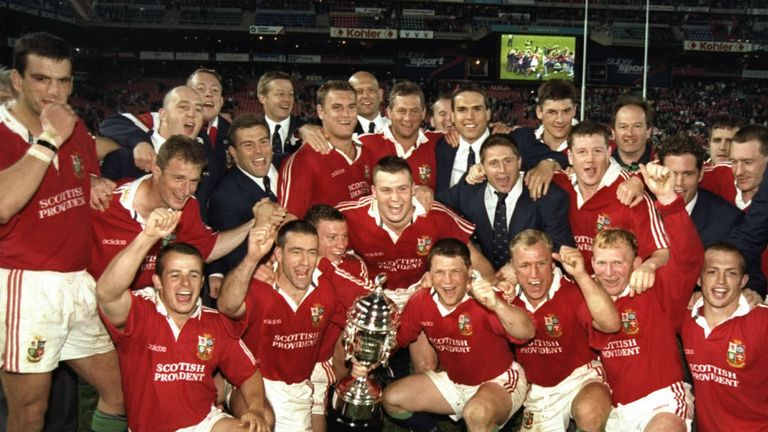 The series is viewed as one of the greatest tactical successes in Lions history, due to a number of unusual selections.
Paul Wallace and Tom Smith emerged as surprise problems for the giant South African front row, while Jeremy Davidson partnered Johnson at lock. John Bentley had only recently returned from rugby league but was given the right-wing berth - nine years after his last England cap - and Neil Jenkins was given the full-back jersey to ensure his kicking prowess was available.
The Lions played eight warm-up matches around South Africa, suffering only one defeat - a 35-30 loss to Northern Transvaal in Pretoria.
As the first Test approached, the Lions were seen as massive outsiders. However, the tourists turned in a performance that shook the world, Jenkins justifying his inclusion by kicking five penalties before an Alan Tait try and Matt Dawson's outrageous dummy gave them a shock opening victory by 25-16.
An easy 52-30 win in Bloemfontein against Free State gave the Lions confidence going into the second Test, as they hoped to emulate their victory a week before.
The South Africans were licking their wounds and came out all guns blazing. Tries from Joost van der Westhuizen, Percy Montgomery and Andre Joubert set South Africa up but their place-kicking was atrocious and they failed to convert any of the tries.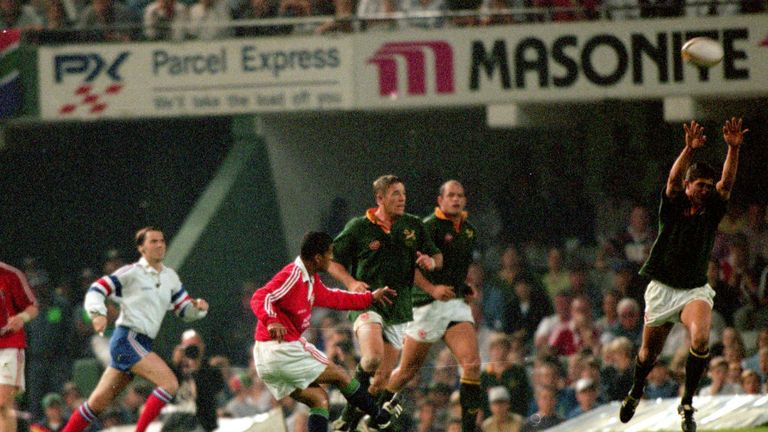 They were also failing to land any penalty points, unlike the Lions who once again benefitted from the perfect boot of Jenkins who kicked five penalties for the second successive Test.
With the scores level at 15-15 late in the match, Jeremy Guscott landed a match-winning drop-goal to guarantee the series victory.
Another comfortable 67-39 midweek victory over Northern Free State gave the squad confidence that they could go on and complete a series whitewash.
However, as the final Test drew closer, many players picked up injuries. Five changes were made to the team but those who started were still recovering from their heroic efforts of the previous two Tests.
South Africa scored four tries to the Lions' one and finally exorcised their kicking demons to run out 35-16 winners and prevent the embarrassment of losing all three Tests.
But the Lions were still able to open the champagne to toast one of the greatest successes in their history.
1997 Lions tour
May 24 v Eastern Province XV W 39-11
May 28 v Border W 18-14
May 31 v Western Province W 38-21
June 4 v Mpumalanga W 64-14
June 7 v Northern Transvaal L 30-35
June 11 v Gauteng Lions W 20-14
June 14 v Natal W 42-12
June 17 v Emerging Springboks W 51-22
June 21 v South Africa W 25-16
June 24 v Free State W 52-30
June 28 v South Africa W 18-15
July 1 v Northern Free State W 67-39
July 5 v South Africa L 16-35