Israel Folau's anti-gay remarks not intended to harm, say Rugby Australia
Last Updated: 17/04/18 9:56am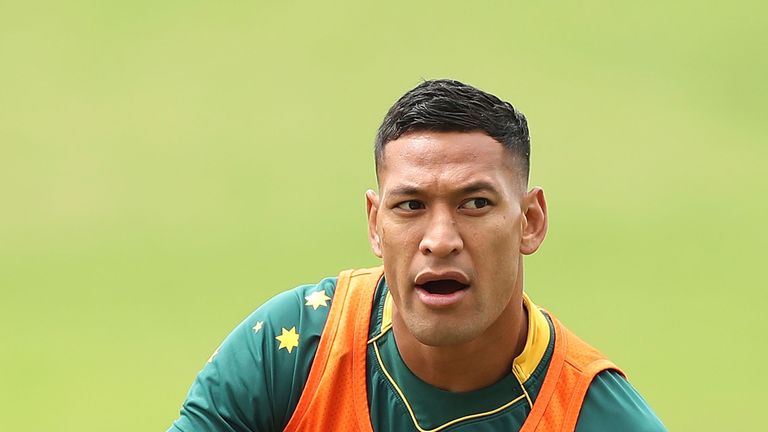 Israel Folau did not intend to cause harm with his anti-gay remarks and he will face no sanctions, Rugby Australia has concluded.
Two weeks ago Folau, who is an Evangelical Christian, wrote on his Instagram page that gay people would be condemned to "hell" if they failed to "repent".
His comments were described as "very disappointing" by Qantas airlines, a major sponsor of Rugby Australia, while international referee Nigel Owens, who came out as gay in 2007, said such comments could contribute to young people taking their own lives.
Folau wrote a 2,000-word column explaining his rationale for making the remarks and said he had offered to walk away from the sport if RA found itself in an untenable position with sponsors and fans.
"In his article, Israel clearly articulated his religious beliefs and why his faith is important to him and has provided context behind his social media comment," said Rugby Australia chief executive Raelene Castle.
"In his own words, Israel said that he did not intend to upset people intentionally or bring hurt to the game. We accept Israel's position."
Folau's contract expires at the end of the season and RA is keen to extend it beyond next year's World Cup in Japan.
His New South Wales Waratahs coach Daryl Gibson said Folau was free to express his views and that team unity had not been affected.
"We may not all agree with his belief but we support him as a team-mate and his right to express that freely," Gibson told reporters.
"I've always said everyone is free to have a range of diverse opinion. That's the beauty of being a team - we're not all going to agree on the same thing."