Rugby Union Expert & Columnist
Stuart Barnes' talking points: Geordan Murphy, Manu Tuilagi, Top 14 and the Rugby Championship
Last Updated: 24/09/18 1:01pm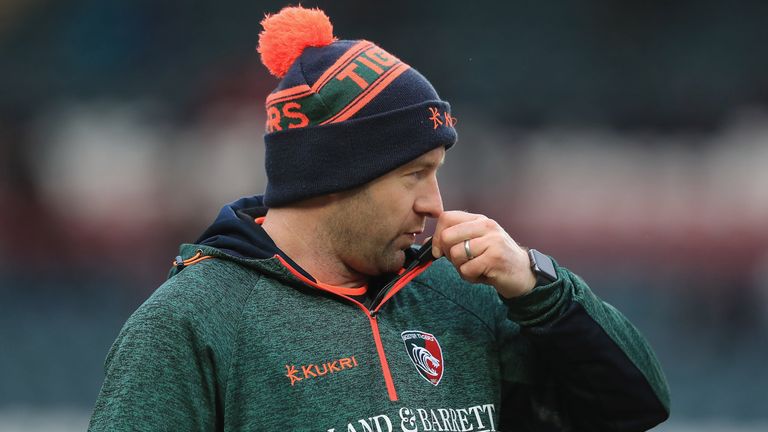 Stuart Barnes looks back on an action-packed week of rugby, and looks ahead to this weekend's Rugby Championship clashes...
1 I don't want to sound like Cassandra but I have been voicing my concerns on the subject of Manu Tuilagi. The snarling Tiger has pulled out - injured yet again - from this week's England training squad.
Even Eddie Jones was getting carried away. Picking him for any international involvement is pointless until he can put a proper spell of performances behind him.
Let's all hope that the latest injury is not serious but, on the other hand, let's not get expectations raised, only to be dashed with the all too familiar headline. I saw it in Monday's papers and, alas, was completely unsurprised.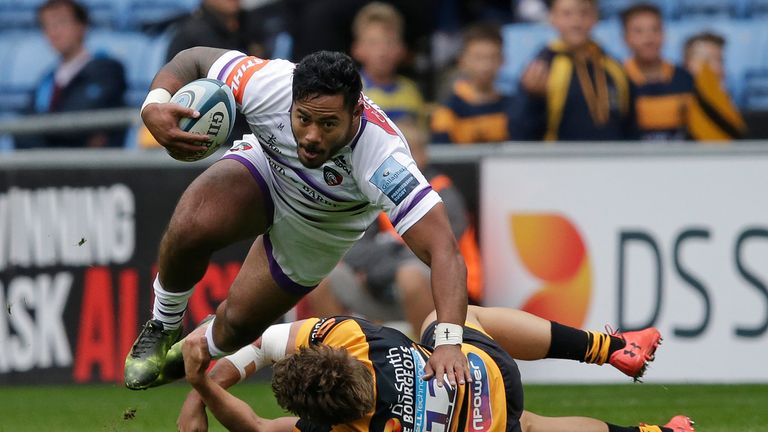 2 On the subject of Leicester men, Geordan Murphy has endured one of the more forgettable weeks in his rugby life.
Last week he was criticised for having the temerity to offer another angle on the Player Safety debate. Look up a dictionary definition of Political Correctness and you'll realise he was right to call the Will Spencer sending off incident PC, but I fully understand why he pulled back from the position.
To verify, I don't think the game is soft - anything but - and I have long supported a lowering of the tackle height, but I don't believe referees can afford to referee purely to the letter of the law. The degree of inconsistency will be too great.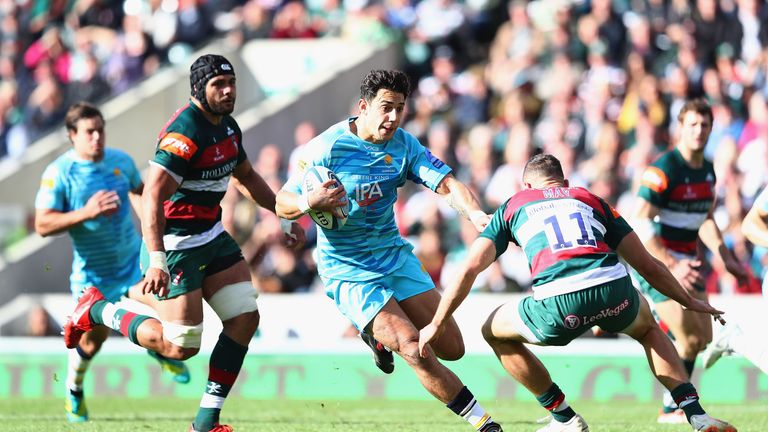 3 Part Two in Murphy's Miserable Week. The Tigers lose a third game from four, with Worcester winning at Welford Road in consecutive seasons. Forty and thirty-plus points are being conceded every week, despite a backline including George Ford and Tuilagi in the midfield.
Throw Ben Youngs and Jonny May into the mix, and it is a little alarming from an England perspective, no matter how much we allow for the fading force that is the Leicester pack.
4 Another England club with their fair share of international squad members suffered another bad day. In this instance the scenario was Paul Gustard, former England defence coach, bemoaning the poor game management of his Harlequins who were beaten by (my old club) Bristol. As Chris Robshaw captained the team and Danny Care played scrum-half, this too is quietly concerning.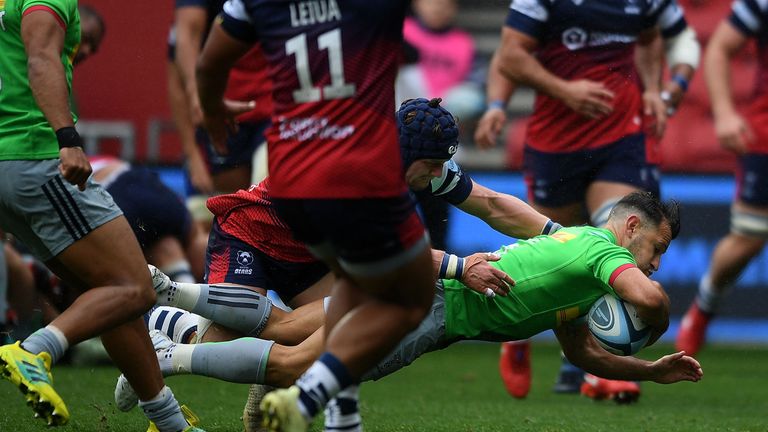 5 I was back at another of my old stamping grounds, the Recreation Ground, on Saturday to see Bath against Northampton.
Dylan Hartley endured an unusually miserable afternoon at the lineout. Bath were clever and pressurised in terrible conditions. There's no better way to test an opposing lineout than at source. Get to the thrower, before the catch and drive is set.
It was not much of a game, but there are days when the weather dictates the only thing which matters is the result. Bath have recovered from their opening-day loss at Bristol and the Saints are struggling for wins, but they look to be capable of sufficient improvement under Chris Boyd to have a decent mid-table start to his tenure in the East Midlands.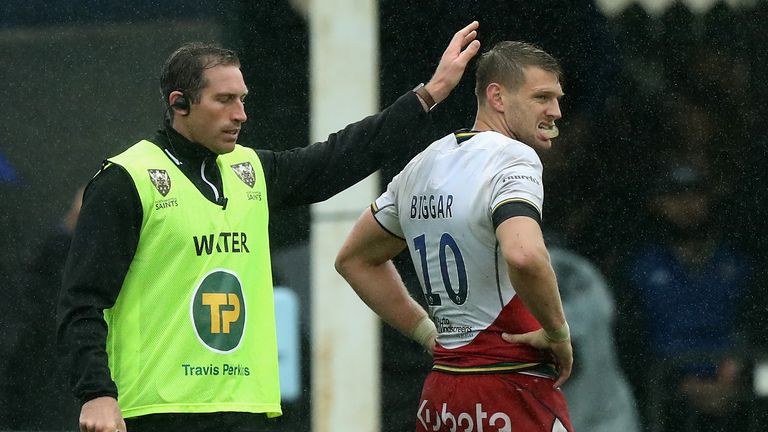 6 Montpellier versus Toulouse was my commentary brief on the weekend. Vern Cotter's team had some returning (very) big guns and Toulouse rested the vast majority of their side.
A home victory was no surprise - although the huge margin was. In France pre-game, some supporters bemoaned the selection, but with three winnable games to come and three wins and a draw from the opening month, they are in a good position to rest some big players, ahead of the European competition.
When the league is as long and intense as the Top 14, there have to be 'down games'. It's disappointing but wholly inevitable.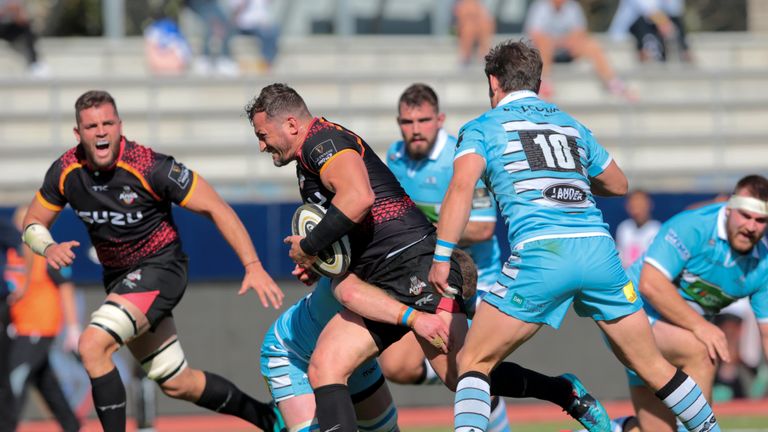 7 The PRO14 had one of its more sensational weekends as far as results go, with both the Southern Kings and the Dragons winning. Never mind the strength of the Glasgow team and Zebre being the opposition at Rodney Parade, for both of them to win is quite something.
As Connacht beat the Scarlets and the Blues outplayed Munster, it was a good week for the turn-ups in that particular league.
8 Looking forward, it promises to be a thrilling weekend ahead for Sky Rugby. The Rugby Championship returns with Argentina daring to dream of a first win against the All Blacks.
The venue: Buenos Aires. The scenario: New Zealand vulnerable after losing, Argentina confident after consecutive wins. Nothing - well, not much - is impossible in this life but I'll be stunned if New Zealand lose again.
It's not as if the All Blacks were terrible. They did manage the small matter of six tries against the Springboks. It will be intriguing to see whether they rein back on the speed of their game and begin a final honing of their style to take them to Japan.
9 No less fascinating is the match in Port Elizabeth between South Africa and Australia. The South Africans will be buoyed by the result in Wellington but defeat will put them back a long way.
As for Australia, Michael Cheika looked exhausted at the end of the Gold Coast game against Argentina. The energy seems to have drained. A year out from the World Cup is when the Wallabies usually pick up the pieces and begin to impress. This time around the pressure is building.
While the Springboks will want to win, the rest of the world must be watching the Aussies with some trepidation. The Union world is not so strong as to lose major nations like Australia. Domestic support is dwindling, the Wallabies and Australian rugby is walking a tight rope.
10 What they'd give to be playing Wales next. They haven't lost to Wales in a hundred years... that is something of an exaggeration but you know what I mean.
This time around though, perhaps it might very well be different. The two teams are drawn in the same World Cup pool. I bumped into Wales attack coach, Rob Howley, at Bath on Saturday. He was in good form. And with some reason. I reckon Wales are the British and Irish team set for the greatest improvement between now and the World Cup.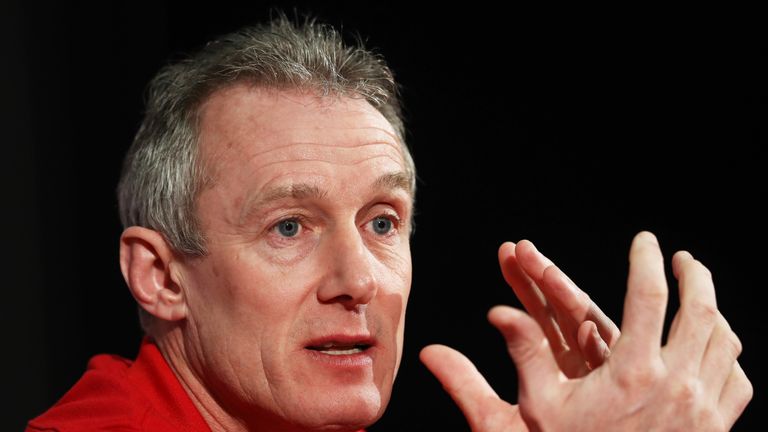 They are in good shape as the Autumn, Six Nations and World Cup loom slowly into view.
Enjoy the week and don't miss our high-octane international weekend,
Stuart
Oh PS, Eddie Jones omitted Danny C from his England squad last week...