Manu Tuilagi wants to 'give something back' to Leicester
By Michael Kelleher
Last Updated: 14/03/19 2:17pm
Manu Tuilagi says his desire to "give something back" to Leicester Tigers eventually persuaded him to turn down a lucrative offer from Racing 92.
The French side offered Tuilagi £2.5m over three years but he turned it down, instead agreeing a contract extension with Leicester.
The 27-year-old, who made his debut for the Tigers in 2010, followed in the footsteps of brothers Alesana, Henry, Sanele and Freddie by playing for Leicester.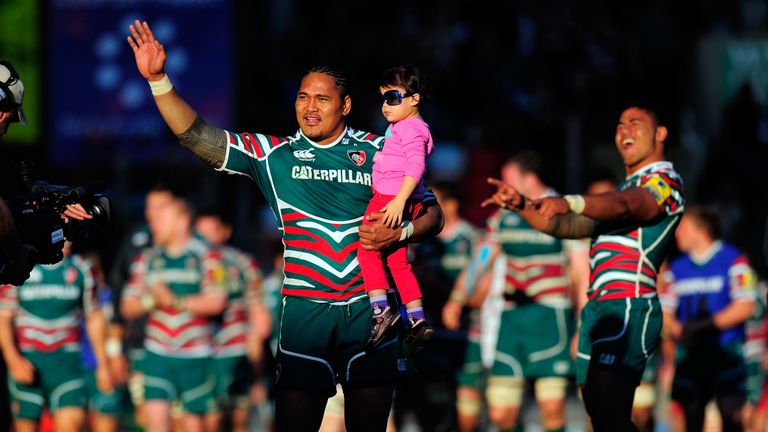 The club have helped him through a series of serious injuries in recent seasons and he is keen to repay that loyalty now that he is back healthy and in form.
"It was a big relief to get that done," Tuilagi told Sky Sports News. "It was ongoing for a while. It was a tough decision to make but I am happy I made the right one to stay at my home club.
"It definitely would have been tough to leave. There are a lot of boys here I have grown up with and played with for a long time.
"Those boys have definitely helped me a lot so I cannot wait to keep playing with them.
"Leicester is a big part of my family. Pretty much all of my family have played for Leicester and they have helped us a lot. They have helped me a lot, especially in the last few years.
"So for me, [I wanted] to stay at Leicester and hopefully give something back."
Tuilagi has reminded England fans what they have been missing while he has been out in recent seasons with a series of powerful performances in this year's Six Nations.
He scored two tries in England's 57-14 demolition of Italy last weekend but only rates his performance as a "five and a half out of ten" and insists he still has plenty to work on.
"I did a lot of good things but there is still a lot to improve going into Scotland," Tuilagi said.