Andy Farrell: Ireland coach not interested in England return ahead of Six Nations clash against his native country
Andy Farrell on a possible return to the England coaching set-up: "No, why would we? We love it here. We're loving life here and the rugby's pretty good as well"; Ireland will complete a Grand Slam in the Six Nations if they beat England in Dublin on Saturday
By PA Sport
Last Updated: 17/03/23 10:43am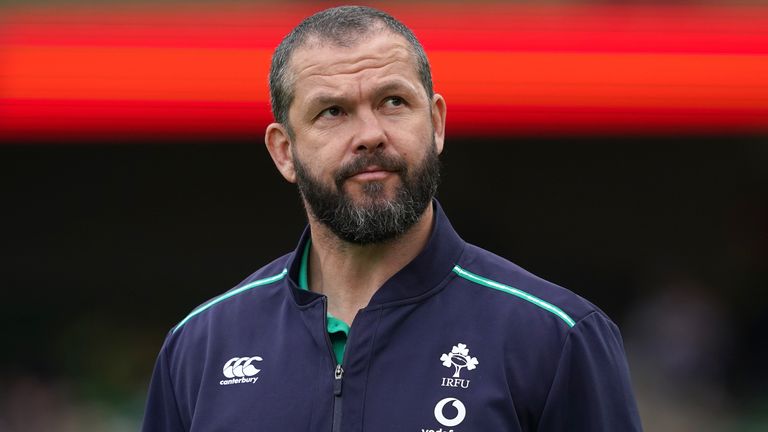 Andy Farrell says he is "loving life" as head coach of Ireland and is not interested in chasing a coaching role back with England ahead of the two sides' meeting in the Six Nations this Saturday.
Farrell's side are on the brink of clinching a Grand Slam, needing to beat his his native country at the Aviva Stadium in Dublin, as he continues to enhance his coaching reputation.
The 47-year-old crossed the Irish Sea to become Joe Schmidt's defence coach in 2016 in the aftermath of departing a similar role with England following the arrival of Eddie Jones.
Since replacing Schmidt as head coach following the 2019 World Cup, Farrell has led Ireland to a stunning series win in New Zealand and to the top of the world rankings.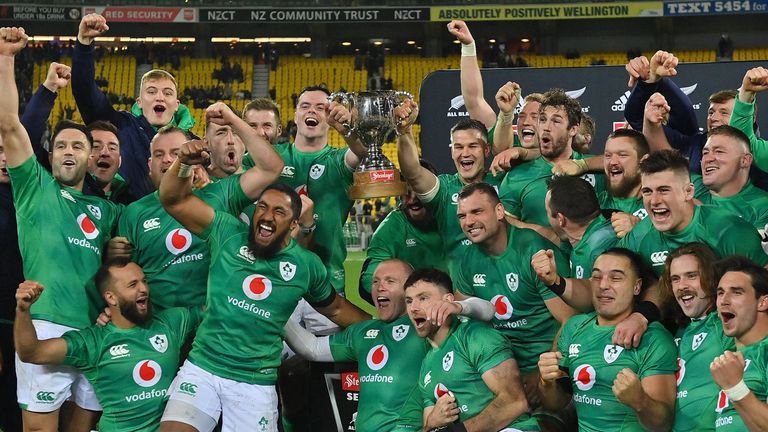 Rugby Football Union chief executive Bill Sweeney said on the back of Ireland's historic success over the All Blacks last summer that Farrell was "very highly regarded" amid a recruitment drive to identify Jones' successor as England boss.
Farrell subsequently extended his Ireland contract to 2025 and has no regrets about leaving his homeland.
"When you make a decision, you commit and that's it," he said. "And, you know, I'm very lucky that it wasn't just me that was committing, it was my wife and kids as well.
"Because whether you think it's a close flight or connected or whatever to the UK, it's still living abroad. It is a big move, you know, kids out of school.
"That type of commitment is something that I'll never forget from my family... I'm forever grateful."
Asked if he had felt the urge to pursue a job at home, Farrell replied: "No, why would we? We love it here. We're loving life here and the rugby's pretty good as well."
Farrell is poised to face a host of familiar faces at a sold-out Aviva Stadium on St Patrick's weekend. His son, Owen Farrell, will skipper an England side coached by his former Saracens co-captain and international team-mate Steve Borthwick.
Farrell has backed Borthwick to eventually get England firing following a difficult start which has brought Calcutta Cup disappointment against Scotland and a 53-10 hammering at the hands of France last weekend.
"Obviously we're very aware of each other's traits," Farrell said of Borthwick, who was a fellow coach on the 2017 British and Irish Lions tour to New Zealand.
"He's an outstanding coach. When I worked with him on the Lions, I mean, the proof's in the pudding isn't it really? Ask the players, they're the people that matter and to a man everyone was raving coming back from the Lions tour.
"Steve doesn't rest on his laurels either. He'll be enjoying this challenge as well, to make sure he gets better as a coach, and there's no doubt about it that he'll get it right with England."
Owen Farrell is back in England's No 10 jersey after being dropped for the France game and will go head to head with veteran Ireland skipper Johnny Sexton, who is preparing for his final Six Nations game before retiring after the autumn World Cup.
"I think Owen and Johnny are pretty similar as far as the drive and the fight and the want," said Andy Farrell.
"Both are super competitors and they'll make sure that their team is of the same mindset as well. That's why I said England are going to be extremely dangerous this weekend because of a mentality like that."
Farrell: Ireland must stay calm in Grand Slam chase
Farrell has urged his players to maintain calm temperaments on Saturday amid the intense pressure of playing for the Grand Slam.
The hosts have never previously clinched the Grand Slam in the Irish capital as their 1948, 2009 and 2018 triumphs were secured in Belfast, Cardiff and London respectively.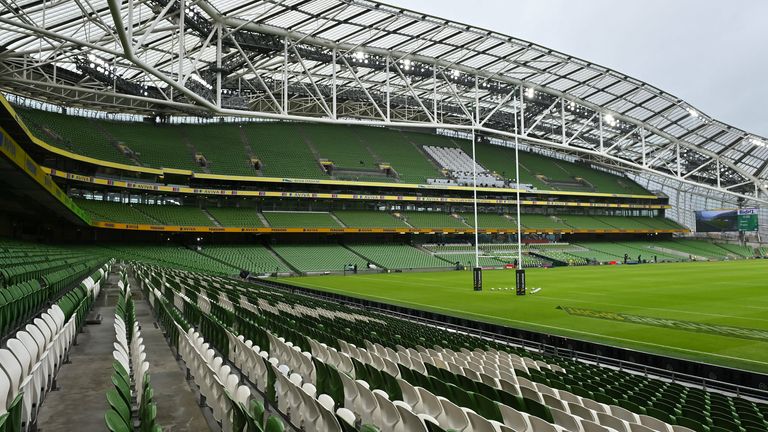 "All this stuff that you guys [the media] are going to be writing, it all becomes part of the circus, you know, managing all that," said Farrell.
"But in reality, anyone who has ever played in a big game, when you get over that white line all bets are off. It's business time, isn't it?
"All the emotion gets taken out after the first five minutes anyway and then you've got to be at your best.
"To me, desperation is an illness. You want to try and stay away from that.
"You can't be accurate if you're desperate. Being calm enough to be yourself and being controlled enough to be accurate when it matters is a temperament that we're all chasing."
Farrell added: "It's something that we've talked about from day one coming in that it's not been done here [in Dublin].
"We've earned the right to have a go at that so we know how much it means to the Irish people, and their support has been unbelievable for us.
"I hope there's a bit of a two-way thing on Saturday where we try and get them [the crowd] going and they try and get us going as well. You can feel the buzz.
"That's what we've done, we've put ourselves in a position to have a crack at this and it's something that we've been up front about from the beginning, which is pretty pleasing.
"Now we're here, we've got to deliver. The expectation of making sure our best is saved to last is key for us."