Super Rugby returning to 15-team structure from 2018; South Africa losing two teams, Australia one
By Andy Charles
Last Updated: 09/04/17 1:16pm
Super Rugby will return to 15 teams from next season after governing body SANZAAR confirmed plans for a restructure.
Next year's competition will feature five New Zealand teams in their own conference, with four from Australia in a conference with Japan's Sunwolves, and four from South Africa alongside the Jaguares from Argentina.
The decision over which teams will be excluded from the competition will be made by the respective South Africa and Australia rugby unions.
Speculation has been rife over which teams would lose out since SANZAAR announced in March that a shake-up was imminent, while Australia's Rugby Union Players' Association hinted that players could go on strike if an Australian team was removed.
The Western Force would appear to be most under threat from Australia, while the South African teams understood to be on the chopping block are the Southern Kings and Cheetahs.
SANZAAR chairman Brent Impey said: "This decision has not been an easy one and we recognise the difficulty associated with reducing the number of teams in Australia and South Africa.
"Naturally we understand that there will be some very disappointed franchises but the tournament's long-term future and the economic reality of the business at present is something that had to be addressed.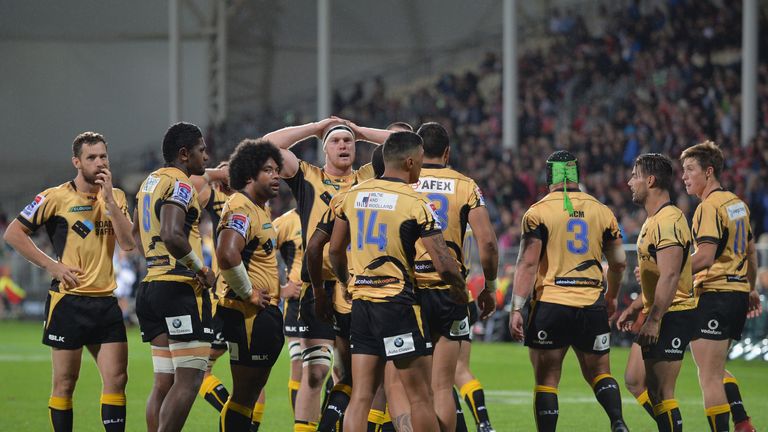 "The decision to retain the Sunwolves is linked directly to SANZAAR's strategic plan for the future.
"The potential for growth of the sport in Asia off the back of the establishment of the Sunwolves and the impending RWC in 2019 is significant. It remains an obvious focus for the organisation and a Japanese Super Rugby franchise is key to that strategy."
The battle for the Masters is hotter than ever before. Watch every drive, chip and putt from Augusta in the battle for the coveted Green Jacket on NOW TV. Watch live from just £6.99.