Owen Farrell says sharing England captaincy duties will be seamless
By Alex Marrow
Last Updated: 26/10/18 1:25pm
Owen Farrell expects sharing the England captaincy with Dylan Hartley to be a seamless operation.
Speaking at England's training camp in Portugal, the Saracens fly-half said nothing much will change in his and Hartley's approaches to games, especially given that they have the team's best interests at heart.
England begin their autumn international series on Saturday, November 3 against South Africa at Twickenham, live on Sky Sports.
Farrell said: "We get on pretty well. The thing about it, and probably what Eddie has seen in it, is it won't be too different.
"It will actually lend itself pretty well. Dylan's not just looking after the forwards, there's a lot of stuff split between forwards and backs.
"We used to talk about everything anyway and our best interests are about the team, so I think it will be pretty seamless.
"It's about discussing and coming up with a solution together.
"It's not normally 'I think this, you think that', it's normally somewhere in between because we're pretty much on the same page anyway."
As far as leading the team onto the field is concerned, a smiling Farrell admitted that neither he nor Hartley had given the matter much consideration.
"It's not something we've thought about, but I don't think we'll be too precious about it," he said.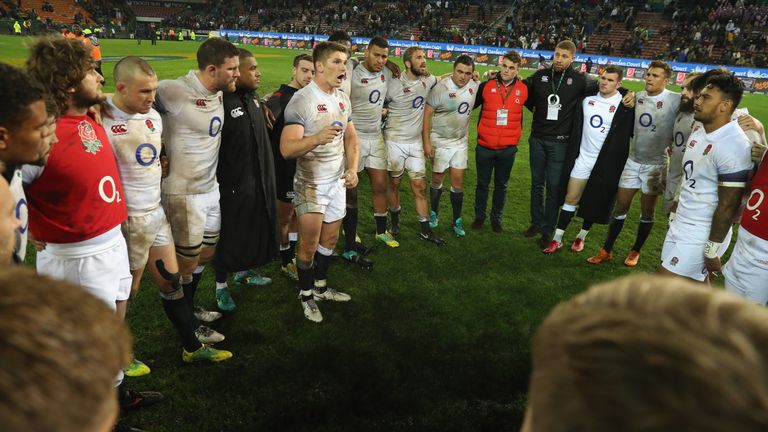 Farrell captained England during their summer tour in South Africa, where they fell to a 2-1 series defeat to the Springboks.
Victory in the final game ended a six-match losing streak that stretched back to the Six Nations and England will be looking to push on ahead of next year's World Cup in Japan.
"The way the boys stuck together, we were resilient and pretty united during that tour was a credit to them," said Farrell. "And that showed with the way we finished the tour.
"Obviously you don't want to come away having lost the series, but in terms of learning and getting better, the only way we were able to do that in the last test was that we were all pulling in the same direction."

#Followtherose this autumn with all of England's Tests live on Sky Sports throughout November. The action starts on Saturday 3 November against South Africa before clashes against New Zealand, Japan and Australia.