Michael Cheika questions referee Nigel Owens after Australia's loss to the All Blacks
Last Updated: 26/08/17 2:16pm
Wallabies coach Michael Cheika questioned the refereeing of Nigel Owens in their 35-29 Rugby Championship loss to the All Blacks on Saturday.
Cheika was particularly annoyed at an incident involving All Blacks lock Brodie Retallick when the New Zealander upended flanker Ned Hannigan as they were getting to their feet following a tackle.
"Retallick has picked up one of our blokes and put him on his head, categorically," Cheika said of the incident in the 23rd minute.
"He's got his arms through his leg, picked him up and then it's a free pass. The guy can't end up on his (head) any other way... just as well he didn't break his neck."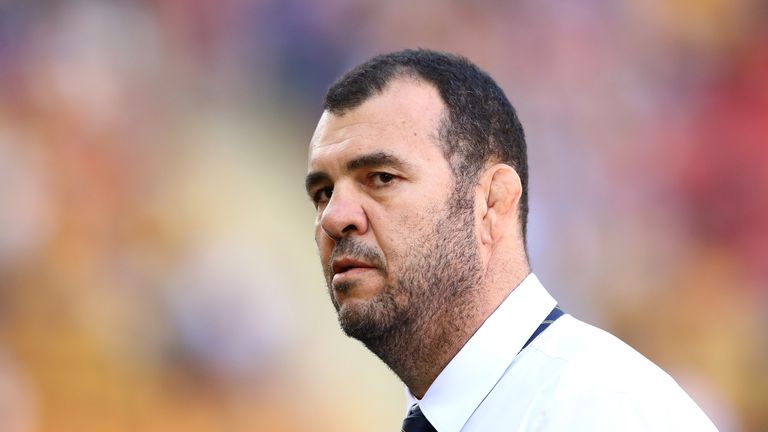 Owens was alerted to the incident by the television official Rowan Kitt and he halted the game while they checked footage. Both officials said at the time they believed the pair of players had just been clumsy in getting to their feet.
Wallabies captain Michael Hooper was heard questioning Owens about the incident and whether it was allowable for players to be lifted by their legs into the air.
Cheika said he felt other decisions had gone against his side, who had raced out to a 17-0 lead and then led 29-28 with less than four minutes remaining, which halted their momentum at crucial times.
"I just think at some key moments we got some calls that put us on the back foot, lost momentum and gave New Zealand field position and tries ensued from that," Cheika said.
"We lost momentum at different times in the game through some crucial calls (but) any of that stuff does not in any way excuse not finishing that game off with three minutes to go."
The Wallabies had been pilloried after their 54-34 loss in the first match in Sydney last week, particularly for their defence when the All Blacks raced out to a 54-6 lead after 48 minutes.
Cheika's side, however, were much more abrasive in the tackle and far more direct on Saturday in Dunedin, which forced the All Blacks into errors and kept them at bay for long periods despite being under sustained pressure.
"We deserved to win," Cheika said.
"It's just really disappointing for the players. They have put in a lot of effort and have copped a lot of grief from back home and given it everything.
"They deserved better... and I just want a bit more reward for the work we are doing."