Juan de Jongh chats Springbok return dreams, Wasps' Premiership ambitions & the Rio Olympics
"You never stop dreaming. It's always a dream to play for South Africa, I will never say no."
By Michael Cantillon
Last Updated: 04/10/18 7:06am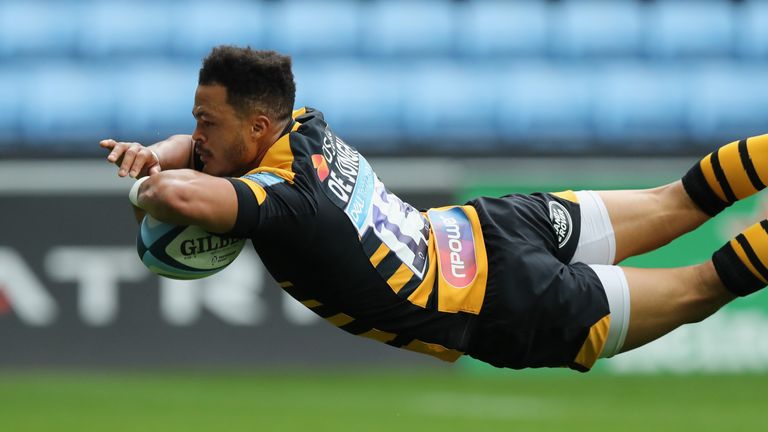 Wasps centre Juan de Jongh talks exclusively to Sky Sports Rugby about his dreams of a Springbok return, Wasps' trophy ambitions and his Olympic experience...
"Never give up, for that is just the place and time that the tide will turn." - Harriet Beecher Stowe, American abolitionist and author.
While rugby is growing globally, nowhere in the world does it remain as popular as it does in South Africa.
Within the country there are between 434,219 and 651,146 registered players of all ages - the vast difference in figures is moot in truth as either number is enough to stand as the largest anywhere on the planet.
There are 1,526 rugby clubs in South Africa - more than double than in New Zealand. For many, the Springboks are the holy grail of South African sport and a dream to represent them is shared by thousands.
At the highest level, there are 989 professional players - a figure which again is the largest in the world ahead of second-placed England (910) and third-placed New Zealand (approx. 450).
By comparison, Australia has 225 professionals, while Ireland has less than 200. In fact, there are more professional South African rugby players overseas (300) than there are professionals within most other rugby playing nations.
Most will be watching intently when the Boks host New Zealand in Pretoria on Saturday in the Rugby Championship. Pretty much all of them would give anything to be involved.
Wasps centre Juan de Jongh is one of those players.
The Paarl-born 30-year-old traded Cape Town for Coventry in the summer of 2017. It's a move he did not take lightly...
"It was truly a massive decision to leave South Africa, especially when I was part of the Springbok set-up," De Jongh says sat within the stands of the Ricoh Arena.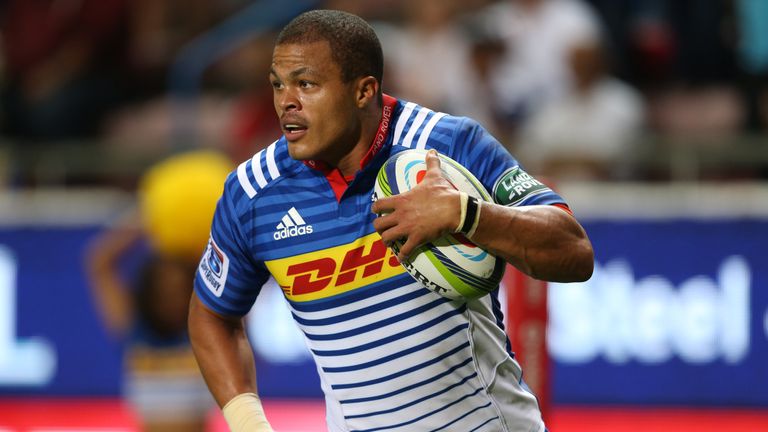 "It's really difficult. Leaving your parents at home, they're getting older and you see them once or twice a year. It was a tough decision to make the move.
"When I came over, I knew I was closing the door on the Springboks with the 30-cap rule.
"Obviously they've changed that now and there's a different excitement just to think: 'Oh snap, there might be a little chance to get in.'
"The only way you can get into the mix is to play brilliant rugby here and then the coach will have no option but to pick you.
"My whole focus is for Wasps and when I get an opportunity, to make the most of it and make sure I stay in the 12, 13, 22 - whatever jersey there is.
"Wasps gave me the opportunity to come and experience something new - which is what I always wanted to do. I always wanted to challenge myself in a different environment. I know southern hemisphere rugby, but northern hemisphere rugby is very different.
"Going out and playing 80 per cent of your games in hot and sunny weather in South Africa and then coming here and playing 80 per cent of your games in wet weather is a different challenge. You grow as a player, you grow as a person.
"When I get chances, I look to push the guys forward. And when I don't, I look to help the youngsters because there's a big culture here, a big squad. There's a lot to give.
"To be a part of this, for me to put my name among the set-up at Wasps is just amazing. I love it.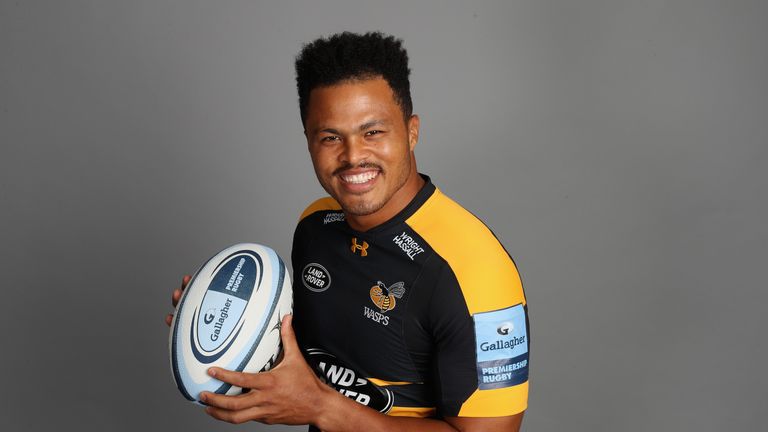 "I always want to strive for the best and now I have the chance to do it. To push myself to become a legend in Wasps rugby and be remembered by all the people coming out here. To make memories which will hopefully stay for years.
"It's all about experiences, it's all about memories. Because when it's gone, it's gone forever."
***************
De Jongh is articulate, an emotional speaker and a religious man. He is a fascinating individual to sit across from.
As the hard-running midfielder alludes to, when he left South Africa over a year ago, then Springbok coach Allister Coetzee was picking almost exclusively from within the country.
Since then, Rassie Erasmus has taken the helm and during the June series victory against England, he selected far more European-based players. The likes of Faf de Klerk, Duane Vermeulen and Willie Le Roux have all played major roles in recent months.
It's a development De Jongh - and presumably many others - can't help but feel excited by.
"You never stop dreaming. It's always a dream to play for South Africa, I will never say no.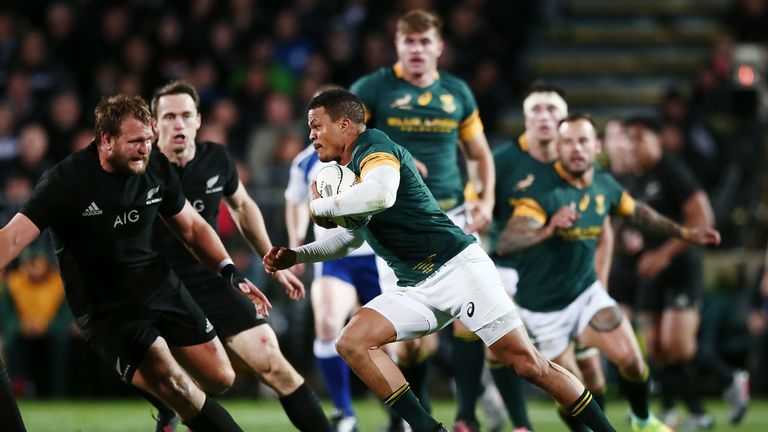 "When I left there was a lot of things that were going on. Not going into depth, but it's awesome now to know if you play good rugby, you will get noticed.
"I can only control the controllables. It's important for me to play good rugby, stay in good shape, and if I do, the doors will open. It doesn't matter if the coach likes me, or doesn't like me. The right people will force me in, the man upstairs will force me into the right positions. That's my focus.
"It's all about making sure I do what I need to do. But also not just being an individual. Whatever I can do to push the team forward on and off the field, it's important for me to do that. And I'm happy to do that. To see how other people come forward in life, how other people learn. Because I've seen a lot of teams throughout my career.
"I was blessed to play with the best of Springbok rugby. I was blessed to play with the best in English rugby, and I was blessed to play against all of them. I can use those experiences.
"We can have no egos, we can only learn and all go forward."
Having picked up 19 Test caps between June 2010 and October 2016, scoring on his Bok debut against Wales and representing his country at the 2011 World Cup, it's clear De Jongh remains deeply determined to pull on the green & gold again.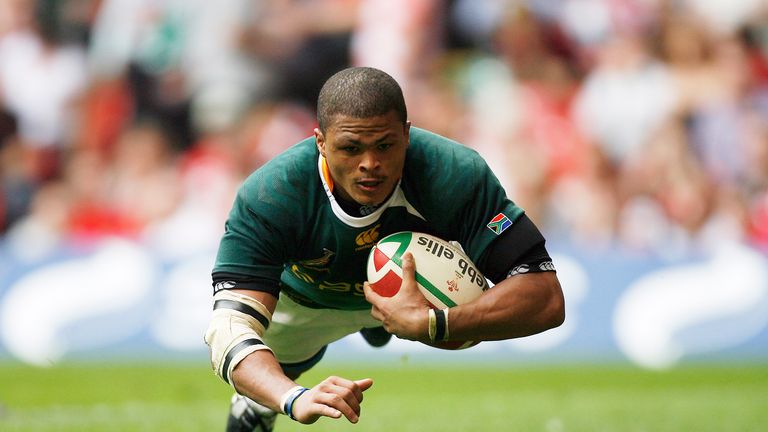 Even more so when you consider the fact his last Test appearance was a 57-15 defeat to the All Blacks in Durban almost two years to the day this weekend.
Have the present Springbok set-up been in touch?
"There's been some contact with Rassie Erasmus. He came down to have a chat with me and said: 'Listen, we're keeping an eye on you, stay in form and you never know what opportunities there will be'. That was a good thing to hear and for him to offer that.
"You always want to be part of it. I was blessed enough to play a few Tests for SA and every time I was in the squad was amazing for me.
"I've still got a lot of friends back there and I have the passion and hunger to be there.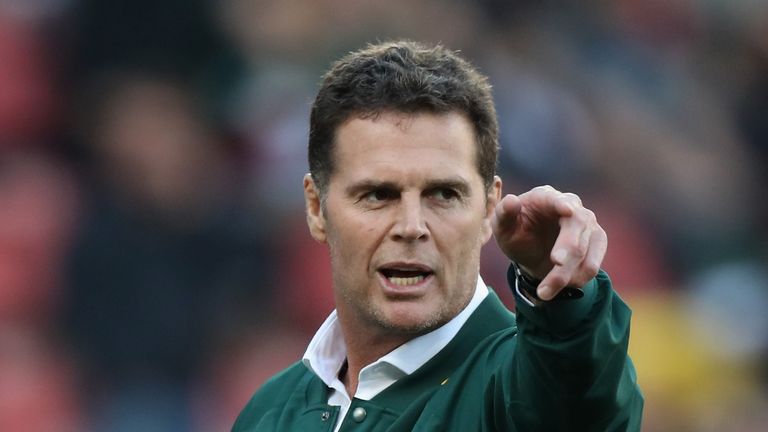 "But to be honest, that's far at the back of my mind. All I think about is having a great season. You have to enjoy yourself, because you never know where life is going to take you.
"It's important to stay in the moment and to be in the moment because things can change with the click of a finger.
"I'm so blessed to be a part of Wasps and hopefully I can be here for a long time."
***************
The youngest of four, De Jongh grew up in the town of Wellington in the Western Cape alongside elder brother Ruan and twin sisters Melony and Melischa.
Sport gripped him from an early age and it was rugby which enthralled him most. Perhaps predictably so, given the scenes which greeted the country during June of 1995.
De Jongh just one of a number of kids bound to have been inspired by the enduring image of Nelson Mandela clad in Springbok colours handing the World Cup trophy to Francois Pienaar.
"It's always been rugby for me. In South Africa we've got a lot of different sport - they love soccer, rugby, cricket and more, but since the age of eight-years-old, it's been rugby.
"All I wanted to do was play rugby. I was more worried about that than anything. Sport sessions were more important than any classes!
"Sport was everything to me. I always wanted to make it. I always wanted to be a Springbok.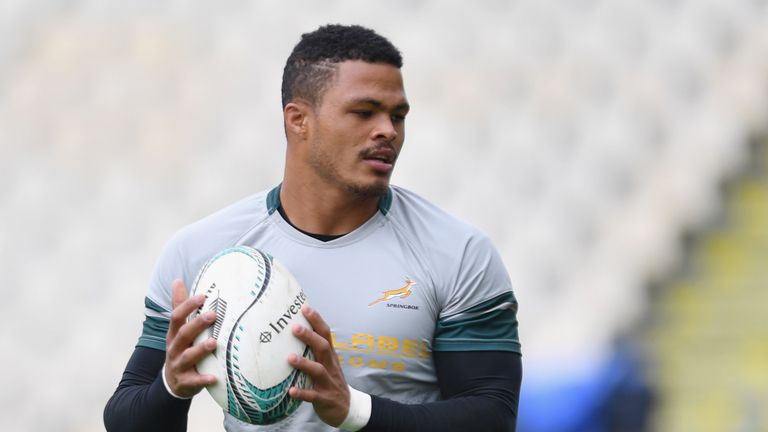 "I had obstacles through my time - I got injured very young, but I was always excited just to hold a rugby ball.
"To stand here and look at myself, I can be proud. But I'm 30-years-old now, so you cherish every moment and when I call it a day or God puts a stop on everything, I can be satisfied and have no regrets.
"My parents are both retired now and have been very supportive of me since day one.
"Even though they are still in South Africa, they follow me. Every game they watch or stream on websites, making such an effort. They worry about me. It's been tough times and hasn't been easy.
"Growing up was very tough. There were times I didn't have what I wanted or what I needed.
"I struggled to get boots to play, no one was there sometimes to take me to trials or do the things to make sure you're successful.
"But all the credit must go to my parents. Sometimes you don't always say it or say it to their faces. It means so much to me them being there to support me.
"If they didn't push for me, if they didn't fight for me, I wouldn't be sitting here talking to you.
"I'm so proud and happy to still have them around and for them to push me onwards."
****************
De Jongh tasted Currie Cup success with Western Province in 2012 and 2014 - scoring a try in the former and captaining in the latter - while he experienced Super Rugby final defeat in 2010.
In his first season with Wasps last year, he notched four tries en route to starting in their Premiership semi-final loss to Saracens.
This season he already has three tries from four appearances, providing the match-winner last weekend at Newcastle and scoring a magnificent solo effort in victory over Leicester. He's starting to show what he can really do.
With Wasps having not won the league for 10 years, and Dai Young's charges having tasted semi-final or final defeat for three years on the trot, there is tremendous appetite personally for De Jongh and as a collective in the Wasps changing room to go one further.
"My first season as a whole I was very happy with. But as a player, you're never really satisfied with anything when it comes to rugby.
"I started very slow in the season, not knowing the guys, not knowing the calls, trying to find my feet. And that's a challenge for every rugby player, everybody struggles for a time in a way.
"Last season was a decent season, not a brilliant season. The only thing that makes it brilliant is when you stand there and lift a cup at the end of it. We had a very disappointing last part but you have a second chance, a fresh year. You put that behind you.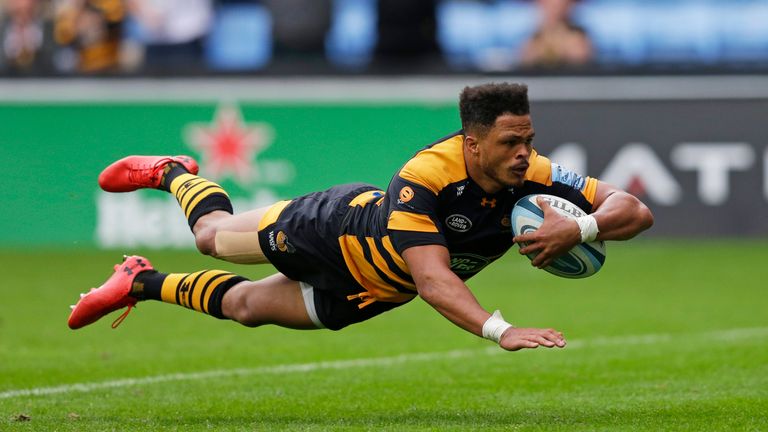 "Finishing up last season I had to get away. When I came here, I went from Super Rugby straight into the Premiership. That's obviously so much rugby the past couple of years that I needed a break.
"I went back to South Africa, saw the loved ones, spent some quality time because sometimes you don't see them for a very, very long time.
"We want to improve from last year. We want to be standing there lifting a cup."
****************
One aspect to De Jongh's career which stands out as unique is his experience in Rio at the 2016 Olympics.
As part of the South Africa Sevens team, he claimed a bronze medal. It's an achievement which brings him palpable joy when mentioned even now.
"When I went to Rio, I thought: 'This is a moment for life. What a time to be alive.'
"The Sevens coach came to me when I was at the Stormers and said: 'I see you having the potential to be part of the Olympic squad', and my reaction was: 'I'm 28-years-old, are you for real?!'. All of a sudden the opportunity was there.
"When he spoke to me the first time, straight after I thought to myself: 'Juan, you're in the mix for the Springboks and the Stormers, but if you go to the trials, you need to treat it like you don't have a plan B.'
"And that's what I did. I told myself going in that I didn't have a plan B and this was all I had. So I ended up fighting in every trial, every training, every tournament to put myself in a position to be there.
"We had an awesome squad. There were loads of Springboks going in - Jesse Kriel, Bryan Habana - they were all part of it, so I had to strive and work hard.
"It was wonderful to make the Olympic 12-man squad, being there and taking in the whole experience. Seeing Usain Bolt, Serena Williams and all these other big names, I was starstruck and it's an experience I will take forever.
"When I started dreaming of playing Springbok rugby as a child, I never thought of an Olympic medal. I just thought of World Cups, Currie Cups. That's all you think about.
"To win a medal like that is unbelievable. I'll cherish it for the rest of my life.
"It's back in South Africa in a safe. The day when I hang up my boots, I'll put that medal up in a gold case, making sure it's well presented."
For all the delight and enthusiasm De Jongh exhibits, have there been low points?
"Injuries, but that's part of the game so it can't really be a low point. You get stronger, become a better person and help others through it.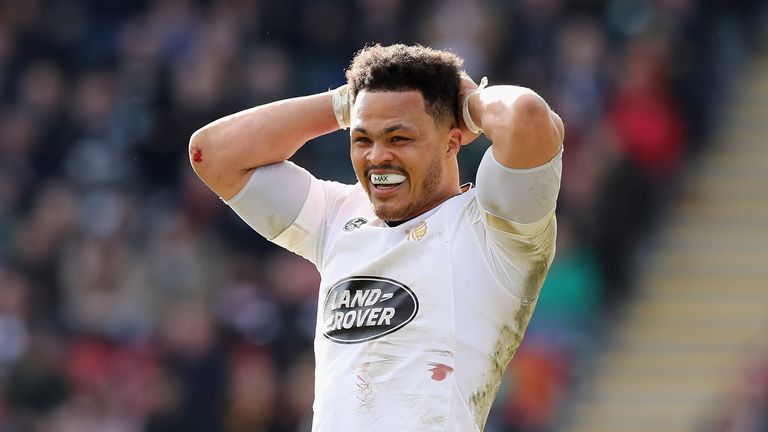 "I always make sure I work through negatives to make better pictures. Making positives out of negatives is important for me because if you're negative through life, that's not going to bring you positive results.
"You have to be happy through the positives too. There's so much I can take from my career so far."
De Jongh has never given up on his hopes of playing for the Springboks again. He may soon be rewarded for such faith.