Rugby World Cup history : Wallabies upset England in 1991
Australia profit from England's tactical 'faux pas'.
Last Updated: 11/09/15 2:50pm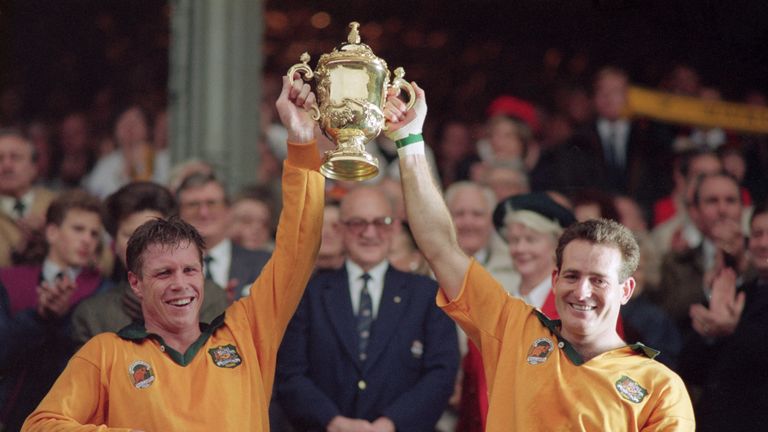 Australia spoil the home-coming party at Twickenham but it is Western Samoa that shock world rugby by beating Wales in Cardiff...
Four years on from the successful inaugural tournament, the Rugby World Cup returned to the home of the game's inception - although matches were also held in Scotland, Wales, Ireland and France.
Unlike the first World Cup - when sides were invited to participate alongside seven of the IRFB members - there was a full qualification process this time around.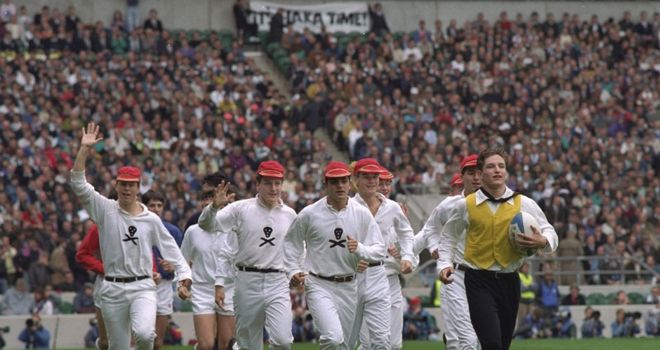 England, Scotland, Wales, Ireland and France all booked their places through virtue of being co-hosts - although they would have automatically qualified on the basis of their performances in 1987.
The Five Nations were joined by defending champions New Zealand, Australia and Fiji - who all claimed the three remaining automatic qualification places after reaching the 1987 quarter-finals.
Zimbabwe, Canada, Argentina, USA, Western Samoa, Japan, Italy and Romania booked their places via regional play-offs.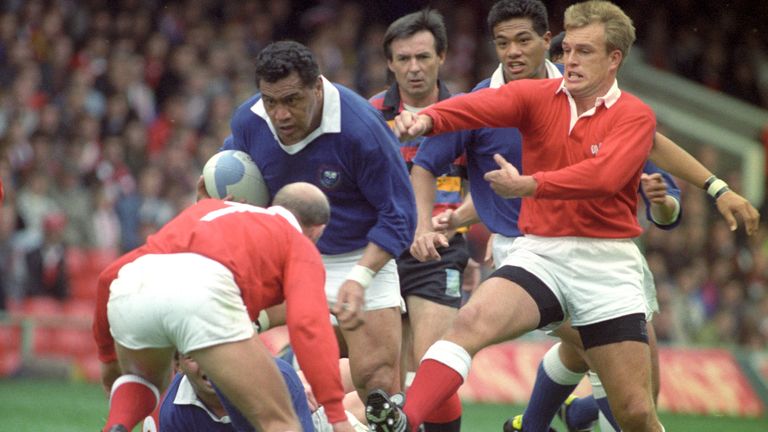 Again the top teams largely dominated, however the minnows had their moments, while there was a huge upset at the Arms Park.
Still smarting from their omission from the inaugural tournament, Western Samoa shocked world rugby by beating Wales, who finished third in New Zealand, 16-13.
Historic
The Samoans, inspired by the likes of Frank Bunce, Brian Lima and Pat Lam, tackled the life out of the Welsh - while To'o Vaega and Sila Vaifale crossed for the historic scores.
That defeat effectively ended the Welsh challenge, with a further loss to Australia seeing them fail to make it out of the pool.
England had to overcome an opening day defeat to the All Blacks to secure their place in the knockout stages - although New Zealand had to survive a scare against Italy, who showed the progress they had made in four years by only losing out by 10 points.
Scotland and Ireland had little trouble progressing through their group, while there was another surprise in Pool D as 1987 quarter-finalists Fiji slumped to three defeats. Romania and Canada were both hugely competitive, with the Canucks just sneaking into the last eight.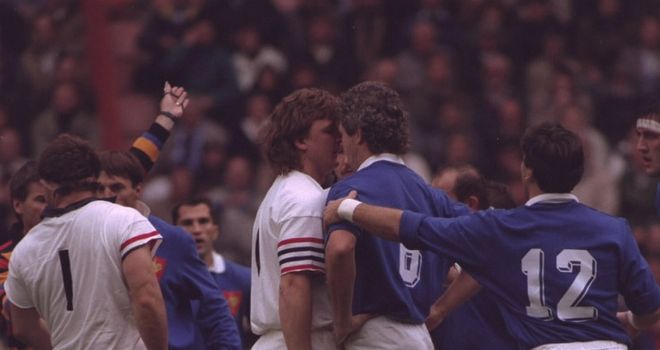 Canada and Samoa both failed to progress any further, though, as they slipped to comfortable defeats to New Zealand and Scotland respectively.
The other two quarter-finals were epic encounters with England, having to do things away from their home comforts after finishing second in their pool, travelling to France and Ireland entertaining Australia at Lansdowne Road.
At the Parc des Princes, a brutal encounter saw France - angered by a controversial loss at Twickenham in the Five Nations earlier in the year - go toe-to-toe with England in an aggressive, physical encounter.
There was nothing to choose between the sides at 10-10 when the game turned on one moment. France, with all the momentum, had a scrum 5m out, the ball was at the feet of Marc Cecillon and it seemed a try was inevitable.
Bone-crunching
However as Cecillon picked up and made his move for the line, he was smashed by a bone-crunching hit from Mick Skinner - with the Quins flanker not only stopping the Bourgion hardman, but driving him back five yards and dumping him on the Paris turf.
The pendulum had swung in England's favour and with the heckles up, they silenced Les Bleus with a 19-10 victory.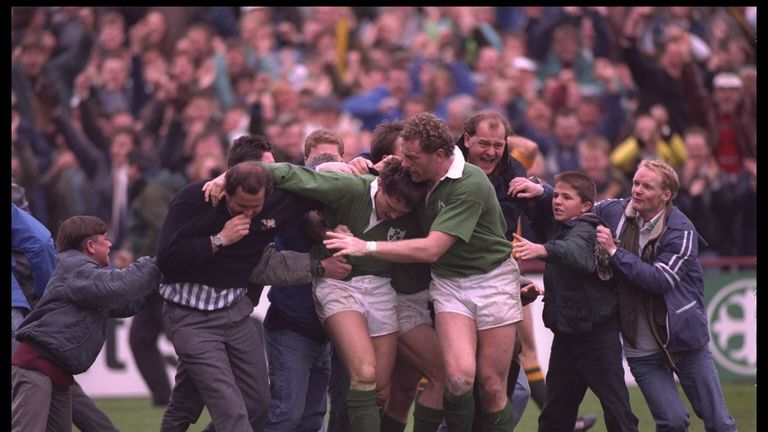 Across in Dublin, Ireland came agonisingly close to shocking the Wallabies. With the boot of Ralph Keyes, the tournament's leading scorer, keeping Ireland in touch, the home side found themselves only 15-12 down going into the final minutes. Lansdowne Road, though, went wild when Gordon Hamilton scored a dramatic try.
Ireland attacked from a lineout in their own half, Jim Staples chipped through and although Jack Clarke was tackled as he picked up the loose ball, he popped a pass to the rampaging Hamilton, who showed surprising pace to leave David Campese in his wake and score. Keyes converted to give them a three-point lead.
However the Wallabies weren't finished as Michael Lynagh scored in the corner to snatch the win.
The semi-finals set up two old rivalries - with England heading to Scotland and Australia remaining in Ireland to face New Zealand. Neither game lived up to their billing in terms of quality, with England scraping through 9-6 at Murrayfield - courtesy largely to Gavin Hastings' missed kick in front of the posts - and Australia powering past the All Blacks 16-6.
The final will probably be best remembered for the tactical 'faux pas' by England, who having relied on their pack and the boot of Rob Andrew to reach Twickenham, suddenly decided to try to play a running game.
The move backfired as Australia secured a 12-6 victory, with Tony Daly scoring the only try. England's only real chance came when Campese deliberately knocked on to stop Rory Underwood exploiting an overlap. England wanted a penalty try, but referee Derek Bevan awarded just a penalty - and the chance had gone.