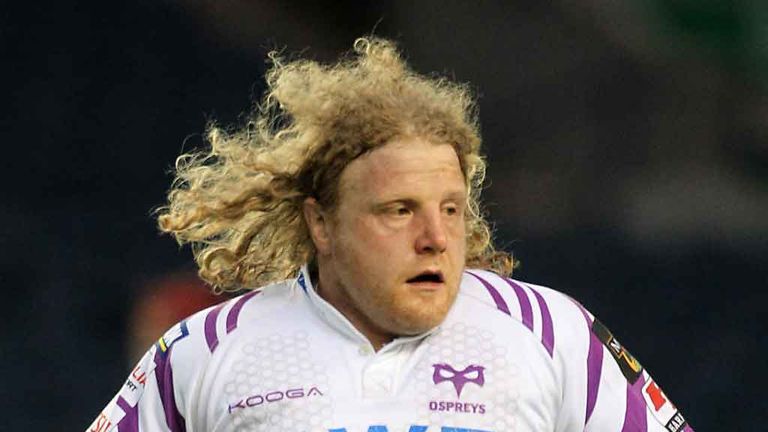 Ospreys prop Duncan Jones has announced his retirement from rugby.
Jones made a record 223 appearances for the Ospreys but a foot injury has forced him to end a distinguished 18-year career in the sport.
Jones played 105 times for Neath before becoming one of the 'Ospreys originals' in 2003. He won 57 caps for Wales between 2001 and 2009, winning two Grand Slams and playing in two World Cups.
He became the first player to break the 200 game landmark for the Ospreys in a derby clash against the Scarlets in January 2014 and now stands clear at the top of the list.
Jones said: "I'm really disappointed that I've had to make this decision at such an exciting time for the Ospreys. There's a real buzz about the group at the moment having qualified for the play-offs and, personally speaking, it's disappointing that I can't help with the final push in the semis and, fingers crossed, the final.
"Looking a little further ahead, we have a strong set of props here, many of whom will be going to the World Cup later in the year and I had hoped that I could maybe stick around a little bit longer to help some of the youngsters who'll still be involved during that period, but unfortunately that's not to be.
"However, it's fair to say that the region is in a strong position right now. The Ospreys have achieved so much since 2003 and I'm proud to have been able to play a small part in the success over the last 12 years, helping to create history.
"I think this group can go on and create more history of its own over the coming seasons and I'm now becoming a supporter watching with interest how they progress.
"I'm grateful to everybody I've worked with at Neath, with Wales, and, in particular at the Ospreys, for all the support I've had and for allowing me to enjoy some fantastic experiences and memories that will stay with me forever."
Jones was a part of four league title winning squads at the Ospreys, captaining the team to its second success in 2007. He also played in both the EDF Energy Cup Finals against Leicester at Twickenham, the Ospreys winning the silverware in 2008.