Sky Sports Rugby podcast special: Alex Corbisiero on tackling testicular cancer
Former England and Lions prop talks about his cancer battle and pays tribute to NHS staff
By Sky Sports Rugby Union
Last Updated: 04/04/20 12:52pm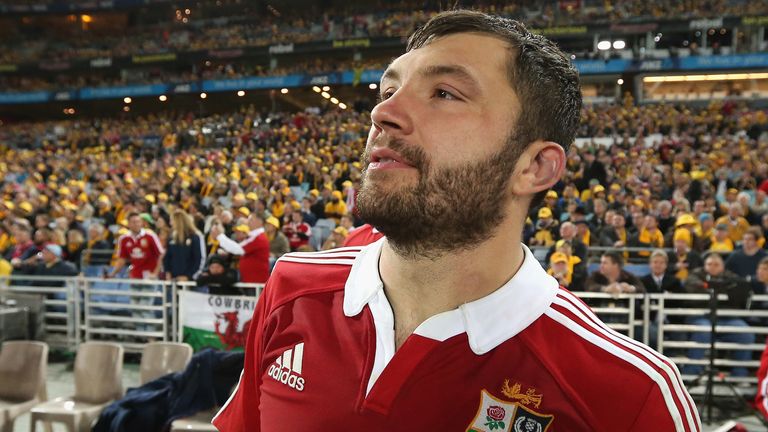 Sky Sports Rugby's Rupert Cox chats to former England and British & Irish Lions prop Alex Corbisiero about his battle with testicular cancer in a special podcast episode.
Corbisiero was diagnosed with testicular cancer in November 2019 and in this episode, he opens up about the moment he learned the news, the brilliant treatment he went on to receive, and ultimately his recovery.
Cox and Corbisiero are also joined this week by consultant urologist Ben Challacombe - Rupert's cousin - as well as USA rugby star Abby Gustaitis, who is Corbisiero's fiancé.
Corbisiero now lives in the States and was working for American TV at the Rugby World Cup in Japan when he began to have significant concerns over his health.
"That's the thing, I felt in good shape. Training, healthy, no issues on the horizon. I got engaged, work was going well, I also went straight into coaching but I gradually began to notice that my left testicle became a little sore," Corbisiero says.
"It was hard, it was bigger and I was a little bit worried about it. I booked in to have it checked, as I thought I might as well. My dad had testicular cancer at 28 so it had always kind of been on my mind a little bit but at the same time, there weren't many alarm bells ringing to the point I was freaking out, because I felt good.
"November 13/15 2019, the urologist examined it and asked me: 'What do you think it is?' And I said I was worried it could be testicular cancer. He just looked at me and said: 'You have it'
"I just said: 'Doc, I don't want to die. Tell me what I need to do.'"
In the podcast, Corbisiero - who received chemotherapy treatment at St Guy's Hospital in London - says a heartfelt thank you to the NHS, something sure to resonate with all audiences at the current moment.
To listen to all that and much more, click play above for the latest Sky Sports Rugby Union special podcast.