Russian evolution
Henry Paul says Russia plan to use the Churchill Cup as a platform for World Cup success.
By Oli Burley
Last Updated: 02/06/11 8:22am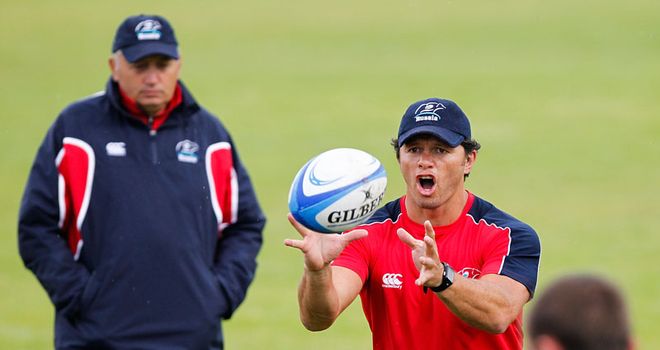 It is 9.25pm at the Olympic training facility in Novogorsk and Henry Paul has just finished contributing to the next phase of Russia's rugby evolution.
The Churchill Cup squad is all but finalised and the glory, pain and struggle of this autumn's World Cup - the country's first - feel as close as the massed lights of Moscow.
Succeed on the pitch and support for rugby union could explode; it is a message that Paul, the team's backs and skills coach, is keen to drive home.
"The rugby word is spreading," he says. "In terms of publicity, it's about 1,000 times better than it was 12 months ago.
"We are getting a lot more coverage in the press and TV which rugby has never had here; the build up to the World Cup has generated bullet boards, which is unheard of for us in Russia.
"There is still plenty of work to do in the club game, of course. I've been to some matches that haven't got much of a crowd because they've kicked off at 2pm midweek.
"But there is definitely a greater desire to make rugby more accessible to people, and more of an effort to push kids' rugby, starting with a schools programme."
Experience
Russia's rise up the rugby ranks reached new heights last February when they qualified for their maiden World Cup through the European Nations Cup.
Churchill Cup defeats to England Saxons and hosts United States followed but an encouraging 38-19 victory over Uruguay in the Bowl Final ensured the tour closed on a positive note.
"It was a good experience for the guys," reflects Paul. "Our results were pretty good in terms of our development. The problem was that we had a big gap between those games and the October Tests against Argentina A.
"The guys went back to club rugby, which at the moment falls well short of international standard. So last year was a massive learning curve for us.
"We are not looking too far ahead but each of the guys knows if they perform they have the chance to make the squad for the World Cup. This is the last chance for a few of the guys to cement their place or sneak in."
Analysis
This time around Russia, ranked 19th in the world, face Canada (15th) and an Italian side that overturned Ireland in the Six Nations - at Moseley Road and Kingsholm respectively.
"We definitely intend to beat Canada," says Paul. "We like to think we can win every game but we are also honest enough to know that sometimes we are not creative enough.
"We've also got to get our fitness levels up to make sure that the guys react for 80 minutes and we need to see how different players react to each other and if they strike up a good rapport.
"So it will be interesting to see how different combinations go with each other and above all we don't want to overuse players and risk injury so close to the World Cup."
Fewer stones have been left unturned than before; Kingsley Jones has joined Paul in a coaching set-up under Nikolay Nerush that now includes former England forwards coach Phil Keith-Roach and strength and conditioning expert Paul Pook.
Over the last six weeks Jones and Paul have watched a greater number of top-flight club games and national training sessions are now videoed.
"We've only really had the analysis for the last eight or nine months," explains Paul, "but now we are able to do a lot more footage work and one-on-one stuff with guys. We've definitely benefitted as a result.
"We have given up tries this year in the ENC but I'm pretty happy with the guys' technique. They are pretty brash and pretty brave; they hit in the right places and are prepared to put their bodies on the line.
"I'm really loving the job, especially now we can devote more time to individuals as well as the group. We still have a long way to go but what better incentive is there than a World Cup?"