Find out who made our Greatest Lions XV of the modern era
The voting has been fierce but we can finally reveal our Greatest Lions XV of the modern era.
Last Updated: 10/07/13 10:11am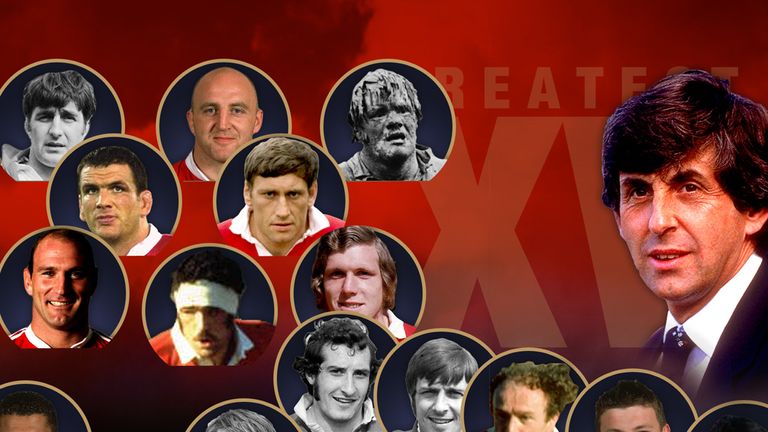 We decided to pick players from the modern era of the Lions - so starting from 1971 we gave you three players in each position to vote for. The voting was fierce but we can finally reveal the Greatest Lions XV voted by you...
15 JPR Williams
Stuart Barnes says: What a legend! One of the rocks of that 1971 and 1974 series. Who would forget the drop goal to draw the game and win the series in 1974, and who would forget his tackles and carries game after game!
14 Gerald Davies
Stuart Barnes says: Tasted defeat in South Africa in 1968 but bounced back to become one of the stars in 1971 in New Zealand. A magnificent sidestep and a glory to behold in full flight.
13 Brian O'Driscoll
Stuart Barnes says: Has been very unlucky with injury. We know when he was the captain in New Zealand what happened, we all know about the spear tackle. But who could forget how well he played in the first Test in 2001. I can remember saying in commentary: 'The Irish call him God, he is not God, he is better than that!' In 2009 he was again on a losing side but he showed that you don't always have to win to be a hero. The way he took Danie Rossouw out was fearless and the way he put Jamie Roberts over the gainline was unforgettable.
12 Mike Gibson
Stuart Barnes says: 12 caps for the Lions, one of the smoothest and intelligent players we have seen wearing that shirt. He was one hell of a competitor.
11 Jason Robinson
Stuart Barnes says: Jason Robinson did not play as long in union as say JJ Williams but what an impact he made in 2001. He was part of a losing series but he was devastating. When he sidestepped Chris Latham at the Gabba to score in 2001 the place went crazy. It was one of the great Lions moments.
10 Barry John
Stuart Barnes says: The man they never stopped talking about in New Zealand. Barry John with his hand-off at the tail of the lineout, Barry John gliding with his collar up hither and thither - he was one of the poets of Welsh rugby and one of the greats.
9 Gareth Edwards
Stuart Barnes says: He played ten Test matches for the Lions and was just incredible. He turned the world of rugby upside down - a unique rugby player and in my view one of the greatest of all time. He was wonderful for Wales and even better for the Lions.
1 Ian McLaughlin
Stuart Barnes says: Mighty Mouse was ever present in those fantastic wins in New Zealand in 1971 and in South Africa in 1974. He was the aggressive scrummager who really put it to the kiwis and the Springboks.
2 Keith Wood
Stuart Barnes says: His performance in the first Test against Australia in 2001 was mesmeric - he was my man of the match that day. He was also outstanding throughout the series in 1997 when the Lions beat South Africa 2-1.
3 Fran Cotton
Stuart Barnes says: Who will ever forget that photograph of Fran; the giant swamp monster covered in mud coming to get the Springboks. And get them he did!
4 Martin Johnson
Stuart Barnes says: Johnson was the man Ian McGeechan appointed as captain in 1997 because Geech wanted a captain who could go eye to eye with Springbok captain Gary Teichmann. He was a brilliant captain and an outstanding Lion.
5 Willie John McBride
Stuart Barnes says: The legend grows and grows and grows. he played 17 Test for the British and Irish Lions - more than anyone else. He has led them to fights and led them to victory and is THE legend of the Lions.
6 Lawrence Dallaglio
Stuart Barnes says: One of the most familiar names of the modern era. He had his bad luck with the Lions - he had his injury in 2005 but he played some decent stuff in 2001 in Australia. However it was in 1997 where we remember Dallaglio. No.8 for England for most of his career, but on that series Tim Rodber played eight and Dallaglio played No.6. I don't think I have seen a better defensive display from Lawrence Dallaglio than in that second Test in Durban.
7 Fergus Slattery
Stuart Barnes says: In my view Slattery is one of the greats of Irish rugby. He played four Tests for the Lions and was crucial in helping the Lions win the big series in 1971 and in 1974.
8 Mervyn Davies
Stuart Barnes says: Merv the swerve. Played eight times for the Lions and won many of those. He was a great man, a hard man and a humble man. He will always be indelibly linked to Lions history.
Captain: Willie John McBride
Stuart Barnes says: He may not be an original choice but he is the obvious choice to lead this great team out.
Coach: Ian McGeechan
Stuart Barnes says: Has vast experience as a player and as a coach - knows what it takes to win a series and also has the disappointment of losing a series to draw on too.