Maro Itoje says England will bounce back from Six Nations disappointment
By Dev Trehan
Last Updated: 25/03/18 5:20pm
Maro Itoje insists England will be a better side in the long run after a disappointing Six Nations campaign.
Eddie Jones' men were Grand Slam winners in 2016 and won the Six Nations championship last year, but finished fifth this time round after losing their last three matches to Scotland, France and Ireland respectively.
Saracens and England lock Itoje says England are united in their desire to get back to being one of the best teams in world rugby.
"Obviously it has been a tough time for us. I think we have learnt some good lessons. I think we have learnt some good lessons about ourselves individually and as a group," he told Sky Sports News.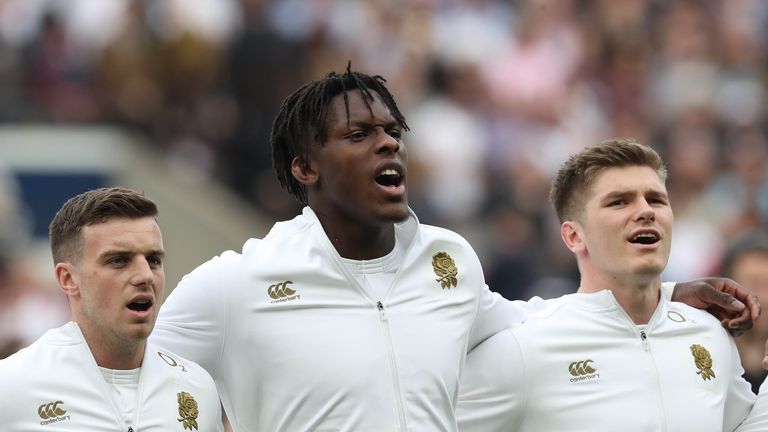 "I think in a year or two years' time we'll look back at this period and we'll be grateful that we went through it because I think we are going to come out as a lot better and a lot stronger team as a result.
"We've got some fantastic coaches. We've got coaches from Eddie to all of his assistant coaches and the backroom staff are all outstanding.
"I don't have a bad word to say about any of them, and as a playing staff, we have a lot of quality there so we just need to stick together and in the long run we will be okay.
"It [losing] hasn't happened to me very often in recent seasons [at club and international level] but that is professional sport. You have to take the rough with the smooth. But every time I put on an England shirt I am always so excited and I know we'll be alright in the long run."
Itoje was dressed in a traditional Nigerian outfit for Saturday's British Ethnic Diversity Sports Awards where he was crowned Sportsman of the Year at the second time of asking after losing out to Mo Farah last year.
The 23-year-old accepts he is a role model, especially within BAME (Black, Asian and Minority Ethnic) communities but says rugby is slowly becoming increasingly diverse.
"The way rugby is moving, things are changing a lot," he added.
"If you look at my club Saracens, and the club's academy players - a large percentage of guys now are from minority backgrounds. Even at England level, if you compare our squad now to 10, 15 years ago it is completely different now.
"I think we are moving ion the right direction but there is still a lot of work to do."