Rory Best ponders if Ireland put too much pressure on themselves for quarter-final
Last Updated: 21/10/19 5:26pm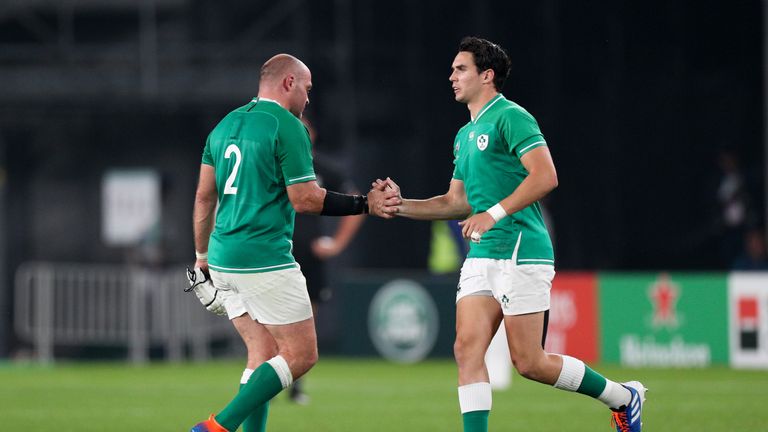 Rory Best pondered if Ireland put "too much pressure on" ahead of their Rugby World Cup quarter-final which ended in a crushing defeat at the hands of New Zealand.
Ireland leaked seven tries in Tokyo and ended up on the wrong side of a quarter-final result for a seventh time at a Rugby World Cup - their wait for a maiden semi-final is now set to last at least 36 years.
Veteran hooker Best's Ireland career came to a close on the heart-breaking note and the 124-cap hooker pondered on the reasons for the difficulties after the full-time whistle.
"There is a lot of pressure on them and I think we allowed them to get a good start which took a little bit of the pressure off," said Best.
"Everyone talks about the pressure that's on the All Blacks before quarter-finals. But, when you haven't won one and you feel you have a great coaching set-up and great group of players then maybe you put too much pressure on.
"Maybe we have been looking at this for too long and been so focused on it that we forgot to win some of the little battles along the way over the last 12 months.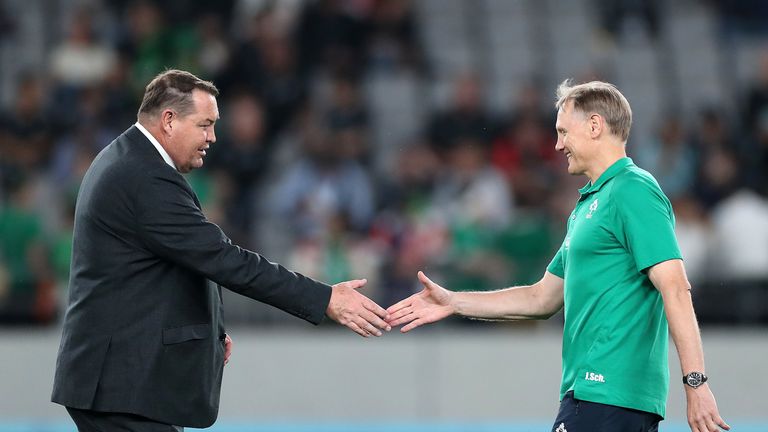 "We wanted to set a bar than no Irish team has met before. We've done that numerous times over the six-and-a-half years with Joe [Schmidt].
"It was an onus on us to win a quarter-final because then it becomes a habit.
"We talked about it years ago. I remember Paul O'Connell saying when we beat France three times in a row leading into the last World Cup that it then becomes a habit because you expect to beat France.
"Before that they always seemed to be the team that stopped us winning Grand Slams.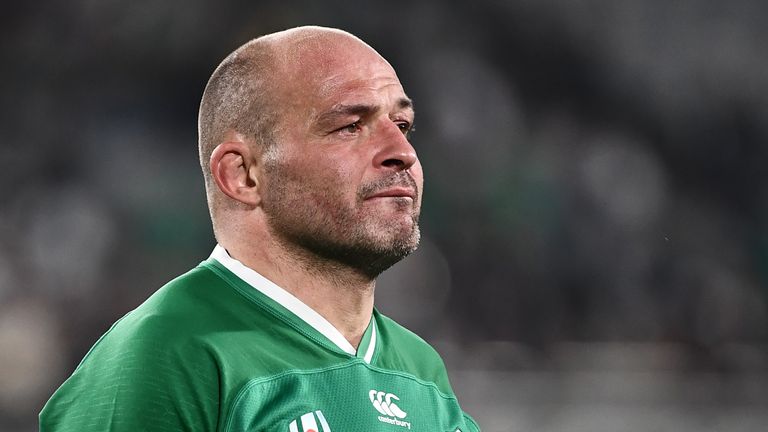 "With Joe, he helped take away a bit of the fear factor that the All Blacks held in the last three Tests. But when you do that they see you coming a lot more and when you get the best team in the world fully prepared and fully focused on you it becomes that little bit more difficult.
"And when you make a few errors and you let them get their tails up it becomes even more difficult."
Joe Schmidt has now taken charge of Ireland for the final time, with defence specialist Andy Farrell due to step into the head coaching role.
The departing Kiwi has had led Ireland to three Six Nations titles, including one Grand Slam, and the nation's first two victories over New Zealand.
Despite all of their achievements during that time, Best admitted that their World Cup exits will still hurt for some time to come.
"Tired, sore, upset. Right now you focus on just what's gone and we're incredibly disappointed," said Best when he summed up his feelings.
"We've got a lot of big characters in that changing room and it's not often that you get deadly silence. There were some of those big men in tears. That's what happens when everybody puts their heart and soul into something."
'It's the false hope that kills you'
Sky Sports News reporter James Cole analyses Ireland's last eight defeat in Tokyo and head coach Joe Schmidt's departure.
I've never experienced an atmosphere change so quickly and dramatically at a sporting event.
'The Fields of Athenry' had drowned out New Zealand's Haka. 2,000 Ireland fans had 'officially' bought tickets to this game; come kick-off there were easily over 20,000 in the Tokyo Stadium.
The noise was brilliant. It felt like a home game for Ireland.
Indeed, there was so much hope among the Irish fans.
They'd beaten the All Blacks twice in the last three years. Surely they could do it again - or at least come close? But it's the false hope that breaks you.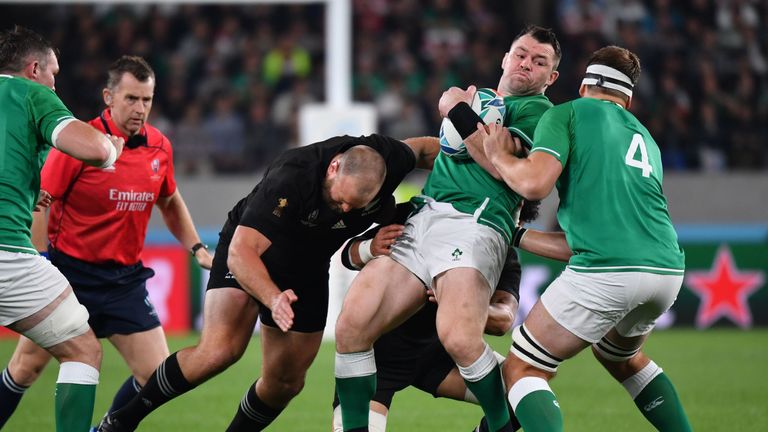 With 20 minutes gone, the game was over. As Richie Mo'unga converted Aaron Smith's second try, to make it 17-0, 'The Fields of Athenry' had been replaced by 'The Sound of Silence'.
New Zealand's performance was at another level.
They played with a pace and intensity we hadn't seen at this World Cup. It blew Ireland away - the men in green looked shell-shocked - the men in black seemed to win every collision.
New Zealand missed just one tackle in the first half.
What was also very apparent from last night's quarter-final was how New Zealand have evolved since their defeat in Dublin last November, while Ireland have not.
Having Mo'unga and Beauden Barrett in the same team gives the All Blacks another dimension in attack.
In contrast, Schmidt's decision to put faith in senior figures, rather than select those in-form, backfired.
Schmidt: "When you hit a high there is always a little bit of a drop. We work with human beings. We'd won three out of the last five so that is why it is so devastating."We would love to have got into the top four. Heartbroken would not be far away from how I feel and how the players feel. After the November series, we wanted to make sure this was our target and maybe it consumed us too much and we got distracted from the focus.
As coach Schmidt leaves his post and Andy Farrell takes over, the former England centre will have some big decisions to make. Some will be made for him, with players retiring.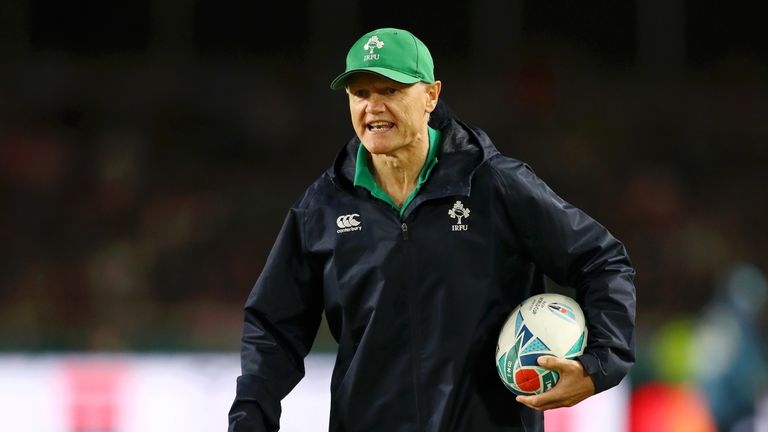 But others will not. Johnny Sexton has said he wants to keep playing for a few more years, and he still has a lot to offer this Ireland team.
But as Farrell looks to plan for the next world cup cycle he will note that in four years' time Sexton will be 38, Conor Murray 34 and Rob Kearny 37.
Sexton: "At the end of the World Cup you guys will probably start calling for our heads because we'll be too old and the next batch has to come through - you can see it already. But we hope we've got a few more years left together."
Schmidt took Ireland to new heights. His legacy shouldn't be tarnished by this result. But the best teams keep evolving - and that task now lies with Farrell.