Six Nations: Brian O'Driscoll reflects on Ireland's win over France
Brian O'Driscoll admitted the emotions were starting to 'kick in' after his final game for Ireland.
Last Updated: 16/03/14 6:47am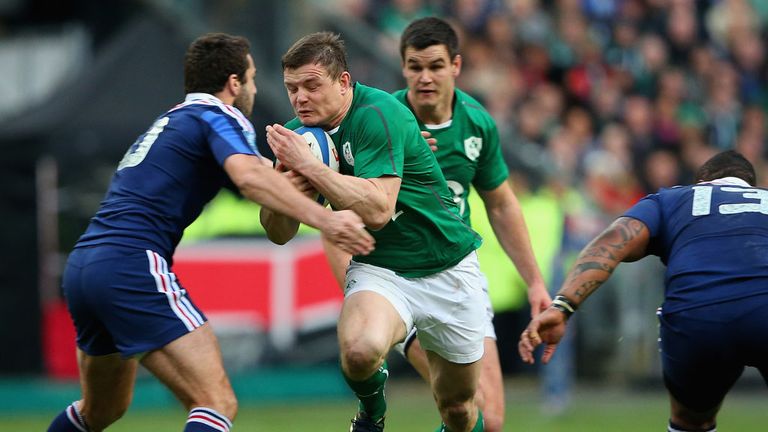 Needing to win in France for the first time since 2000 to pip England to the title, Ireland held on for a thrilling 22-20 victory to give iconic centre O'Driscoll the perfect end to his stellar international career.
Ireland scored three tries - Jonathan Sexton crossing twice - to France's two in a pulsating encounter to see them to only their second win in Paris in 42 years. The last time - 14 years ago - O'Driscoll was also in the side and scored a hat-trick of tries.
"The emotions are starting to kick in now," O'Driscoll said. "It feels great to be a two-time Six Nations winner.
"So many seconds along the years and so many disappointments, it is great to finish my career on a high. When I do hang this jersey up on the hook inside it will be with fond memories.
"I am absolutely delighted. There is a huge Irish contingent here and I am glad we gave them something to shout about."
O'Driscoll insisted there is no possibility of him returning to international action.
Overwhelmed
"I promise you it's the last time in a green jersey. I'm absolutely overwhelmed," said the Leinster stalwart, who originally planned to retire after last summer's Lions tour.
"Huge emotions now, the last time I take this jersey off and hang it up inside, that'll be the end. Unless I decide to put one on at home when no one is watching."
After a frantic finale to the game, a relieved O'Driscoll kissed the Six Nations trophy for only the second time. The previous occasion was in 2009, when he captained Ireland to the Grand Slam.
"It's a wonderful feeling," he said. "I've played a long time for Ireland and to only have won one Six Nations championship would have been disappointing so I'm really delighted for this group of players, for how talented they are, how hard they worked."
Ireland captain Paul O'Connell added: "It is fantastic. We are delighted for Ireland and the people back home and also for Brian O'Driscoll and his family - for him to have a great finish to his career is great for everyone involved."
Ireland head coach Joe Schmidt said he will miss coaching "workaholic" O'Driscoll immensely.
The former New Zealand schoolteacher said O'Driscoll's legacy will start with Robbie Henshaw and Darren Cave picking up the slack in his absence, having learned international outside-centre play at first hand.
"I've worked with Brian for four years now, and he's a man I respect hugely," the former Leinster boss said. "He's a player I really enjoy coaching. His work ethic is massive.
Special attributes
"If you think you've got to where you need to be, and you're talented, to work so hard that you maximise those special attributes, the example he sets with his character... All that I will most certainly miss.
"At the same time he's been quietly grooming a couple of guys to come in.
"I don't think they can come in and fill his shoes straight away - they will have slightly smaller feet. But hopefully they can grow into them."
Schmidt said Ireland's stars have earned the right to celebrate an icon's international retirement, especially after rejecting the emotion of O'Driscoll's farewell all week.
"We did it a little bit last week; there was a fantastic ovation in Dublin," he said. "This week we did nothing.
"I mentioned it once pre-game and it wasn't mentioned at all, all week. The team were very conscious of it, and it didn't demand mentioning.
"They wanted it to be special for him, and I think they achieved that."