Sir Clive Woodward: Sam Tomkins should be playing for England
World Cup-winning coach Sir Clive Woodward says England have missed a trick by failure to lure Sam Tomkins to union.
Last Updated: 01/11/13 4:19pm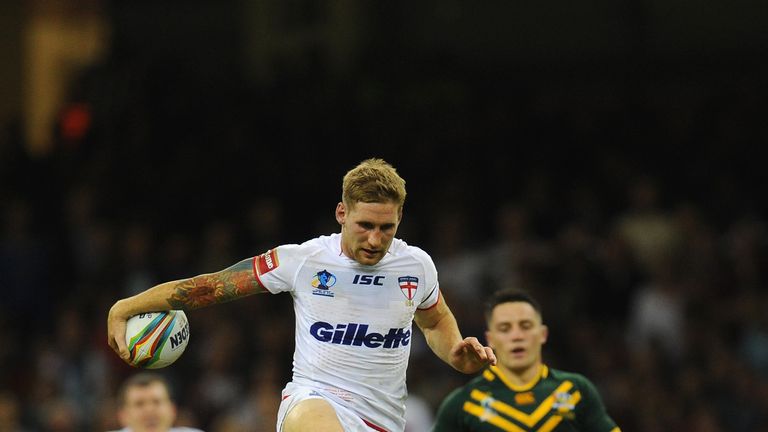 Tomkins' brother Joel will make his debut for England against Australia at Twickenham on Saturday but Woodward says it is Sam who could have lit up the back-line.
Sam became the most expensive league player in history at the end of the Super League season when he joined New Zealand Warriors from Wigan.
Little brother Joel switched to union with Saracens three years ago and will make his debut in England's midfield against the Wallabies. And Woodward says he should be playing with his brother.
"Outside centre is the one big question mark for this generation of England players. Sam Tomkins was born to play 13 for England and we should never have allowed him to leave the country to play rugby league in New Zealand," he wrote in the Daily Mail.
England's pack is now a formidable unit but there are question marks in the back-line. Woodward says none of the individual players is currently in the top three in his position in the world, adding that must change if England are to challenge for the 2015 World Cup.
Olympic podium
"Imagine an Olympic podium consisting of the top three players in the world for each position in rugby," he wrote.
"I do not believe there is a player in the England back line who would be on that podium on current form, but to win the World Cup they need to find at least two outright gold medal winners by selecting players with gold-medal potential. They are definitely out there, and the England team should be built around them.
"I realised (when I was England coach) that if you had a gold-medal contender in every position on the pitch, and on top of that world-class coaches, you would have every chance of becoming the best team in the world.
"To that point, I made it the players' individual responsibility to become the best in the world in their position. I dedicated myself to providing them with everything they needed by way of coaches, sports science and world-class facilities but made it clear that we did have the talent, but they had to leverage that talent by working harder and better than anybody else.
"I told Jonny Wilkinson that, at 18, he was the best fly-half in England, but I would rank him sixth in the world. That's not even on the podium - I wanted him to be No 1 in the world.
"In the years that followed, the players' response and dedication to achieving this was inspiring and six years later, in my mind, every player in the team that started the 2003 World Cup final had a place on that Olympic podium. I believe seven were gold medal winners, five were silver and three were bronze."