England are finding their mojo, says Will Greenwood
Last Updated: 21/11/18 11:50am
Will Greenwood says the Tests against the Springboks and All Blacks show that England are starting to "find their mojo".
Eddie Jones' side got their Quilter Internationals campaign off to a winning start against South Africa, a 12-11 victory after making a poor start to the game. The following week it was a reversal, with England going 15-0 up before relinquishing the lead to eventually lose 16-15.
Results aside, Sky Sports' Will Greenwood says there is plenty for Jones to be pleased about after his side went toe to toe with two of rugby's superpowers, with both outcomes determined by a single point.
"I think on the back of the last two games, they will feel as though the chariot isn't quite cruising at 80 miles an hour in the fast lane, but it's starting to find its mojo," said Greenwood.
"The ability of the side to compete with the very best teams in the southern hemisphere, which these two sides clearly are - New Zealand are historically the best team in the world ad infinitum - suggests that Eddie's putting together a squad a nice level of timing a year out from the World Cup.
"Opportunity has beckoned for some young lads due to injuries to, for example, the two Vunipola brothers. That has afforded chances to players to come in and prove themselves, and we've seen actually that the depth of talent is really strong."
Greenwood says England will be hurting after letting slip an opportunity to defeat the best team in the world after going 15 points up after 25 minutes, but says winning the World Cup remains the primary goal of Jones' troops.
"They won't be hiding behind the fact that 15-0 up in a torrential downpour is a mighty, mighty lead," Greenwood said.
"To then not score another point, I think it was the 24th minute or 25th I might be slightly wrong, but basically England go nearly an hour without scoring a point.
"Overall, I think victory wasn't required in order to win the World Cup next year, but good performances were required to allow the squad to believe in what they are doing and having faith in the depth of the squad, and being able to look at an opponent like New Zealand and South Africa and go 'If we see you next year, we look forward to it'.
"The players will be gutted not to have a victory - some of them - against the All Blacks on their CV, but they know the big picture is Japan 2019.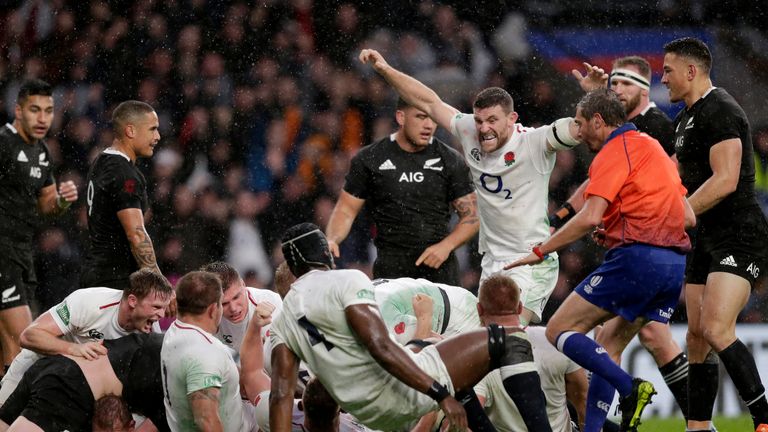 "They will take away the positives that they rattled a cage that very few rattle."
On Saturday England welcome Japan to Twickenham, live on Sky Sports, and Greenwood says Jones won't be looking to make wholesale changes to the team's outlook, but will want to see more consistency and execution of the basics after England's lineout wobbled against New Zealand.
"Weirdly enough, the lineouts against South Africa were outstanding. The pressure on the South African lineout… Malcolm Marx had the yips which allowed England to win the game against the Boks.
"Clearly consistency will be key. What international rugby teams don't ever deviate away from is: during the course of the week Neil Hatley, the scrum coach, will be looking at the scrums, [Steve] Borthwick will be looking at the lineouts, John Mitchell will be looking at defence. Those basics are critical.
"As always, it's lots of little things to keep working on, to keep tinkering on. So it's more of a tinker that Eddie will be looking for, rather than huge shift in styles. They're not a long way from being a very good team."
The 2003 World Cup winner says taking on Japan after playing New Zealand replicates the kind of schedule England can expect at the 2019 World Cup, and said England won't want to lose momentum ahead of the final Test of the autumn against the Wallabies.
"On the back of the two results England have had, it's a classic warm-up. Next year England will have France and Argentina, and then they will have other pool games where there's opportunities just to stretch the legs, run clear, run, get some points on the board, score some tries. I think England, if the weather holds, will absolutely be looking to do that against Japan.
"England will want to just put up a tally this weekend, and then look forward to Australia the following week."
#Followtherose this autumn with all of England's Tests live on Sky Sports throughout November. The action continues on Saturday against Japan before the final clash against Australia on November 24.