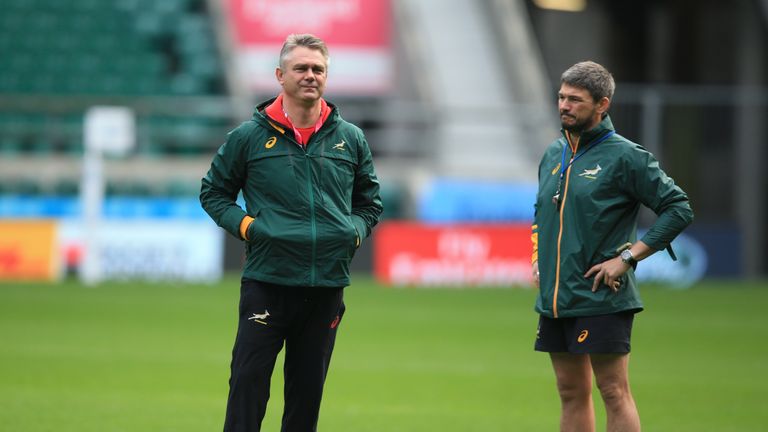 Heyneke Meyer has vowed to turn relegation-haunted Stade Francais into "the best team in the world".
The former South Africa coach will take over the reins next season, when Stade will be hoping to still be playing in the Top 14.
Champions in 2015, the Parisians have fallen on hard times and are involved in a relegation battle alongside minnows Oyonnax, Brive and Agen.
But Meyer still believes that under Swiss millionaire owner Hans-Peter Wild, the club can bounce back to past glories.
"I never make promises that I can't keep, I like to under-promise and over-deliver," said Meyer at his unveiling in Paris on Monday.
"When I had a meeting with Doctor Wild I said to him I don't want to go into rugby or a team if I can't have the same vision to build the best team in the world."
Wild, though, was not so guarded about his ambitions.
"In three years we'll be champions, perhaps it's going to take four," said the German-born businessman.
A 44-3 thrashing by Lyon at the weekend left Stade four points above the relegation places with two matches to play.
But they are being hunted down by an Oyonnax side that has won five of their last seven matches, while next week's visit of rock-bottom Brive could prove decisive.
Meyer insisted that even relegation at the end of this season would not derail his ambitions.
"It doesn't matter in which division, I've committed and I like a challenge," he added.
The 50-year-old, who won 32 out of his 48 Tests in charge of South Africa, said his appointment does not mean Stade will become flooded with South African players, the way Montpellier were under his compatriot Jake White.
"If I wanted to coach South African players I would have stayed in South Africa, I had offers," said Meyer.
"You're always going to look for the best players in the world.
"I'll definitely be trying to develop young French players, and if it's close between players you always have to go for the French.
"France rugby is healthy. Ireland won the Six Nations but it was a drop goal that made the difference [against France] and France could have been very close to Six Nations champions."