Sandy Park added to long list of venues for 2015 Rugby World Cup
Exeter's Sandy Park has been added to the long list of potential match venues for Rugby World Cup in 2015.
Last Updated: 04/03/13 4:07pm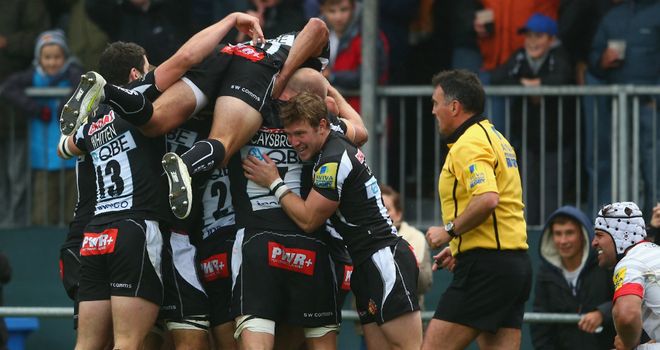 Bristol City have confirmed that they intend to redevelop Ashton Gate and the timing of the building work means it may not be able to be utilised for the tournament.
World Cup organisers have therefore added Exeter's Sandy Park to the long list, ensuring the south-west retains a potential venue.
Debbie Jevans, England Rugby 2015 chief executive, said: "We are very pleased to add Sandy Park to the long list of potential match venues for Rugby World Cup 2015.
"We want to ensure that Rugby World Cup 2015 is a truly national event, and Sandy Park, located in the rugby heartland of the South West, gives us the option to take the tournament as far and wide as possible.
"I would like to thank Tony Rowe, chairman and chief executive of Exeter Chiefs, and Exeter City Council for their support over the last few weeks as we went through the process of adding Sandy Park to the long list.
"We are finalising venues and the match schedule in conjunction with Rugby World Cup Limited and will publish the final list in the next few weeks."
Rowe added: "We are delighted to have been confirmed as one of the possible match venues on the long list for Rugby World Cup 2015.
"This announcement is exciting news not just for rugby followers, but for everyone living within the region.
"We have been working incredibly closely with Exeter City Council in submitting a bid we hope will bring so much to so many people. Our hope now is that we will be among the venues that will be selected for what I know will be a superb Rugby World Cup here in England in 2015."