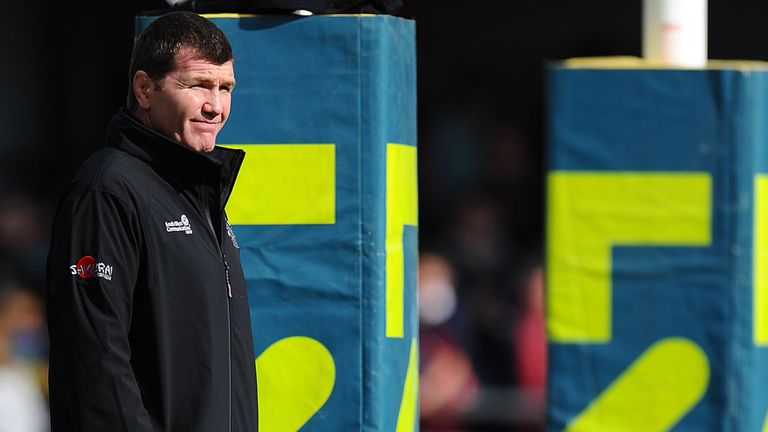 Exeter Chiefs have confirmed the signing of London Scottish prop Tomas Francis on a two-year deal.
The Devon club will lose tight heads Hoani Tui and Craig Mitchell at the end of this season and coach Rob Baxter has moved quickly to replace them, with a deal already agreed to bring in Scottish international Moray Low.
Francis has now also completed the terms of a move to Sandy Park, a transfer he admits has come ahead of schedule.
"I'm really excited about the move," said the 21-year-old, who has made 21 appearances for the Exiles during the current campaign.
"If I'm honest, getting into the Premiership has come a lot quicker than I thought, but it's a great opportunity for me and one that I hope to take with both hands.
"Exeter are a great club and one that have come out of the Championship and really progressed within the Premiership. They have a great stadium, superb support and they are a club who are very ambitious and want to move forward.
"When I spoke to Rob (Baxter) he told me about what the club want to do and where they want to go - and convinced me that it's a good place to be if you're an ambitious, young player."
Unleash
Baxter now hopes to unleash what he feels is the 'huge potential' of a player whose background is in university and part-time rugby.
Francis joined Scottish from relegated Doncaster Knights last year, where he played alongside his final year of studying mechanical engineering and playing at the University of Leeds.
The talented scrummager made nine starts for the Knights in his last season at Castle Park in addition to two appearances off the replacements' bench.
The Yorkshire-born prop took up professional rugby after his coach at University recommended him to the Knights and he played for local clubs Malton and Norton in York before moving to Leeds to study Mechanical Engineering.
Baxter is confident the youngster has what it takes to survive within the top flight.
"We always keep a close eye on the Championship and one of the things we tend to keep a close eye on is front five forwards," said Baxter. "On a pretty consistent basis, Tom has looked very good. He's looked strong in the set-piece and more mobile than you'd imagine when you see the stats for his size.
"He's been a pretty dominant scrummager, but he's also short of time in the professional game. This is his first full season at a full-time club and that all makes him very interesting.
"He's got huge potential. He's 21 years old, in his first year in a professional environment, and he's a very solid performer in the set-piece."