Fenerbahce dump out Marseille
Fenerbahce dumped Marseille out of the Europa League with a 1-0 victory at Stade Velodrome.
Last Updated: 22/11/12 10:32pm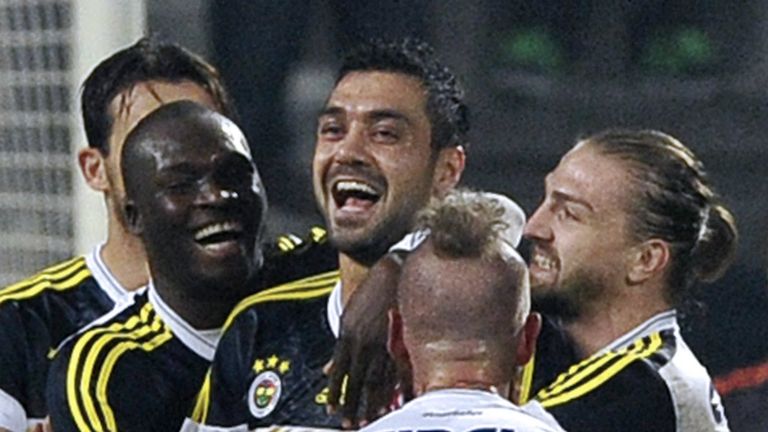 Fenerbahce dumped Marseille out of the Europa League with a 1-0 victory at Stade Velodrome.
Fenerbahce's Bekir Irtegun became the latest player to score a memorable overhead kick as he scored the only goal of the game.
Forty minutes had gone at the Velodrome when he chested down a Cristian Baroni corner, before hitting it back over his head to leave Steve Mandanda with no chance.
As a result, Marseille went out, while Fenerbahce have no such worries and are five points clear at the top of Group C on 13 points thanks to the cavalier attitude they have carried through the tournament.
It was on display tonight as the Turkish side went on the attack from the off, with Baroni working Mandanda early on, with Marseille's first effort being a wayward hit from Jordan Ayew.
There was no doubt that Baroni was keen to catch the eye and Brazilian was back in the action again in the 22nd minute, drilling wide.
At the other end Andre Ayew replicated his brother's attempt, before Rafidine Abdullah worked visiting keeper Volkan Demire for the first time.
Fener came back through Dirk Kuyt's scuffed strike and then took the lead through Irtegun's brilliant finish.
The goal came after Mandanda had tipped away a Caner Erkin drive, but there was nothing he could do about Irtegun's brilliance.
Marseille responded after the break with Demirel saving well from Andre Ayew, with the stopper then going full length to repel Florian Raspentino.
The pressure was building and both Jordan Ayew and Morgan Amalfitano nearly made it pay, but with Baroni leading from the front, Fener maintained an attacking presence.
He and Bruno Cheyrou traded shots, but Marseille were running out of time and when Andre Ayew made a hash of a late free header the game was up.