Ref Watch: Jamie Vardy penalty? Morgan Schneiderlin handball? Dermot Gallagher's verdict
Last Updated: 04/01/16 4:41pm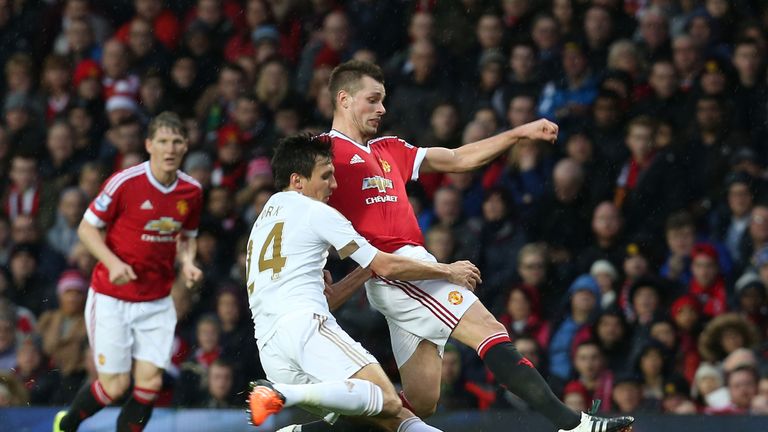 Dermot Gallagher believes referee Jonathan Moss made the right call in not awarding Swansea a penalty at Manchester United.
In his refereeing review of the weekend on Sky Sports Now, former Premier League referee Gallagher also claimed Bournemouth were unlucky to have Simon Francis sent off in the 0-0 draw at Leicester.
Gallagher also gave his view on a bizarre incident at League Two Northampton, where Barnet's Andy Yiadom ran out of the defensive wall to kick the ball away despite a free-kick not being taken. 
INCIDENT 1: Simon Francis (Bournemouth) sent off for last-ditch tackle on Jamie Vardy (Leicester)
SCENARIO: Francis, the last man, tackles Vardy from behind but looks to take some of the ball. Referee Andre Marriner's view is from behind the incident.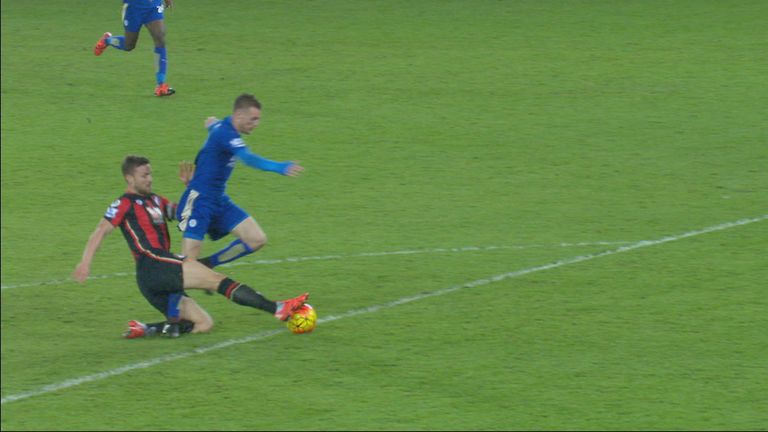 GALLAGHER'S VIEW: Incorrect decision
GALLAGHER SAYS: It's a tough call, in my opinion it's not a foul, but a lot of people think it is a foul. When you see the referee's view, he thinks he's gone through the back of him and taken Vardy out. But he clearly wins the ball. Andre, unfortunately, because of the angle he is at, can't see. He sees that Francis flies in, he sees the ball move away and presumes that Vardy has touched it. That tells you that different angles show different things. It is a really, really tough decision, though. You can understand why the referee has given the red card.
INCIDENT 2: Vardy's penalty appeal waved away after collision with Dan Gosling (Bournemouth)
SCENARIO: With the score at 0-0, Leicester striker Vardy comes across Gosling inside the area and goes down, but referee Marriner allows play to continue.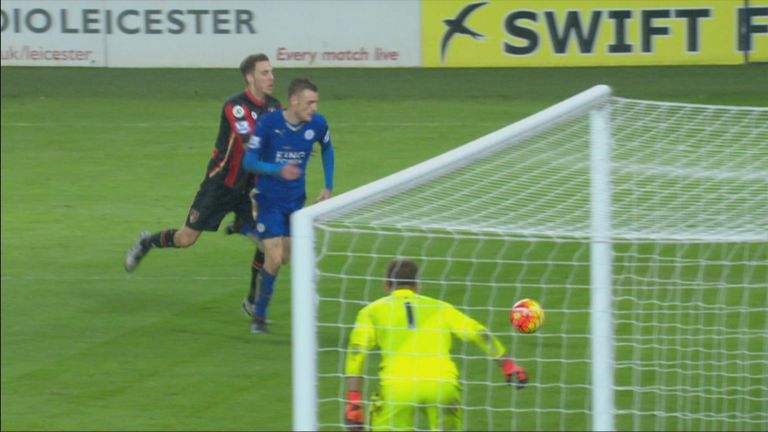 GALLAGHER'S VIEW: Correct decision
GALLAGHER SAYS: I really praise the referee here. I was watching the game and thought it was a penalty. But as you see it again it isn't a penalty. It's actually Vardy who makes the contact and Gosling does nothing wrong. Vardy connects with him twice, it's a coming together and a clashing of legs. Absolutely right, not a penalty.
INCIDENT 3: Geoff Cameron (Stoke) sent off for violent conduct on Claudio Yacob (West Brom)
SCENARIO: Stoke midfielder Cameron catches Yacob with a flailing arm after the two collide in midfield with the score at 1-1 at the time of the dismissal. West Brom go on to win 2-1.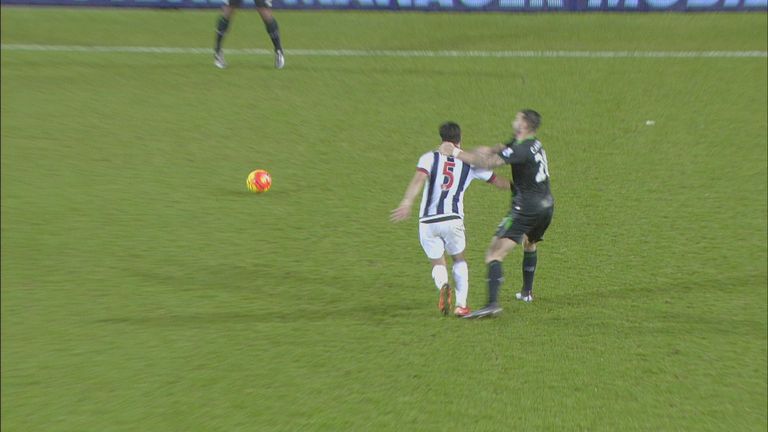 GALLAGHER'S VIEW: Correct decision, and ban will not be overturned
GALLAGHER SAYS: It is a red card. If you take that action you run the risk. He's made the decision that it is violent conduct. Yacob has done Cameron no favours whatsoever [with the reaction]. That's the unfortunate part of the incident, but the referee has dealt with the offence that has occurred. I can understand why they may appeal, as it looks soft, but the player will still be banned in my opinion.
INCIDENT 4: Ball hits Morgan Schneiderlin's (Manchester United) hand in the penalty area against Swansea.
SCENARIO: Stretching to clear the ball, Schneiderlin unintentionally kicks the ball onto his own hand. Referee Jonathan Moss allows play to continue.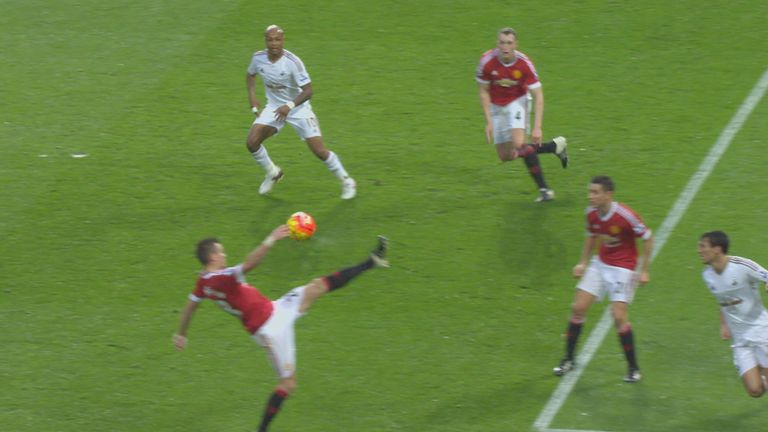 GALLAGHER'S VIEW: Correct decision
GALLAGHER SAYS: The ball hits Schneiderlin, the law says Schneiderlin must hit the ball. I'm saying this one isn't a penalty. But this is the vagueness of the law. In my mind, the ball goes towards Schneiderlin. 
INCIDENT 5: Chelsea allowed advantage by referee Kevin Friend after Oscar is fouled against Crystal Palace; Willian scores from advantage. Chelsea win 3-0.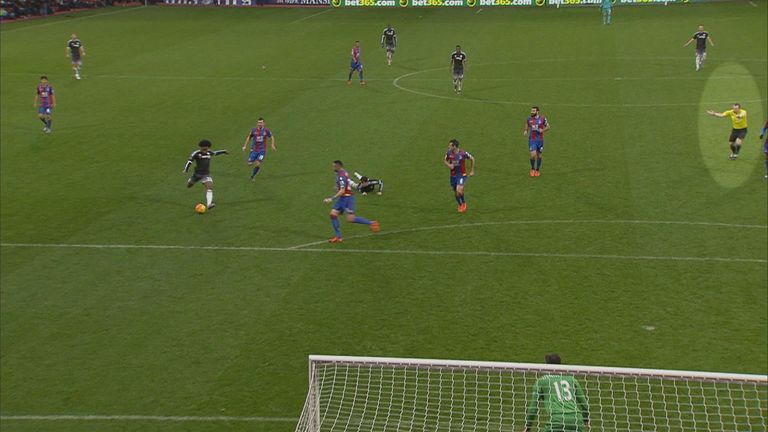 GALLAGHER SAYS: It is excellent. He straight away realises Willian has the chance, and it's in the net. It's a dream decision for a referee, it's everything you want. There's nothing better for the referee. The worst thing is if it goes 20 yards over the bar!
INCIDENT 6: Yiadom (Barnet) believes Northampton's Gavin Hoyte has touched the ball from a free-kick, therefore runs out of the wall and kicks the ball away. 
SCENARIO: In an incident similar to one at the World Cup in 1974, where Zaire's Mwepu Ilung kicked away a Brazil free-kick, Yiadom sees Hoyte's foot come off the ball, and runs up to kick it away. Both sets of players clash, referee Ross Joyce gives Yiadom a yellow card, and Northampton won the game 3-0.
GALLAGHER'S VIEW: Correct decision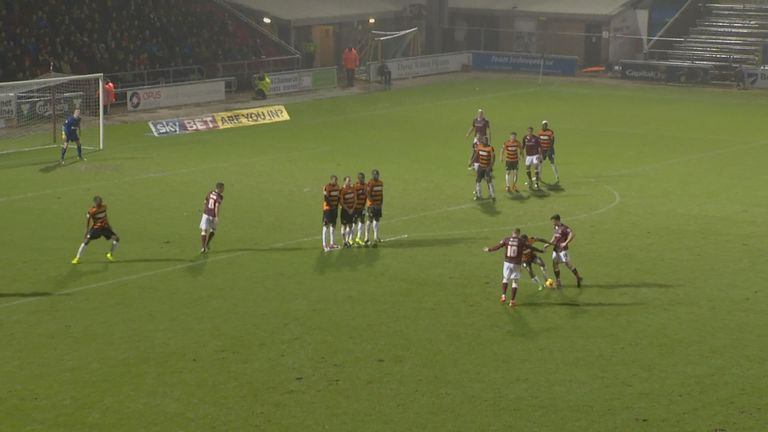 GALLAGHER SAYS: I honestly think he believes the free-kick has been taken because the player has his foot on the ball. He thinks he has moved the ball, but it hasn't, he has just taken his foot off. It's remarkable, because I think that's the first time this season I have seen anybody cross the white line. It's the frenzy after, everybody piles in, but the poor old referee has to yellow card him for it.