Brendan Rodgers recalls the highs and lows of his Liverpool tenure
By Nick Wright
Last Updated: 17/01/16 3:14pm
From the euphoria of a 5-1 thrashing of Arsenal to the bitter disappointment of losing Luis Suarez to Barcelona, former Liverpool manager Brendan Rodgers recalled his highs and lows at Anfield on Goals on Sunday.
Rodgers succeeded Kenny Dalglish as Liverpool manager in June 2012 and led their thrilling Premier League title charge in the 2013/14 season as they fell just two points short of champions Manchester City.
He was the first Liverpool manager in 20 years to be named LMA Manager of the Year, but the Reds slumped to a sixth-placed finish in the following season and Rodgers was sacked just eight games into the 2015/16 campaign.
In the company of Ben Shephard and Chris Kamara on Goals on Sunday, Rodgers remembered the two sides of his time at the club…
HIGHS
Blitzing Arsenal at Anfield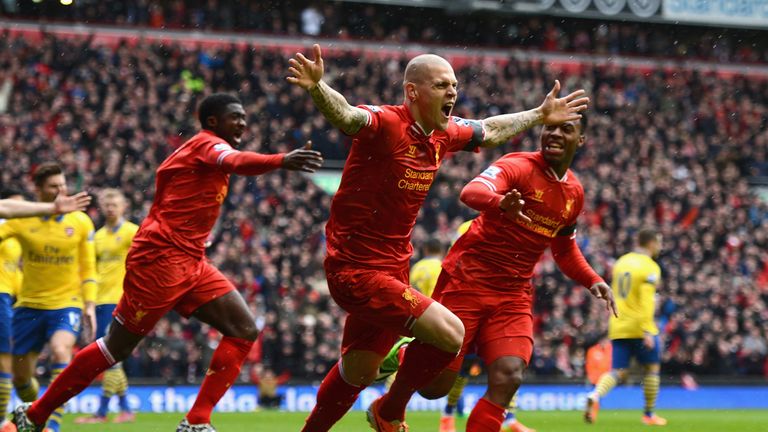 In February 2014, Arsenal went to Anfield as Premier League leaders looking to cement their status as genuine contenders of the title. Instead, they were blown away by their rampant hosts thanks to two goals each from Martin Skrtel and Raheem Sterling and another from Daniel Sturridge.
"We were 4-0 up in 20 minutes, and we felt we could score every time we went forward," said Rodgers. "I hear Arsene Wenger now talking about the impact it had on some of his players. It was an incredible game. There are certain games in a season that can give you a great deal of confidence and that performance there was one of them.
Arsenal simply couldn't cope with Liverpool's high-intensity pressing, and Rodgers felt Liverpool's brilliant home form gave them an additional psychological advantage. "Whether we had the kick-off or not, we would always look to be on the front foot and go after the opposition," said Rodgers
"Of 19 home games that season, we won sixteen, drew two and only lost one. It was a great record we had, and you build up that fear in the opponent when you're that good at home. The players were brilliant. They were really aggressive and focused."
Beating Manchester City on the 25th anniversary of the Hillsborough tragedy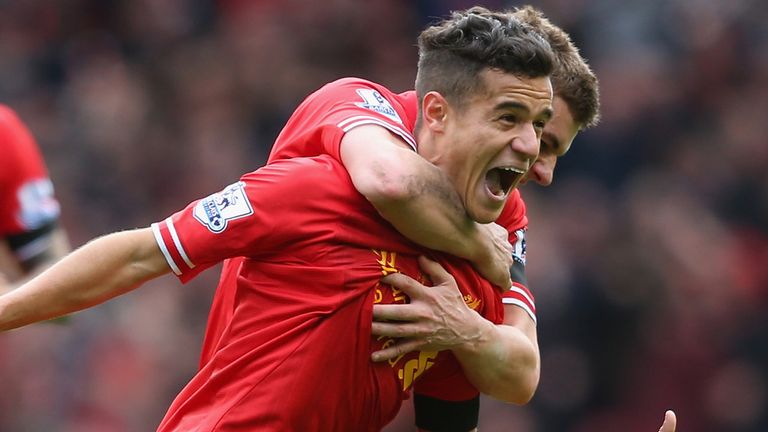 When Manchester City visited Anfield two months later, Rodgers' side were on a nine-game winning run in the Premier League. And on the 25th anniversary of the Hillsborough disaster, the Reds took another huge step towards to the title with a thrilling 3-2 victory over Manuel Pellegrini's men.
"The atmosphere was unbelievable," said Rodgers. "Being the manager and standing in front of the Kop every other week was a privilege." On the pitch, Liverpool roared into a two-goal lead thanks to goals from Sterling and Skrtel.
The atmosphere was unbelievable. Being the manager and standing in front of the Kop every other week was a privilege.
Brendan Rodgers
"We started really well and played a diamond," said Rodgers. "This was a game where the whole stadium moves. I felt that at that time that whenever Raheem shifted the ball everyone swayed with him. Our pressing, everything in the game, was superb. That first half, the intensity. Everything."
City fought back through David Silva and a Glen Johnson own goal, but Philippe Coutinho pounced on a Vincent Kompany error 12 minutes from time to score the winning goal. "They pulled it back to two-each but then young Phil, who's a really top-drawer player, produced a wonderful piece of skill," said Rodgers. "With four or five games to go at that point, you feel like you can do it. That was a brilliant team performance."
LOWS
Blowing the title against Chelsea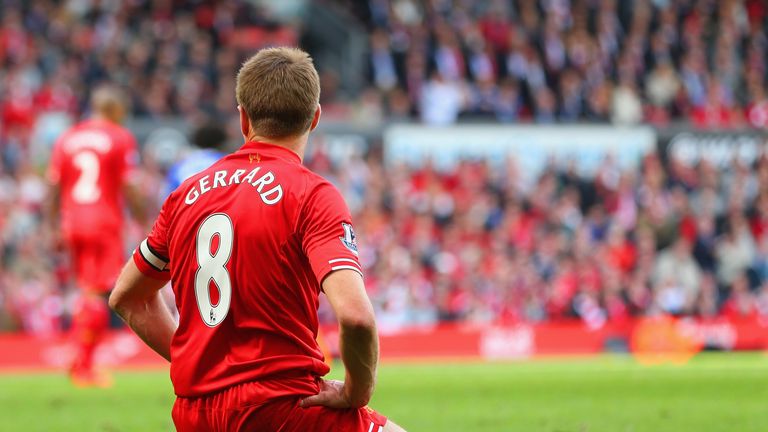 It looked as though nobody could stop Liverpool's title charge, but their hopes were dealt a crushing blow with a 2-0 defeat to Chelsea on April 27. Steven Gerrard's fateful slip allowed Demba Ba to open the scoring before half-time, and a breakaway goal by Willian sealed the win for Jose Mourinho's side in stoppage time.
"It was an unfortunate slip," said Rodgers. "For 70 minutes of this game we played really well. They sat in and defended and we found it hard to break them down. We started to shoot from outside the box and couldn't get around the sides. For me, that was the game that did it. That was the game where we felt that, if we could have got the draw or win, we could have gone on and done it."
Rodgers, though, rejected suggestions that Liverpool were complacent - or that they should have approached the game differently. "We were never that complacent," he said. "I don't think you can approach it differently. We were an aggressive team when we were defending and when we had the ball. We had an unfortunate circumstance on the stroke of half-time. You can't vouch for a slip.
"Up until that point we had been playing well. Chelsea were trying to slow everything down but we were trying to get the intensity in the game. I don't really think we could have changed our approach. We started the second half well but then with 20 minutes to go we stopped doing the things we were good at."
Losing Luis Suarez to Barcelona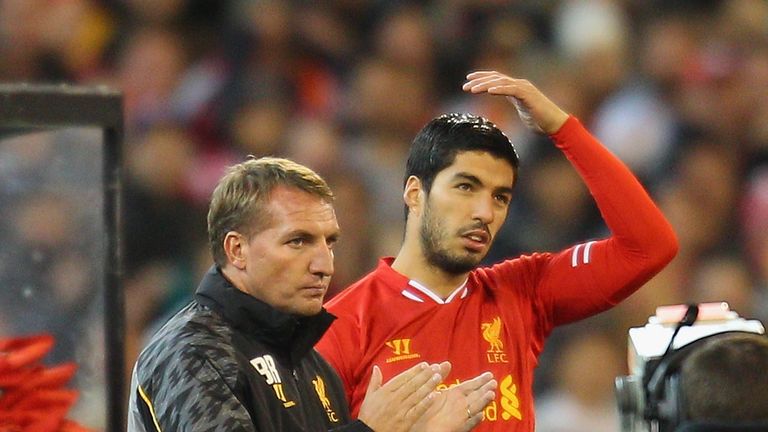 That summer, Liverpool lost their talisman to Barcelona. Player of the Year Suarez had scored 31 goals in 33 Premier League games in 2013/14, and his departure left a gaping hole in Rodgers' plans. "It was huge," he said. "When I went in to Liverpool, I built the team around Luis.
"One of the talks I had with Luis was that we were looking to play a fluid system with him being key in terms of his pressing at the top end of the field and his ability with the ball. For two years, the team was growing and growing all the time.
"At the end of that second season when we had just missed out, ideally what happens is you just keep hold of your squad and then you can add one or two to hopefully go on the next year and win it. But unfortunately for us we lost a world-class player.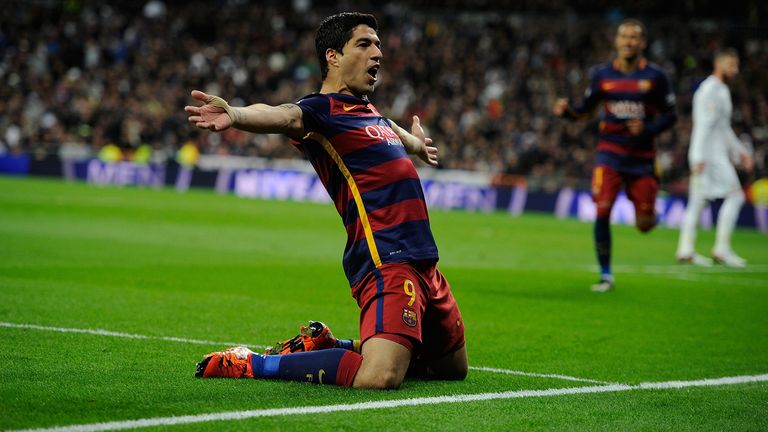 "You see his impact at Barcelona," added Rodgers. "He's gone into a world-class team and made them better. So that was the type of player we were losing. When Luis was playing, the others gained great confidence from him. All of a sudden he left, and Daniel Sturridge was out."
Rodgers had stood by Suarez through a series of controversies. "He was a dream to manage," he said. "He's obviously had issues off the field but you always want to support him and protect him. This is a wonderful man. He was an ultimate professional and on the field he produced."