Pep Guardiola's Barcelona of 2010/11 v Luis Enrique's current side... who would win?
By Gerard Brand
Last Updated: 30/01/16 5:43pm
Five trophies, a record 180 goals and the rise of one of the most-feared attacking trios in the history of club football made Barcelona's 2015 special.
Luis Enrique's debut season at the Nou Camp was not without its rocky patches, but it ended on the highest of notes; the La Liga title, a third Champions League crown in seven years and an impressive Copa del Rey final win over Athletic Bilbao on home soil.
In the 2015/16 season they picked up where they left off, as Lionel Messi, Neymar and Luis Suarez continued their three-pronged attack on Spanish and European football.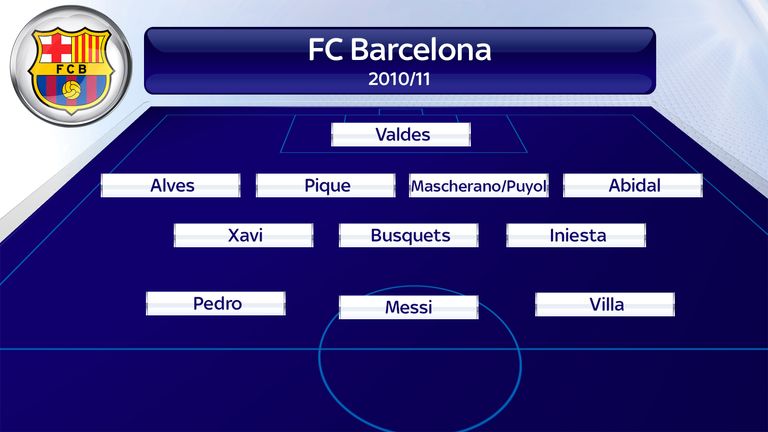 Enrique is doing everything he can to emulate Pep Guardiola, just under four years after the Spaniard left.
Barcelona's class of 2010/11 under Guardiola, his penultimate term in charge, won La Liga by four points, beat Manchester United in the Champions League final at Wembley, and were victorious in both the Club World Cup and Spanish Super Cup.
While the club's philosophy remains more or less the same, Barca have subtly adapted their playing style to devastating effect, and have successfully steered their way through a transfer ban to remain in pole position on all trophy fronts this campaign. 
But how would they get on against Pep's Barca? Comparing the two sides is no easy feat, so we got our Spanish football experts to do it for us...
Guillem Balague, Sky Sports' Spanish expert - Barcelona 2010/11
For me, 2010/11 were a little bit stronger in set pieces, helped by the height of Eric Abidal, plus Xavi controlled games in a way that nobody in 2015 does. Andres Iniesta has got more of a forward brain in him, and is doing a great job, but is not Xavi for that kind of role.
In 2011, Messi was closer to the box and lethal. That team dominated games, but were weak when faced by counter attacks, and that's the risk they took. Sometimes, especially against Real Madrid, they had difficulties. 
Dani Alves covered more ground than now, and finally, Valdes is a better goalkeeper than Bravo; he had a very tactical brain and you could count on him on the ball.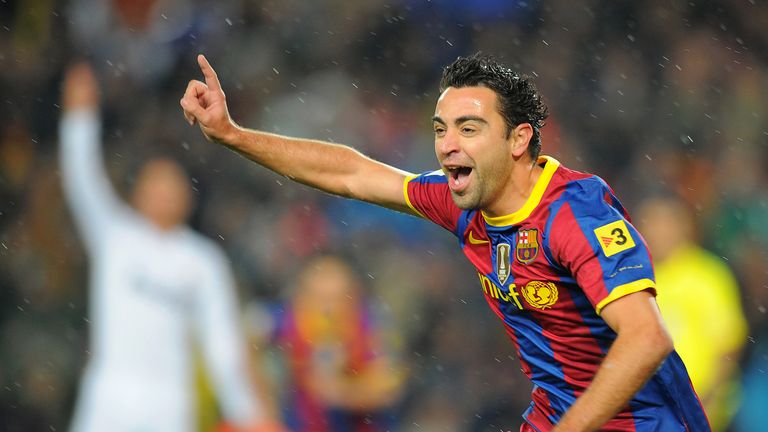 In 2015/16, Messi is a more complete player, no doubt. But the current side control the game less, and are more of a box-to-box team, knowing that spaces will be created and the front three will score more.
There is much less defensive work from the front three now, compared to Pedro and David Villa next to Messi.
For me, the Iniesta, Xavi and Messi link helps to decide what kind of game this would be. Even though many would say the front three are better now, and they are, the game is more about control over the 90 minutes, and that 2010/11 team have more about them in that sense.
Guillem's combined XI: Valdes; Alves, Pique, Puyol, Abidal; Xavi, Busquets, Iniesta; Messi, Suarez, Neymar.
Terry Gibson, Sky Sports La Liga commentator and former top flight forward - Barcelona 2015/16
I am going to select the current model. There is not a lot of difference between Valdes and Bravo, but collectively with the back four I'd go with the 2010/11 group.
Dani Alves was younger and in his prime as an effective energetic full back/false winger, and Eric Abidal was a brilliant defender be it at full back or central defence.
In midfield, as good as Rakitic is, it is impossible to omit Xavi. We are not talking just about one of Barca's all-time greats, we are talking about a player who is rightly regarded as one of the all-time world greats. He was also iconic in the unique playing style of Barcelona.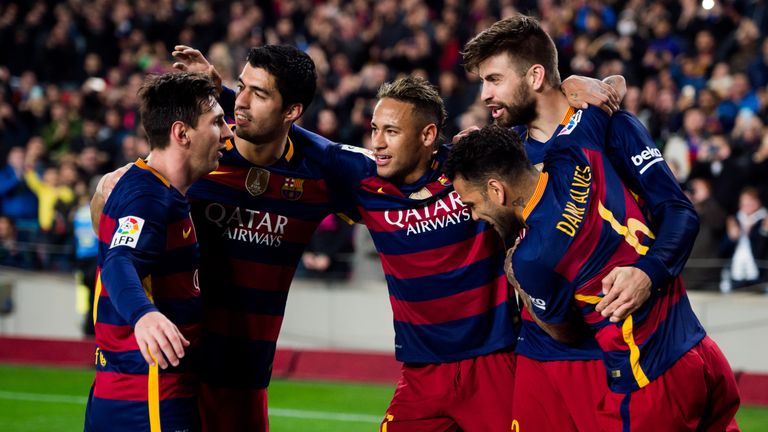 He was the "metronome", the player who had over 100 successful passes per game, every game, and a player who led the way in terms of an important diminutive midfielder when everybody else at the time was looking for power, strength and size.
But it all changes with the front three. Messi, Pedro and Villa... or Messi, Suarez and Neymar? It has to be the latter.
With nearly 200 goals between them since Suarez started in October 2014 and a more even spread of goals, they are becoming almost impossible to stop.
Terry's combined XI: Valdes; Alves, Puyol, Pique, Abidal; Busquets, Xavi, Iniesta; Messi, Suarez, Neymar
Jon Driscoll, Sky Sports La Liga commentator - Barcelona 2010/11
I'm going for the team of five years ago because I want to see Xavi back pulling the strings and dominating possession along with the young Iniesta.  
Abidal and the speedier version of Alves would help deal with any longer passes designed to release Suarez and Neymar.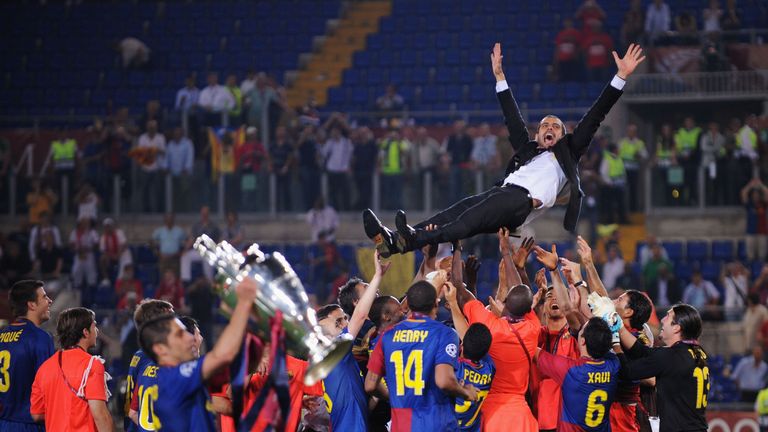 Valdes' ability with the ball puts him marginally ahead of Bravo and the only thing better than Messi of today is Messi of a few years ago. And the medics would work hard to get Carles Puyol fit for the big game...
Jon's combined XI: Valdes; Alves (2011), Pique (2016), Abidal, Alba; Xavi, Busquets (2016), Iniesta (2011); Messi (2011), Suarez, Neymar.
Kevin Keatings, Sky Sports La Liga commentator - Barcelona 2015/16
I think the Barcelona team of 2015/16 just have the edge on the 2010/11 side; principal reason for that being its greater return of goals from Messi, Neymar and Suarez.
Xavi provided unrivalled game management in the Guardiola team, but Sergio Busquets has matured into a similar role of responsibility, and both players have been key to the club's success.
Iniesta's powers have diminished a little from the standards previously set, so the 2010/11 midfield gets the nod, and I would even offer a case for the defence led by Puyol to have the edge over the current one. No one could forget that never-say-die attitude he espoused, which would often intimidate the opposition.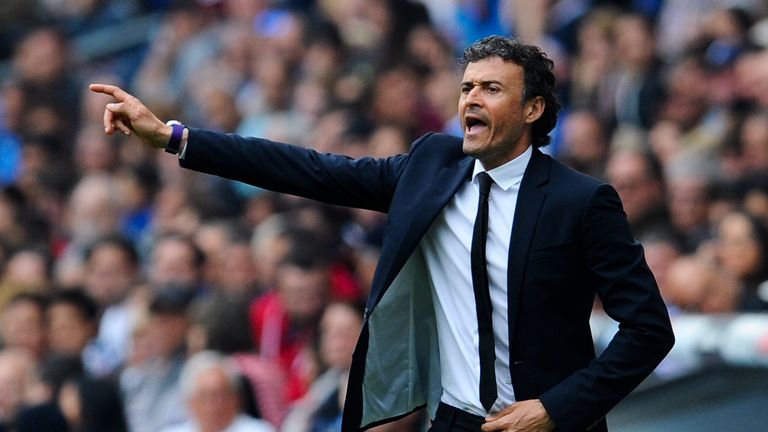 But it is the attacking trident in the class of 2015/16 that swings the vote their way, arguably the best trio of strikers ever to play for any one club at the same time. Let's savour them while they are here, after all we may not see their like again.
Kevin's combined XI: Valdes; Alves, Puyol, Mascherano, Alba; Xavi, Busquets, Iniesta; Messi, Suarez, Neymar
David Phillips, Sky Sports La Liga co-commentator and former top-flight midfielder - Barcelona 2015/16
It is only when you get to the front three that you really see the difference in the two sides, and the 2015/16 side are a better unit.
The extra height from Abidal was always a bonus in defensive areas, but Alba gives you more going forward. Full-backs nowadays are more important than ever, getting into those elevated positions and creating chances, and Alba is the better option in my opinion.
I prefer the 2010/11 side's midfield in respect of Xavi, who in my opinion is an all-round better player than Rakitic. Rakitic is a more powerful player and likes to take opportunities outside the box, but Xavi will go down in history as one of the best in La Liga for his role in midfield.
In terms of the front three I would have to go for the 2015/16 line-up. They are three world class players who work well together and have a very good understanding. 
That is not to play down Villa and Pedro, who were both excellent players, but in Suarez and Neymar you get a lot more. Messi isn't so bad either.
David's combined XI: Valdes; Alves, Pique, Mascherano, Alba; Xavi, Busquets, Iniesta; Messi, Suarez, Neymar
So, the current Barcelona side win it 3-2 on the pundits' reckoning, but who do you think was better? Get involved by tweeting @revistadelaliga with your thoughts or comment below