Manchester United's confidence is back, says Louis van Gaal
By Patrick Surlis
Last Updated: 30/01/16 1:54pm
Louis van Gaal believes Manchester United's players are firing again after they eased into the FA Cup fifth round with a 3-1 win at Derby.
United produced a much improved performance following their Southampton defeat last weekend with goals from Wayne Rooney, Daley Blind and Juan Mata as well as a lively show from Anthony Martial, who tore through the Rams defence for much of the night.
Van Gaal criticised "horrible" reports that he offered to resign in the build-up to Friday's contest and the under-fire boss said he would celebrate their Cup triumph by tucking into an "expensive bottle of wine" given to him by the club's executive vice-chairman Ed Woodward.
"I am always pleased when we win, so there is not any difference," Van Gaal said.
"I think the difference is that it is the FA Cup and when you lose you are out, and we want to continue, but I am very happy with the performance.
"My wife is at home after returning from the Netherlands and the wine is already open. It is probably the most expensive bottle of wine because I have received that from Ed Woodward.
"I always get expensive wine when we beat an opponent from the top six and we beat Liverpool. I don't get any wine tonight for beating Derby, I only get it when I beat a club out of the top six in the Premier League!"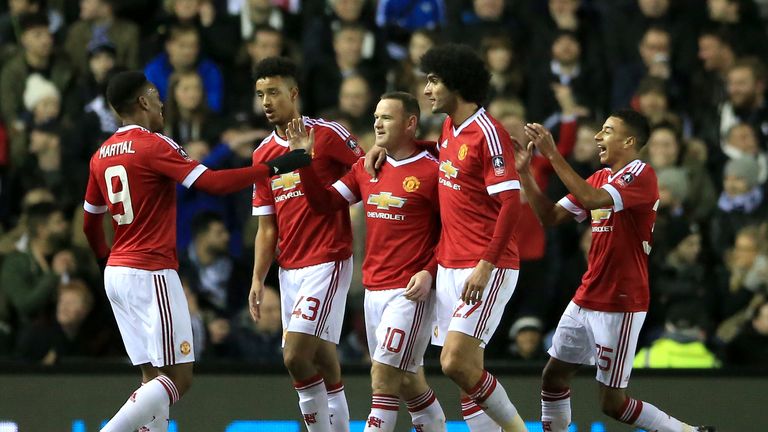 It was a welcome result for the beleaguered Van Gaal, albeit against second-tier opponents who have not won in the league since Boxing Day.
Van Gaal will take heart from his players' efforts as well as scoring three goals as they look to reignite their season after a miserable run.
"It was a very good result but also a very good performance and that's more important at this moment," the 64-year-old said.
"I liked the performance in the first half, it had a lot of confidence and that is back which is very important.
"The second half was even better, we created a lot of chances and we scored goals. But also we created more chances to score more goals. I am a very happy coach."
Van Gaal made two changes as right-back Guillermo Valera and the lively Spanish midfielder Mata came into the side, and they looked a potent attacking force throughout as they managed back-to-back away wins for the first time since August.
Asked if his side played with more freedom, Van Gaal produced a spiky response and said: "I cannot answer this question because you know your answer already. Your question is only to say tomorrow, 'they had more freedom'.
"They didn't have more freedom, they always have freedom from me. So, if you want to write that, OK, but don't ask me rhetorical questions.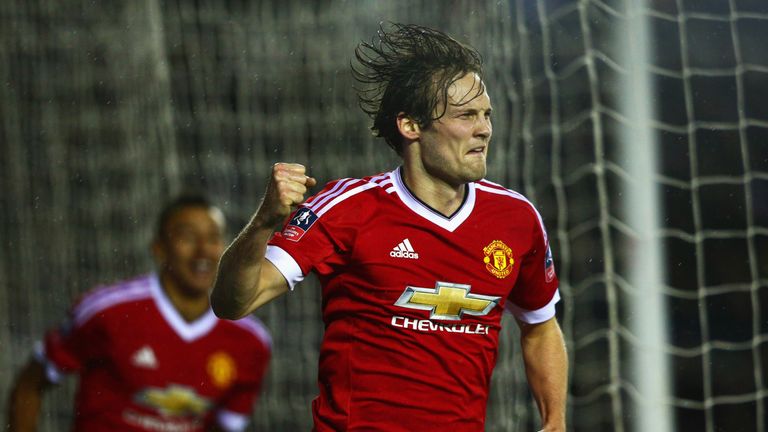 "It's the same philosophy, the same training sessions the past three days and I always give my players freedom. I am not pleased with how you are twisting my words."
Derby pegged United back eight minutes before half-time after Rooney's stunning opener, but the Premier League side had too much quality for their Championship opposition, with Martial proving to be a menace for the Derby defence, particularly on the left flank. 
However, it was not a perfect performance by the French 20-year-old, according to his boss.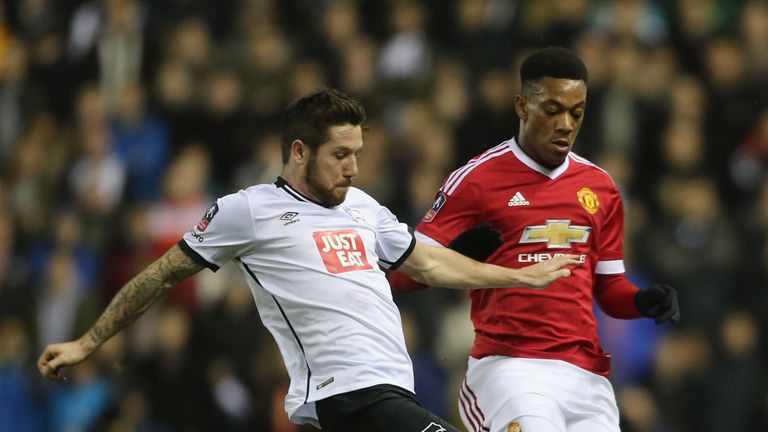 "He started not so good," Van Gaal added. "Everyone is saying he was fantastic, the man of the match. But you have to play for 90 minutes. I have said that to him. But he was fantastic after the first 20 minutes.
"I am very happy that he is a Manchester United player because I think he shall be a great player for Manchester United for a long time."
United have been criticised for their possession style  and a section of the club's fans booed them off after the defeat by Southampton, but Van Gaal made light of the reports.
"It is unbelievable and still they come to look to 'boring' Manchester United," he said. "It is fantastic - amazing!"